2059
The end of the oil age
For most of the 20th century, prospectors discovered far more oil than industrial societies could consume. This was an era of cheap and plentiful energy, which saw huge growth in the world's economy and population. By the 1970s, however, a major slowdown in discoveries was observed. This continued into the 21st century. By the late 2050s, the end of the 200-year oil age is approaching, with the final dregs being extracted in the Middle East.*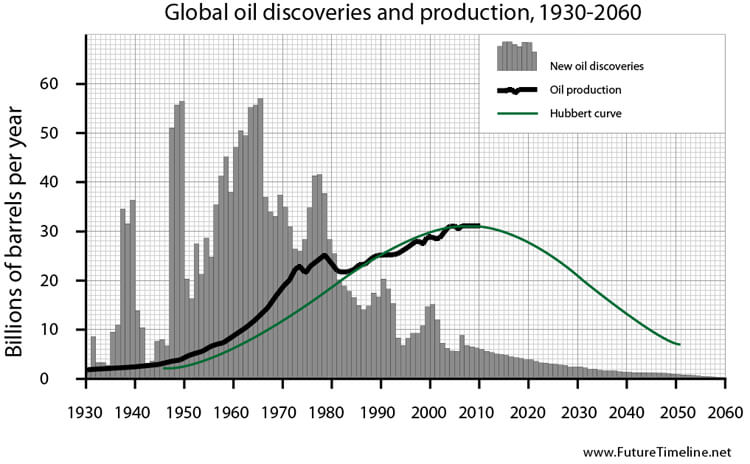 Mars has a permanent human presence by now
By the end of this decade, a permanent team of scientists is present on Mars.** This comprises a highly international mix of people. The first civilian tourist has also arrived. Travel to Mars was made cheaper and faster thanks to nuclear pulse propulsion, cutting journey times from six months to just a few weeks.*
The base will soon be expanded with new facilities providing more energy, food production and recycling systems, along with mining equipment and other tools.* Vehicles are being supplied too, improving the astronauts' mobility and enabling them to roam hundreds of miles. More sophisticated long term bases are now being planned to accomodate larger teams of scientists as well as corporate interests.
The habitat modules are constructed partially underground, giving protection from the Sun's ultraviolet glare. Radiation-absorbing materials based on advanced nanotechnology are used in spacesuits, as well as on the exterior of the vehicles. These same materials have filters to block even the tiniest particles of dust, providing long term protection against the environment outside.
All of the above is providing the critical mass needed for self-sufficiency. Operations will soon be conducted entirely independent of Earth. In the coming years, the first children will be born on Mars.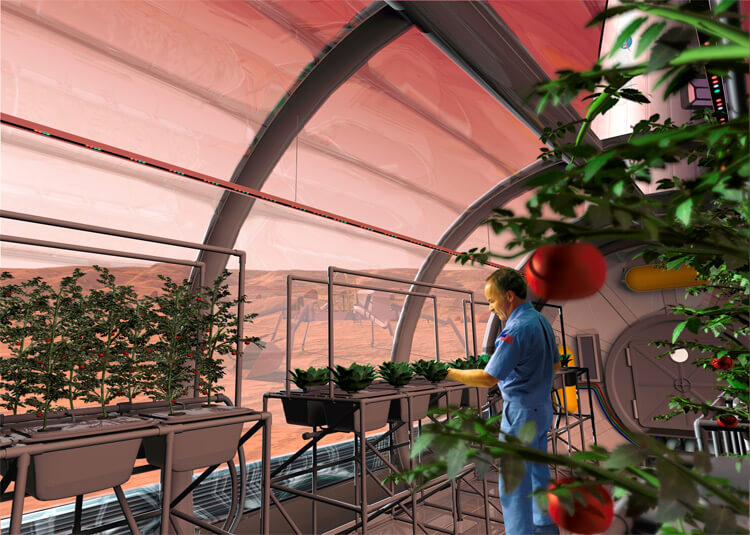 Credit: NASA