Breakthrough in lithium-ion battery technology could lead to cheaper electric vehicles
13th June 2012
A123 Systems — a developer and manufacturer of advanced battery technology — yesterday introduced Nanophosphate EXT. This new lithium ion battery is capable of operating at extreme temperatures, without requiring thermal management. Nanophosphate EXT is designed to significantly reduce or eliminate the need for heating and cooling systems, which is expected to create major new opportunities within the transport and telecommunications industries.
Among the applications is the potential for cheaper electric vehicles (EVs). The high cost of lithium ion batteries has prevented their large-scale adoption. Heating/cooling systems currently account for 10-20% of the total cost of a lithium ion battery.
A123 also claims that the Nanophosphate EXT packs between 20% and 30% more power than traditional lithium ion batteries, has 2-3 times the cycle life of competitors, and with up to 10 times the life of lead acid.
Shares in the company rocketed by over 60 percent on Tuesday, to $1.67 on the Nasdaq. Nearly 26 million shares of the company were traded by 1730 GMT, 17 times their ten-day average volume.
In 2009, A123 was included on the Guardian's "Global Cleantech 100" list. It was also selected in Technology Review's 50 Most Innovative Companies of 2011. The company plans to begin production of batteries based on its new technology in 2013.
A recent report by Deloitte predicted that on current trends, electric vehicles could account for between 3 and 5% of US automotive sales by 2020. With ongoing advances in battery technology, this may be an underestimate.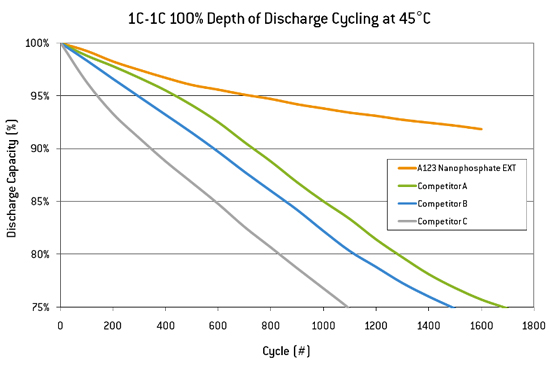 ---
comments powered by