Record high temperatures in the US
13th June 2012
The National Oceanic and Atmospheric Administration (NOAA), reports that the average temperature for the contiguous USA in May was 17.9°C (64.3°F). This is 1.8°C (3.3°F) above the long-term average, making it the second-warmest May on record.
Ongoing drought, combined with windy conditions, created ideal wildfire conditions across the Southwest. The Whitewater-Baldy Complex fire in the Gila National Forest of western New Mexico charred over 250,000 acres, surpassing 2011's Las Conchas Fire as the largest wildfire on record for the state.
Last month's high temperatures also contributed to the warmest spring, warmest year-to-date, and warmest 12-month period the United States has experienced since recordkeeping began in 1895.
For the spring period (covering March-May) the nationally averaged temperature was 13.9°C (57.1°F), surpassing the 1901-2000 long-term average by 2.9°C (5.2°F). With the warmest March, third warmest April and second warmest May, spring 2012 marked the largest temperature departure from average of any season on record for the contiguous United States.
The June 2011-May 2012 period was the warmest of any 12 months on record for the contiguous USA. The national average temperature of 13.3°C (56.0°F) was 1.8°C (3.2°F) above the long-term average. This period encapsulated the second warmest summer, fourth warmest winter, and the warmest spring on record. Every state across the contiguous USA had warmer than average temperatures, except Washington, which was near normal.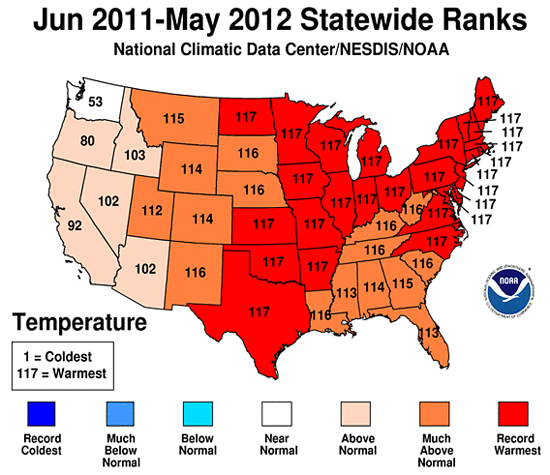 ---
comments powered by