30th June 2012
Aubrey de Grey is the Chief Science Officer of the SENS Foundation, a California-based charity which aims to defeat the aging process. He is also the Editor-in-Chief of Rejuvenation Research, the world's highest-impact peer-reviewed journal focused on intervention in aging. This week, he responded to questions from Reddit.
Mayan archaeologists unearth new 2012 monument
30th June 2012
Archaeologists working at the site of La Corona, an ancient Mayan city in Guatemala, have found a 1,300-year-old text which provides only the second known reference to the so-called "end date" of the Mayan calendar, 21st December, 2012. This discovery - one of the most significant hieroglyphic finds in decades - was announced at the National Palace in Guatemala on 28th June.
"This text talks about ancient political history rather than prophecy," says Marcello Canuto, director of Tulane's Middle American Research Institute and co-director of the excavations at La Corona.
Since 2008, Canuto and Tomás Barrientos of the Universidad del Valle de Guatemala have directed excavations at La Corona, a site previously ravaged by looters.
"Last year, we realised that looters of a particular building had discarded some carved stones because they were too eroded to sell on the antiquities black market," said Barrientos, "so we knew they found something important, but we also thought they might have missed something."
What Canuto and Barrientos found was the longest text ever discovered in Guatemala. Carved on staircase steps, it records 200 years of La Corona history, states David Stuart, director of the Mesoamerica Center at The University of Texas at Austin, who was part of a 1997 expedition that first explored the site.
While deciphering these new finds in May, Stuart recognised the 2012 reference on a stairway block, bearing 56 delicately carved hieroglyphs. It commemorated a royal visit to La Corona in AD 696 by the most powerful Maya ruler of the time, Yuknoom Yich'aak K'ahk' of Calakmul, only a few months after his defeat by long-standing rival Tikal in AD 695. Thought by scholars to have been killed in this battle, this ruler was visiting allies and allaying their fears after his defeat.
"This was a time of great political turmoil in the Maya region and this king felt compelled to allude to a larger cycle of time that happens to end in 2012," says Stuart.
So, rather than prophesy, the 2012 reference places this king's troubled reign and accomplishments into a larger cosmological framework.
"In times of crisis, the ancient Maya used their calendar to promote continuity and stability rather than predict apocalypse," says Canuto.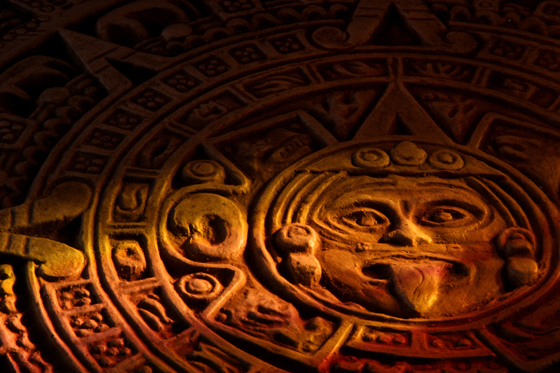 Microparticles allow survival without breathing
28th June 2012
Patients unable to breathe due to lung failure or an obstructed airway need another way to get oxygen to their blood — and fast — to avoid cardiac arrest and brain injury.
A team led by researchers at Boston Children's Hospital has designed microparticles that can be injected into the body to quickly oxygenate the blood. These tiny particles consist of a single layer of lipids (fatty molecules), surrounding a pocket of oxygen gas, and are delivered in a liquid solution.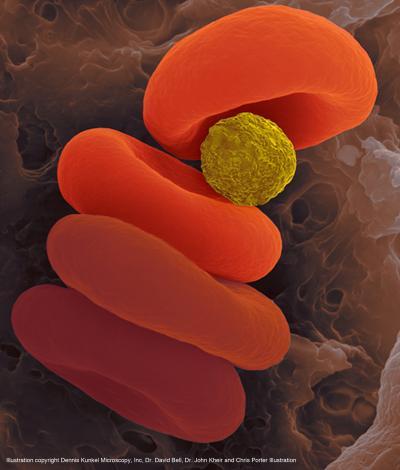 Credit: D. Kunkel/Dennis Kunkel Microscopy Inc.; D. Bell/Harvard University;
J. Kheir/Children's Hospital Boston; C. Porter/Chris Porter IllustrationT
In a cover article published yesterday in Science Translational Medicine, John Kheir and his team report that infusion of these particles into rabbits with low blood oxygen levels restored blood oxygen saturation to near-normal levels, within seconds.
When the trachea was completely blocked — a more dangerous "real world" scenario — infusion kept the animals alive for 15 minutes without a single breath, and reduced the incidence of cardiac arrest and organ injury.
The particle solutions are portable and could stabilise patients in emergency situations, buying time for paramedics, emergency clinicians or intensive care clinicians to more safely place a breathing tube or perform other life-saving therapies, says Kheir.
"This is a short-term oxygen substitute — a way to safely inject oxygen gas to support patients during a critical few minutes," he says. "Eventually, this could be stored in syringes on every code cart in a hospital, ambulance or transport helicopter, to help stabilise patients who are having difficulty breathing."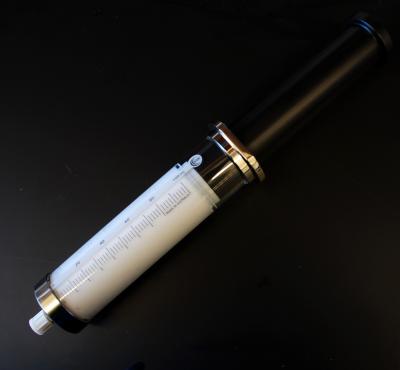 Credit: L. Thomson
The microparticles would likely only be used for a short time, between 15 and 30 minutes, because they are carried in fluid that would overload the blood if used for longer periods, Kheir says.
Kheir also notes that the particles are different from blood substitutes, which carry oxygen but are not useful when the lungs are unable to oxygenate them. Instead, these microparticles are designed for situations where the lungs are completely incapacitated.
Kheir began investigating the idea of injectable oxygen in 2006, after caring for a little girl who sustained a major brain injury resulting from pneumonia that caused bleeding into her lungs and severely low oxygen levels. Despite the team's best efforts, she died before they could place her on a heart-lung machine. Frustrated by this, Kheir formed a team to search for another way to deliver oxygen.
"Some of the most convincing experiments were the early ones," he says. "We drew each other's blood, mixed it in a test tube with the microparticles and watched blue blood turn immediately red, right before our eyes."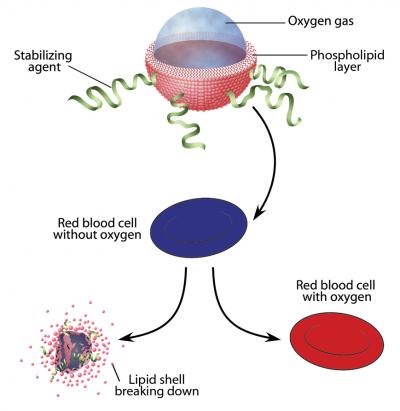 Credit: Image concept by J. Kheir; Illustration by E. McIntosh and E. Harris
Over the years, Kheir and his team have tested various concentrations and sizes of the microparticles to optimise their effectiveness and make them safe for injection. "The effort was truly multidisciplinary," says Kheir. "It took chemical engineers, particle scientists and medical doctors to get the mix just right."
In the studies reported in the paper, they used a device called a sonicator, which uses high-intensity sound waves to mix the oxygen and lipids together. This process traps oxygen gas inside particles 2 to 4 micrometers in size (not visible without a microscope). The resulting solution, with oxygen gas making up 70% of the volume, mixed efficiently with human blood.
"One of the keys to the success of the project was the ability to administer a concentrated amount of oxygen gas in a small amount of liquid," Kheir says. "The suspension carries three to four times the oxygen content of our own red blood cells."
Intravenous administration of oxygen gas was tried in the past, but these attempts failed to oxygenate the blood and often caused dangerous gas embolisms.
"We have engineered around this problem by packaging the gas into small, deformable particles," Kheir explains. "They dramatically increase the surface area for gas exchange and are able to squeeze through capillaries where free gas would get stuck."
The capsules are cheap and easy to make, he says. They can self-assemble during the sonication process.
If this method works in larger animals and is successful in human trials, it could eventually save millions of lives each year.
Robot hand is unbeatable against a human opponent
27th June 2012
A robot hand developed at the University of Tokyo can play rock-paper-scissors with a 100% success rate against human opponents.
2.56 terabits per second achieved by scientists
26th June 2012
A multi-national team led by the University of Southern California (USC) has developed a way of transmitting data using twisted beams of light at up to 2.56 terabits per second.

To put that in perspective, broadband cable (which you probably used to download this) supports on average about 30 megabits per second. The twisted light system is over 85,000 times faster.

Their work could be used to build high-speed satellite communication links, short free-space terrestrial links, or potentially be adapted for use in the fiber optic cables that are used by some Internet service providers.

"You're able to do things with light that you can't do with electricity," said Alan Willner, electrical engineering professor at the USC Viterbi School of Engineering and the corresponding author of an article that was published in Nature Photonics on 24th June. "That's the beauty of light; it's a bunch of photons that can be manipulated in many different ways at very high speed."

Willner and his team used beam-twisting "phase holograms" to manipulate eight beams of light so that each twisted in a DNA-like helical shape as it propagated in free space. Each beam had its own individual twist and was encoded with "1" and "0" data bits, making each an independent data stream – much like separate channels on your radio.

Their demonstration transmitted data over open space in a lab, attempting to simulate the sort of communications that might occur between satellites in space. Among the next steps for their research will be to advance how it could be adapted for use in fiber optics, like those frequently used to transmit data over the Internet.

The team's work builds on research done by Leslie Allen, Anton Zeilinger, Miles Padgett and their colleagues at several European universities.

"We didn't invent the twisting of light, but we took the concept and ramped it up to terabits-per-second," Willner said.
FutureTimeline.net predicts that on current trends, terabit connections will be common in homes and offices by the early 2030s.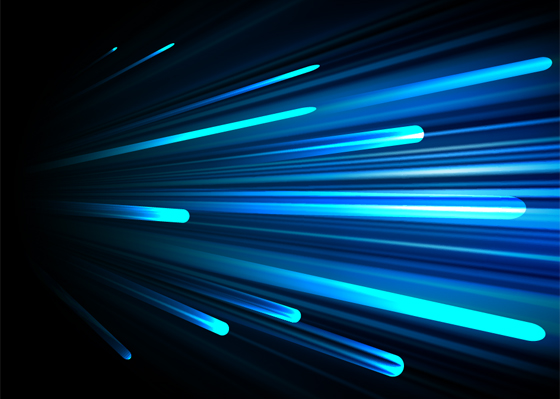 Challenges of Getting to Mars: Curiosity's Seven Minutes of Terror
25th June 2012
Team members at NASA's Jet Propulsion Laboratory share the challenges of the Curiosity Mars rover's final minutes to landing on the surface of Mars.
Robots that can touch and feel?
24th June 2012
What does a robot feel when it touches something? Little or nothing, until now. But with the right sensors, actuators and software program, robots can be given the sense of feel – or at least the ability to identify different materials by touch.
Researchers at the University of Southern California have designed a robot that can outperform humans in identifying a wide range of materials according to their textures - paving the way for advancements in prostheses, personal assistive robots and consumer product testing.
The robot was equipped with a new type of tactile sensor built to mimic the human fingertip. It also used a newly designed algorithm to make decisions about how to explore the outside world by imitating human strategies. Capable of other human sensations, the sensor can also tell where and in which direction forces are applied to the fingertip and even the thermal properties of an object being touched.
Built by Jeremy Fishel, Ph.D., the specialised robot was trained on 117 common materials gathered from fabric, stationery and hardware stores. When confronted with one material at random, the robot could correctly identify the material 95% of the time.
Scientists block excess aggression in mice
21st June 2012
Pathological rage can be blocked in mice, researchers have found, suggesting potential new treatments for anger management, aggression and hostile overreactions to stress.
In a study appearing this week in The Journal of Neuroscience, researchers from USC and Italy identify a critical neurological factor in aggression: a brain receptor that malfunctions in overly hostile mice. When the researchers shut down the brain receptor, which also exists in humans, the excess aggression disappeared.
The findings are a significant breakthrough in developing drug targets for pathological aggression, a component in Alzheimer's disease, autism, bipolar disorder and schizophrenia, among other common psychological disorders.
"From a clinical and social point of view, reactive aggression is absolutely a major problem," said Marco Bortolato, lead author of the study. "We want to find the tools that might reduce impulsive violence."
A large body of independent research, including past work by Bortolato and senior author Jean Shih, has identified a specific genetic predisposition to pathological aggression: low levels of the enzyme monoamine oxidase A (MAO A). Both male humans and mice with congenital deficiency of the enzyme respond violently in response to stress.
"The same type of mutation that we study in mice is associated with criminal, very violent behavior in humans," Bortolato said. "But we really didn't understand why that it is."
Bortolato and Shih worked backwards to replicate elements of human pathological aggression in mice - including not just low enzyme levels but also the interaction of genetics with early stressful events, such as trauma and neglect during childhood.
"Low levels of MAO A are one basis of the predisposition to aggression in humans. The other is an encounter with maltreatment, and the combination of the two factors appears to be deadly: It results consistently in violence in adults," Bortolato said.
The researchers showed that in excessively aggressive rodents lacking MAO A, high levels of electrical stimulus are required to activate a specific brain receptor in the pre-frontal cortex. Even when this brain receptor does work, it stays active only for short periods.
"The fact that blocking this receptor moderates aggression is why this discovery has so much potential. It may have important applications in therapy," Bortolato said. "Whatever the ways environment can persistently affect behavior -- and even personality over the long term -- behavior is ultimately supported by biological mechanisms."
The researchers are now studying the potential side effects of drugs that reduce the activity of this receptor.
"Aggressive behaviors have a profound socioeconomic impact, yet current strategies to reduce these staggering behaviors are extremely unsatisfactory," Bortolato said. "Our challenge now is to understand what pharmacological tools and what therapeutic regimens should be administered to stabilize the deficits of this receptor. If we can manage that, this could truly be an important finding."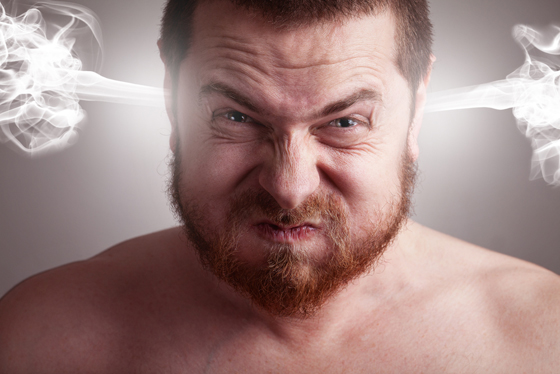 Inhibition of NF-κB delays aging
21st June 2012
Age-related degeneration is caused - at least in part - by accumulated cellular damage, including DNA damage, but how these types of damage drive aging remains unclear.
Dr. Paul Robbins and colleagues at the University of Pittsburgh sought to address this question using a mouse model of DNA repair deficiency. They found that DNA damage drives aging, in part, by activating NF-κB, a transcription factor that responds to cellular damage and stress. In a groundbreaking study, they report that inhibition of NF-κB reduces oxidative stress, oxidative DNA damage, oxidative protein damage, and cellular senescence induced by oxidative damage.
One of the methods used to inhibit the transcription factor involved removing a gene responsible for encoding a subunit of NF-κB. A compound known as NBD was also used. Together, these "delayed the age-related symptoms and pathologies of progeroid mice," and "reduced oxidative DNA damage and stress and delayed cellular senescence."
Their data suggest that NF-κB inhibitors could eventually be used in humans as a way of reducing age-related damage. The full report is published this week in the Journal of Clinical Investigation.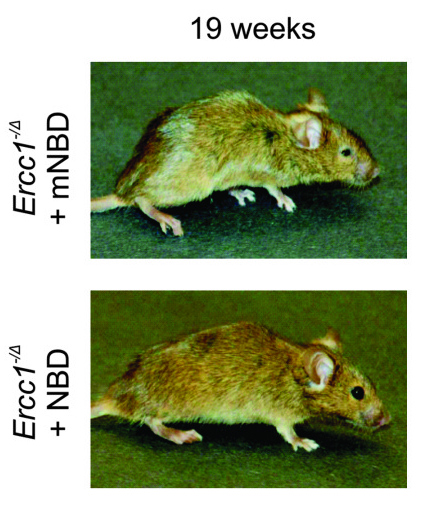 Engineers build 50 gigapixel camera
21st June 2012
By synchronising 98 tiny cameras into a single device, engineers from Duke University and the University of Arizona have developed a prototype camera that takes images with unprecedented detail.
The camera's resolution is five times better than 20/20 human vision over a 120 degree horizontal field. The new camera has the potential to capture up to 50 gigapixels of data, which is 50,000 megapixels. By comparison, most consumer cameras are capable of taking photographs with sizes ranging from 8 to 40 megapixels. Pixels are individual "dots" of data – the higher the number of pixels, the better resolution of the image.
The researchers believe that within five years, as the electronic components become miniaturised and more efficient, the next generation of gigapixel cameras should be available to the general public.
Details of the new camera were published yesterday in the journal Nature. The team's research was supported by the Defense Advanced Research Projects Agency (DARPA).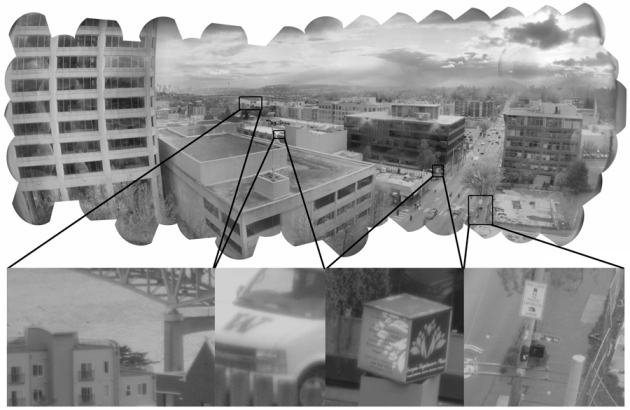 IBM supercomputer becomes the world's fastest
18th June 2012
"Sequoia" - built by US computing giant IBM - has overtaken Fujitsu's "K Computer" to become the fastest supercomputer in the world. Installed at the Department of Energy's Lawrence Livermore National Laboratory, it achieved an impressive 16.32 petaflop/s (compared with 10.51 petaflops/s for the K Computer), using 1,572,864 cores and 1.6 PB of memory, in 96 racks covering 3,000 sq ft (280m2).
This is equivalent to calculating in one hour what otherwise would take 7 billion people using hand calculators 320 years to complete if they worked non-stop.
Sequoia is also one of the most energy efficient computer systems. It draws about 8 MW of power, with an unprecedented performance of 2000 Mflops/watt, about 5 times as efficient as the Blue Gene/P design it is replacing. Sequoia will be used primarily for nuclear weapons simulation, astronomy, energy, studying of the human genome and climate change.
Like many forms of information technology, supercomputers have been growing exponentially in power for decades with a smooth and highly predictable long-term trend. At current rates of progress, it should be possible to simulate an entire human brain and all of its neurons in real time by the mid-2020s.
You can view a full list of the fastest supercomputers at top500.org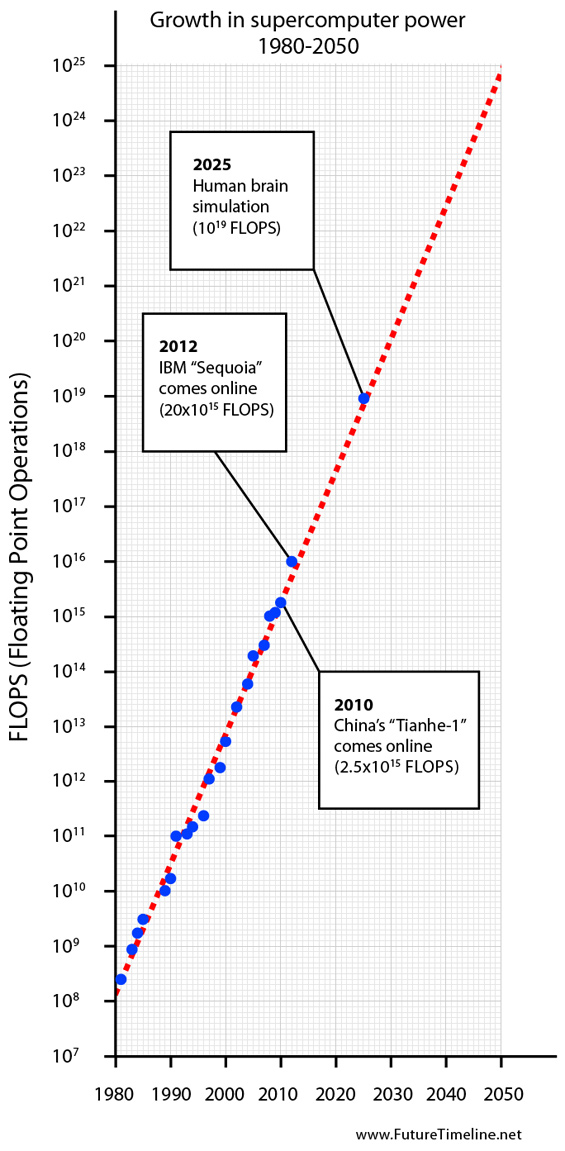 Indian drug giant Cipla slashes cancer drug prices in a humanitarian move
18th June 2012
Cipla, one of India's leading pharmaceutical companies, has announced a breakthrough price reduction in drugs for the treatment of lung, liver, kidney and brain cancer. Cipla's brand 'Soranib' (Sorafenib), for liver and kidney cancer, will now be offered to patients at just 6,840 rupees ($130) for a month's therapy - less than a quarter of its previous cost. Gefticip, a lung-cancer drug, will now be priced at 4,250 rupees ($80), down by over half, while the brain-cancer drug Temoside is cut by three-quarters to 5,000 rupees ($95).
There are about 2.5 million cases of cancer diagnosed in India every year, according to the World Health Organization (WHO). Most cases receive sub-optimal treatment due to the high cost of drugs.
"This initiative of price reduction is a humanitarian approach by Cipla to support cancer patients" commented Dr. Y. K. Hamied, Chairman and Managing Director of Cipla Limited. He also added, "Drugs constitute a significant proportion of the overall cost of cancer treatment and reduction in costs can greatly relieve the burden."
Cipla laid the foundations for India's pharmaceutical industry back in 1935 with a vision to make the country self-reliant in healthcare. Over the years, it has emerged as one of the most respected names not just in India but worldwide. Its state of the art R&D centre has given the country and the world many firsts. This includes the revolutionary AIDS cocktail for less than a dollar a day. Analysts say its latest move could trigger a price war in the 15-billion-rupee Indian drug market.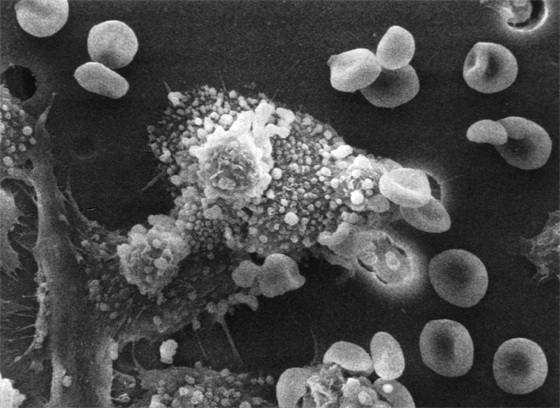 Worldwide decline in physical activity
16th June 2012
Physical activity levels are declining worldwide, a trend that raises major health concerns, according to a new study. Researchers at the University of North Carolina at Chapel Hill looked at data collected since the 1960's on time-use in various countries. They then projected these trends to 2030.
A score known as the Metabolic Equivalent of Task (MET), was calculated to measure the amount of energy spent on completing a task. It was found that by 2030, the average American will spend 126 MET hours per week, compared with around 235 in 1965.
Similar trends were observed in countries all around the world. American adults were not the laziest, however. China and Brazil had the most rapid declines, while UK adults were also found to have lower physical activity levels than Americans.
Entertainment technology - such as television, the Internet, and video games - is not the only factor behind this global decline in physical activity. Jobs and office environments have changed dramatically, requiring less movement, while chores in the home such as cooking and cleaning have also become easier. Car ownership and mass transit have increased too, so that walking is less of a requirement, while developing nations have witnessed a shift from farming to manufacturing.
Regular exercise is vital to prevent obesity, high blood pressure and heart disease. If these trends continue, the world depicted in EM Forster's The Machine Stops (in which human bodies have largely atrophied), may prove to be uncannily accurate.
The full report including trends for each country is available at the Wiley Online Library.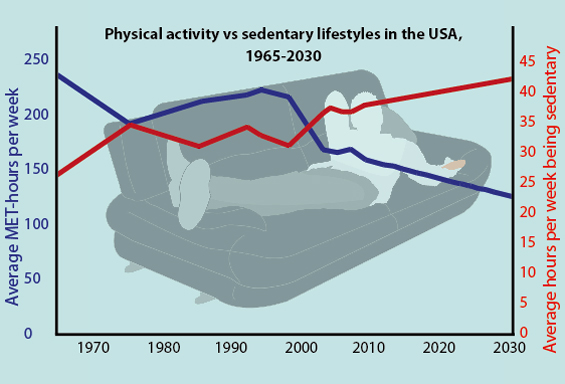 The Singularity is Near - movie trailer
16th June 2012
A trailer has just been released for the upcoming documentary, The Singularity is Near. Based on the best-selling 2005 book of the same name, it stars world-renowned futurist and inventor Ray Kurzweil.
As in the book version, Kurzweil will attempt to provide a glimpse of what awaits us in the near future. He proposes a coming technological singularity - a point where humans will begin to merge their bodies and minds with technology. He describes the singularity as resulting from a combination of three important new technologies of the 21st century: genetics, nanotechnology and robotics (including artificial intelligence).
NASA's "black hole hunter" is launched
14th June 2012
NASA has successfully launched its Nuclear Spectroscopic Telescope Array (aka NuSTAR). This will be the first telescope to focus high-energy X-rays, operating at energies beyond the Chandra and XMM-Newton observatories. It will produce images that are 10 times crisper and over 100 times more sensitive than any previous X-ray telescope, using a row of 133 mirrors stacked like Russian dolls in concentric shells.
During its two-year primary mission phase, NuSTAR will take a census of black holes in the Milky Way, peering through dense clouds of dust and gas to view the core region together with more distant galaxies. It will study material in young supernova remnants, to understand how stars explode and elements are created. It will also determine what powers the relativistic jets of particles from the most extreme active galaxies hosting supermassive black holes.
The mission's unique telescope design includes a 33-foot (10-metre) mast, which was folded up in a small canister during launch. Next week, engineers will extend the mast, enabling the telescope to focus properly. About 23 days later, science operations are scheduled to begin.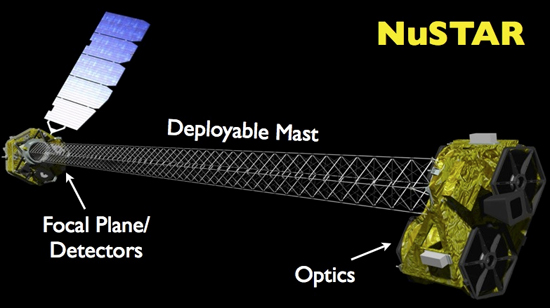 A major step towards fusion power
13th June 2012
Imagine a world without climate change, energy crunches or reliance on foreign oil. It may sound like an impossible dream, but engineers at the University of Tennessee have taken a giant step towards making this scenario a reality.
Researchers there have successfully developed a key technology in developing an experimental reactor that can demonstrate the feasibility of fusion energy for the grid. Nuclear fusion holds the promise of a clean, safe and abundant supply of energy for decades and centuries to come.
Professors David Irick, Madhu Madhukar and Masood Parang are engaged in a project involving the United States, five other nations, and the European Union, known as ITER. This week, they completed a critical step for the project, by successfully testing a component that will insulate and stabilise the central solenoid — the reactor's backbone.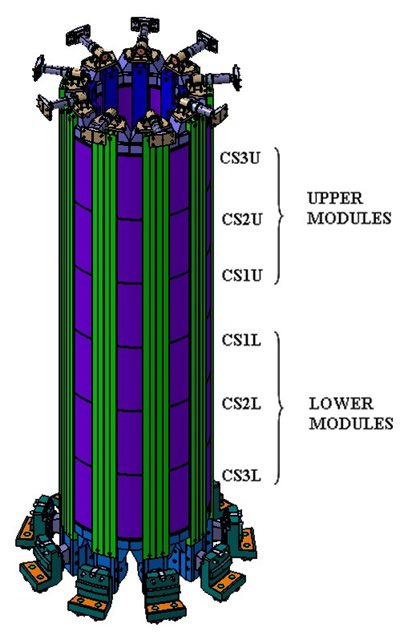 ITER is building a fusion reactor that aims to produce 10 times the amount of energy that it uses. The facility is now under construction near Cadarache, France, and will begin operations in 2019.
"The goal of ITER is to help bring fusion power to the commercial market," Madhukar said. "Fusion power is safer and more efficient than nuclear fission power. There is no danger of runaway reactions like what happened in nuclear fission reactions in Japan and Chernobyl, and there is little radioactive waste." Unlike today's nuclear fission reactors, fusion uses a similar process as that which powers the sun.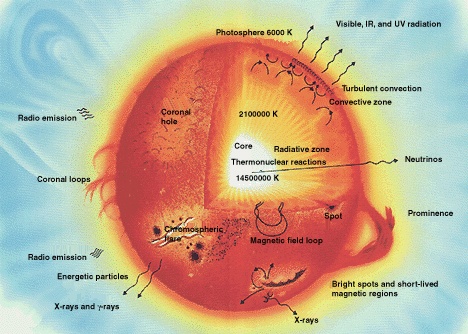 Since 2008, engineering professors and students have worked inside UT's Magnet Development Laboratory (MDL) to develop technology that serves to insulate and provide structural integrity to the more than 1,000 ton central solenoid.
A tokamak reactor uses magnetic fields to confine the plasma — a hot, electrically charged gas that serves as the reactor fuel — into the shape of a torus. The central solenoid, which consists of six giant coils stacked on top of one another, plays the starring role by both igniting and steering the plasma current.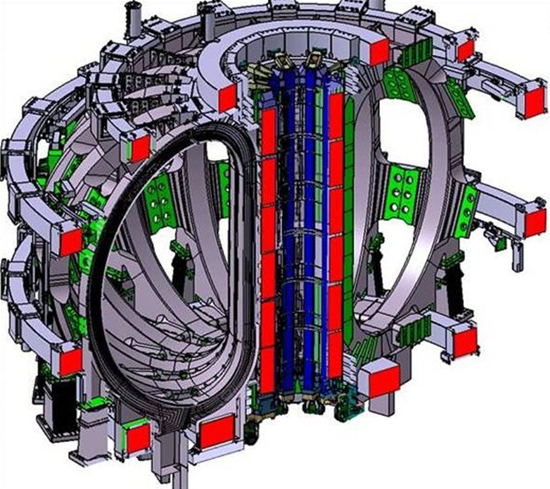 The key to unlocking the technology was finding the right material — a glass fiber and epoxy chemical mixture that is liquid at high temperatures and turns hard when cured — and the right process of inserting this material into all of the necessary spaces inside the central solenoid. The special mixture provides electrical insulation and strength to the heavy structure. The impregnation process moves the material at the right pace, factoring in temperature, pressure, vacuum and the material's flow rate.
This week, the UT team tested the technology inside its mockup of the central solenoid conductor.
"During the epoxy impregnation, we were in a race against time," said Madhukar. "With the epoxy, we have these competing parameters. The higher the temperature, the lower the viscosity; but at the same time, the higher the temperature, the shorter the working life of the epoxy."
It took two years to develop, more than two days to impregnate the central solenoid mockup and multiple pairs of watchful eyes to ensure everything went according to plan.
It did.
This summer, the team's technology will be transferred to US ITER industry partner General Atomics in San Diego, which will build the central solenoid and ship it to France.
Breakthrough in lithium-ion battery technology could lead to cheaper electric vehicles
13th June 2012
A123 Systems — a developer and manufacturer of advanced battery technology — yesterday introduced Nanophosphate EXT. This new lithium ion battery is capable of operating at extreme temperatures, without requiring thermal management. Nanophosphate EXT is designed to significantly reduce or eliminate the need for heating and cooling systems, which is expected to create major new opportunities within the transport and telecommunications industries.
Among the applications is the potential for cheaper electric vehicles (EVs). The high cost of lithium ion batteries has prevented their large-scale adoption. Heating/cooling systems currently account for 10-20% of the total cost of a lithium ion battery.
A123 also claims that the Nanophosphate EXT packs between 20% and 30% more power than traditional lithium ion batteries, has 2-3 times the cycle life of competitors, and with up to 10 times the life of lead acid.
Shares in the company rocketed by over 60 percent on Tuesday, to $1.67 on the Nasdaq. Nearly 26 million shares of the company were traded by 1730 GMT, 17 times their ten-day average volume.
In 2009, A123 was included on the Guardian's "Global Cleantech 100" list. It was also selected in Technology Review's 50 Most Innovative Companies of 2011. The company plans to begin production of batteries based on its new technology in 2013.
A recent report by Deloitte predicted that on current trends, electric vehicles could account for between 3 and 5% of US automotive sales by 2020. With ongoing advances in battery technology, this may be an underestimate.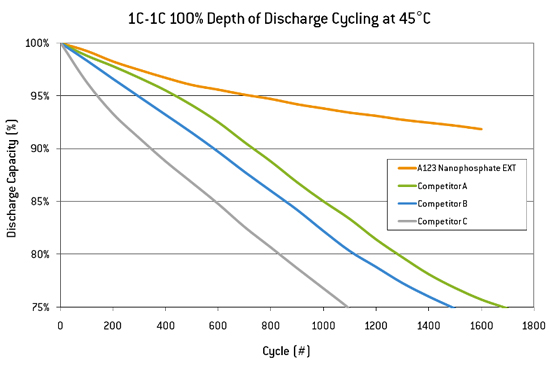 Record high temperatures in the US
13th June 2012
The National Oceanic and Atmospheric Administration (NOAA), reports that the average temperature for the contiguous USA in May was 17.9°C (64.3°F). This is 1.8°C (3.3°F) above the long-term average, making it the second-warmest May on record.
Ongoing drought, combined with windy conditions, created ideal wildfire conditions across the Southwest. The Whitewater-Baldy Complex fire in the Gila National Forest of western New Mexico charred over 250,000 acres, surpassing 2011's Las Conchas Fire as the largest wildfire on record for the state.
Last month's high temperatures also contributed to the warmest spring, warmest year-to-date, and warmest 12-month period the United States has experienced since recordkeeping began in 1895.
For the spring period (covering March-May) the nationally averaged temperature was 13.9°C (57.1°F), surpassing the 1901-2000 long-term average by 2.9°C (5.2°F). With the warmest March, third warmest April and second warmest May, spring 2012 marked the largest temperature departure from average of any season on record for the contiguous United States.
The June 2011-May 2012 period was the warmest of any 12 months on record for the contiguous USA. The national average temperature of 13.3°C (56.0°F) was 1.8°C (3.2°F) above the long-term average. This period encapsulated the second warmest summer, fourth warmest winter, and the warmest spring on record. Every state across the contiguous USA had warmer than average temperatures, except Washington, which was near normal.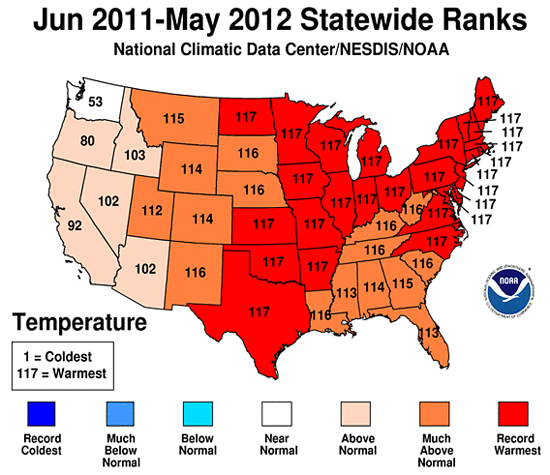 Solar PV installations continue to grow exponentially
13th June 2012
The global market for solar PV continues to show phenomenal growth, even during times of financial and economic crisis. Nearly 70 GW were installed in 2011, according to the latest report from the European Photovoltaic Industry Association, which includes forecasts to 2016. This amount of energy is sufficient to cover the annual power supply of over 20 million households.
In terms of global cumulative installed capacity, Europe still leads the way, with more than 51 GW installed as of 2011. This represents 75% of the world's total PV capacity. Next in the ranking are Japan (5 GW) and the USA (4.4 GW), followed by China (3.1 GW).
However, the report notes:
Such a rapid growth rate cannot be expected to last forever ... and the industry is now weathering a period of uncertainty in the short-term.

European markets where PV has developed vigorously in recent years have reached a level that will be difficult to maintain in the two coming years.

In order to maintain the trends we have seen until 2011, the PV industry will need to diversify markets across several countries, to relieve the pressure on Germany and allow markets that have gone bust to revive in a sustainable way. New markets around the world will have to be opened up to drive PV development in the coming decade.
It goes on to say:
But over the medium- and long-terms, the prospects for continued robust growth are good. The results of 2011 – and indeed the outlook for the next several years – show that under the right policy conditions PV can continue its progress towards competitiveness in key electricity markets and become a mainstream energy source.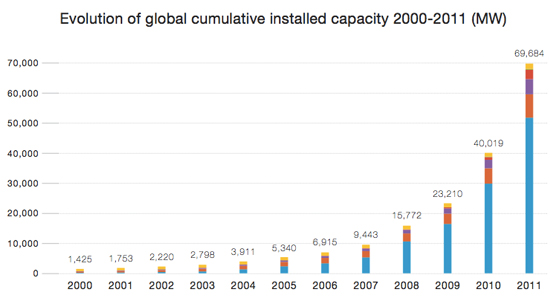 Unreal Engine 4.0 – the next generation of graphics
13th June 2012
Unreal Engine is a game engine developed by Epic Games, and first used in the 1998 shooter game Unreal. Although primarily intended for first-person shooters, it has been successfully used in other genres. With a high degree of portability, it is very popular and used in many of today's most well-known video games. Each new version has allowed more detailed and sophisticated graphics.
The latest iteration, Unreal Engine 4.0, has been in development since 2003. It will target the next generation of PC hardware and consoles after the seventh generation. It was unveiled to limited attendees at the 2012 Game Developers Conference back in March, and now a demonstration video has been released to the public. The first games to use this new engine are expected to be released in 2013.
One of the major features of UE4 is the support for real-time global illumination via voxel raycasting, which no longer requires any precomputation of the lighting.
European Extremely Large Telescope given go-ahead
13th June 2012
The European Southern Observatory (ESO) - an organisation for astronomy supported by fifteen countries - is to build the largest optical/infrared telescope in the world. At its meeting this week in Garching, Germany, the ESO Council approved construction of the European Extremely Large Telescope Programme, pending agreement with the governments of some member states.
Built on a mountain top in Chile, its 39.3m main mirror will be more than four times the width of today's best optical telescopes. It will be powerful enough to study the atmospheres of exoplanets, and will provide major insights into the nature of black holes, as well as galaxy formation, the mysterious dark matter, and the even more mysterious dark energy which is pushing the universe apart at an accelerating rate. The E-ELT will begin operations in 2022.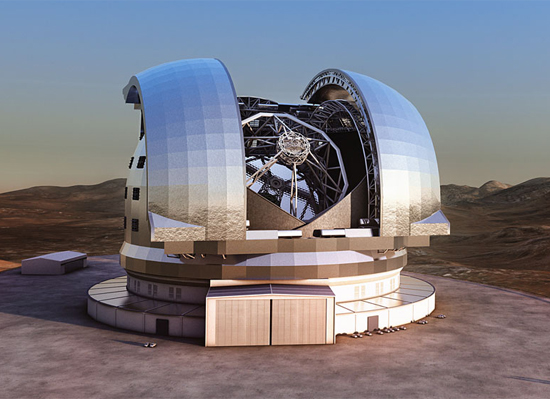 Potential carbon capture role for new CO2 absorbing material
12th June 2012
A porous material with unique CO2 retention properties has been developed by scientists at the University of Nottingham, England. This breakthrough forms part of ongoing efforts to develop new carbon capture techniques for reducing fossil fuel emissions.
The metal organic framework of NOTT-202a, which has a novel honeycomb-like structure, represents an entirely new class of porous material. It consists of two interlocked frameworks, made from a series of molecules or ions bound to a central metal atom — and filled with indium metal centres.
Most importantly, it allows selective adsorption of carbon dioxide — while other gases such as nitrogen, methane and hydrogen can pass back through, the carbon dioxide remains trapped in the nanopores, even at low temperatures.
The findings are published this month in Nature Materials.

The Geopolitics of Climate Change
3rd June 2012
Interesting talk by Gwynne Dyer, author of Climate Wars:
Climate change milestone: CO2 levels reach 400ppm in the Arctic
2nd June 2012
The National Oceanic and Atmospheric Administration reports a worrying new milestone for CO2, the main global warming pollutant. Arctic monitoring stations now show 400 parts per million (ppm) of the heat-trapping gas in the atmosphere.
The global level now stands at 395ppm (see video below), and is expected to reach the Arctic level in the very near future. Scientists believe the maximum "safe" limit for a stable climate is around 350ppm.
On current trends, CO2 levels could reach 800-1000ppm by the end of this century – potentially resulting in 6°C of global warming.
A permanent base on Mars by 2023?
2nd June 2012
A Dutch group – Mars One – has announced plans to establish a human settlement on Mars in 2023.
The project is being led by Bas Lansdorp, a researcher from the Netherlands with a Masters in Science from Delft University of Technology. The plan is to send food and other supplies to the planet by 2016, then after several stages land humans on Mars for permanent settlement in 2023.
At first glance, this project appears to be extraordinarily optimistic in terms of timescale, but let's see what happens. There have been many surprising developments in space travel of late – such as Planetary Resources' plans for asteroid mining, Space Adventures offering lunar tourism, the world's first commercial spaceport, the launch of Falcon 9 by SpaceX, Russian and Japanese plans for Moon missions, and a revolutionary new rocket engine.
Neuroscientists reach major milestone in whole-brain circuit mapping
2nd June 2012
Neuroscientists at Cold Spring Harbor Laboratory (CSHL) reached a major milestone this week – publicly releasing the first data from their groundbreaking project, to construct the first whole-brain wiring diagram of a vertebrate brain, that of the mouse.
The data, which totals 500 terabytes, consists of gigapixel images (a billion pixels each) of whole-brain sections. These can be zoomed to show individual neurons and their processes, creating a "virtual microscope." The images are integrated with other data sources from the web, and are being made fully accessible to neuroscientists as well as interested members of the general public (http://mouse.brainarchitecture.org). The data are being released pre-publication in the spirit of open science initiatives that have become familiar in digital astronomy (e.g. Sloan Digital Sky Survey) but are not yet as widespread in neurobiology.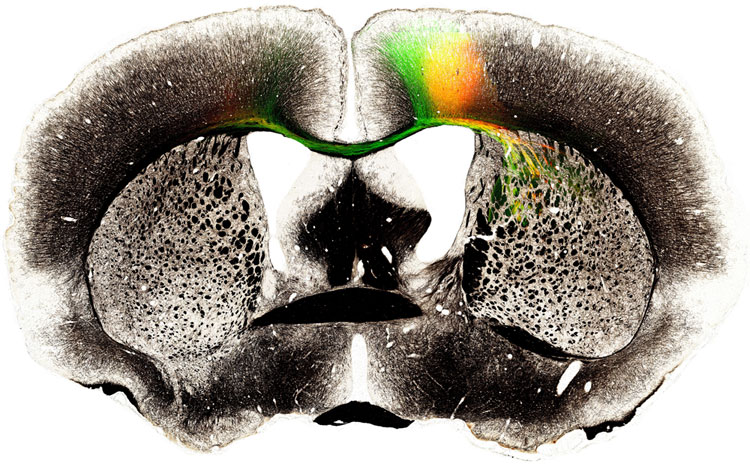 Each sampled brain is represented in about 500 images, each image being an optical section through a 20 micron-thick slice of tissue. Users can journey through each brain from "front" to "back", following the pathways taken through 3D brain space by tracer-labeled neuronal pathways. The tracers were picked to follow neuronal inputs and outputs of different brain regions.
"Our project seeks to address a remarkable gap in our knowledge of the brain," says Partha Mitra, Professor of Biomathematics at CSHL and director of the Mouse Brain Architecture (MBA) Project.
"Our knowledge of how the brain is wired remains piecemeal and partial after a century of activity. To understand how the brain works (or fails to work in neurological disease), it is critical that we understand this wiring diagram more fully. Further, there remain fundamental questions about brain evolution that cannot be addressed without obtaining such wiring diagrams for the brains of different species."
The MBA Project is distinguished by the approach advocated by Mitra in a 2009 paper. Back then, Mitra proposed mapping vertebrate brains at what he described as the "mesoscopic" scale – a mid-range amenable to light microscopy, giving far more detail than MRI-based methods, yet considerably less detail than via electron microscopy (EM). The latter, while useful for mapping synaptic connections between individual neurons, is feasible on a whole-brain basis only for tiny brains (e.g. fruitflies) or very small portions of the mouse brain.
The pragmatic approach Mitra advocated, and which is realised in this first data release, is to image whole mouse brains in a semi-automated, quality-controlled process using light microscopy and injected neural tracers. While the basic methodology has been available for some time, systematically applying it to a grid of locations spanning the entire brain, and digitising/re-assembling the resulting collection of brains, is a new approach made feasible by the exponentially falling costs of computer storage. A mouse brain, at light-microscope resolution, generates around one terabyte (1000 GB) of data. Thus, producing and storing the data sets currently being gathered would have been impossibly expensive a decade or so ago.
"Our project is what I'd call a necessary first step in a much larger enterprise – that of understanding both structure and dynamics of the vertebrate, and ultimately, the human brain," says Mitra.
Project highlights: http://brainarchitecture.org/mouse/highlights