Background on Bears' Ears
https://www.theguard...-heritage-trump
Extract:
Bears Ears is one of the most powerful and historic cultural and spiritual centers of the first peoples of the south-west. The monument, established in the twilight of the Obama administration, stands just next door to Canyonlands national park, north of the San Juan river and east of the Colorado.

The rock formation after which the monument is named comprises twin buttes standing high above the piñon-juniper treetops, carved canyons, and majestic mesas – like the head of a bear emerging from the south-west landscape.

The area is revered by a full five Native nations in the south-west: the Navajo, Hopi, Uintah & Ouray Ute, Ute Mountain Ute and Zuni.

This land was the birthplace of Chief Manuelito of the Bít'aa'níí or "Folded Arms People Clan". Manuelito led the Navajo, the second-largest tribal nation in the United States, in a valiant struggle against removal to internment camps in desolate Bosque Redondo, present-day New Mexico.

The Navajo were removed from their homes by gunpoint in 1864 – a dark chapter in Navajo and American history now known simply as the "Long Walk". Manuelito, the warrior and leader, signed an 1868 treaty that ended this forced exodus, allowing the Navajo to return to a reservation established on homelands spanning parts of Arizona and New Mexico.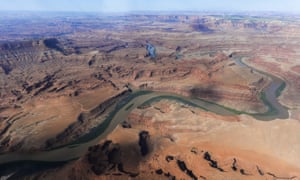 'Indigenous calls to honor this sacred place have been ignored.'
Photograph: Francisco Kjolseth/AP