Hi guys and girls,
Just thought I'd give you an update on the mobile/responsive site redesign, which I know has taken an absurdly long time. I began working on it some time in 2014 or 2015... I can't even remember now; it's been at least a couple of years though.
There are several reasons it's taken so long:-
1. Initially, I tried using pre-made template services (e.g. Duda), but wasn't overly impressed, and there were a couple of technical issues I didn't feel comfortable with. It became clear that FT would look better if I used my own style/layouts. So I began creating my own templates manually, entirely hand-coded, but this took far longer than expected. The menus, in particular, required some fairly detailed JavaScript and CSS.
2. There are many inconsistencies between the various browsers/platforms, and it's taken a ridiculous amount of testing (via BrowserStack) to get everything looking and working correctly on every device, screen size, OS, and browser. Sometimes, even a simple change can take an entire day.
3. FT isn't my full-time job. It's something I do in my spare time (i.e. evenings and weekends). Alongside this, I have to keep the main site updated with predictions, blogs, etc. on a regular basis, which further restricts my time. Of course, I could devote all of my spare time to the mobile site, but then I'd lose traffic and visitors if the main site wasn't being updated (!). I also need time for a social life.
4. By far the most complicated thing was the homepage. This one page – alone – took almost a year. Once it was finished, however, I had many elements I could use on other pages, simply by copying and pasting from the homepage, e.g. the menu navigation. Therefore, progress has accelerated in recent months.
---
So here we are, in the summer of 2017, and there is light at the end of the tunnel... at long last.
The screenshot below shows the footer at the bottom of a typical page, with the various sections and sub-sections. I will briefly describe the progress on each (click to enlarge).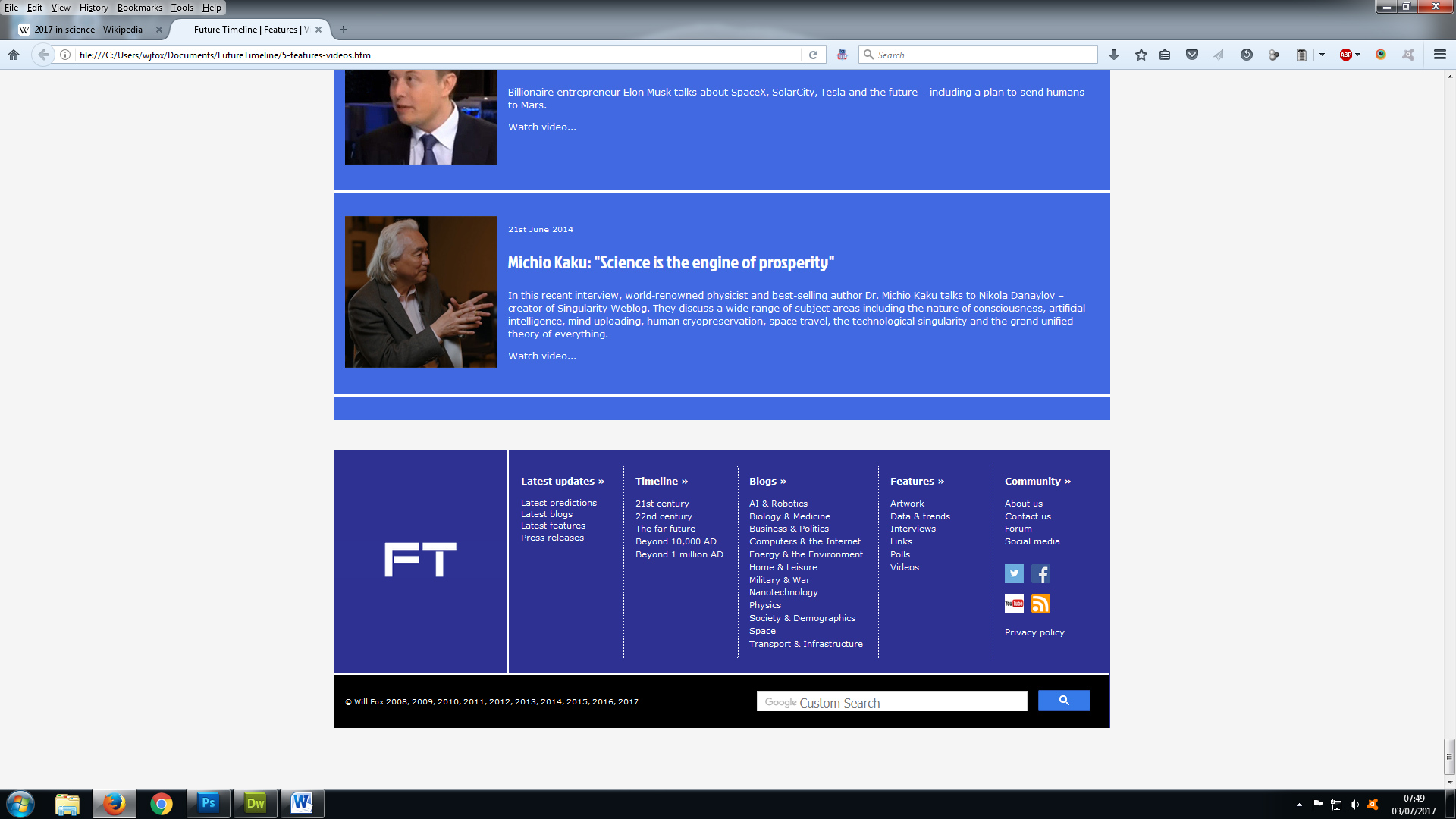 Homepage – 100% finished
Latest Updates – 100% finished
Timeline – 100% finished
Blogs – The main landing page is finished, as are the individual sub-sections (AI & Robots, Environment, Space, etc). It's only the individual blogs themselves that still need doing.
Features – 95% finished
Community – 95% finished
So it's really just the individual blog pages that need shifting to the new format. There are more than 1,500 of these. However, I can borrow elements from other templates I've done, with a few minor tweaks. I can then do a find-and-replace to convert all the old pages to the new responsive style.
I will probably take a week's holiday in the next month or so, and devote that entire week to updating the blogs and other remaining stuff, which means FT can hopefully re-launch some time in August. There are some other final things I'll need to sort (e.g. SSL), but again these shouldn't take long.
It's really exciting to see years of hard work finally coming to an end. Being in a responsive format will greatly enhance the site, making it quicker and easier to browse, as well as improving our SEO ranking and hopefully our ad revenue too. And once it's done, I'll have far more time to work on the main site and do what I love, i.e. writing future predictions.
As you may notice from the screenshot above, I'm introducing some new sections too (e.g. Artwork, Data & Trends, Interviews, and the return of our opinion polls). Hopefully even more sections will be added in the coming months/years – such as book and film reviews, lists of futurology conferences, other calendar events, etc. I may even do some competitions where readers can win prizes.
Thanks for your patience everyone, I look forward to relaunching FT, and then we can start on PT...
Will