Gigantic Chinese telescope opens to astronomers worldwide
https://www.nature.c...586-019-02790-3
Extract:
(Nature) The world's largest single-dish radio observatory is preparing to open to astronomers around the world, ushering in an era of exquisitely sensitive observations that could help in the hunt for gravitational waves and probe the mysterious fleeting blasts of radiation known as fast radio bursts.

The Five-hundred-meter Aperture Spherical Radio Telescope (FAST) in southern China has just passed a series of technical and performance assessments, and the Chinese government is expected to give the observatory the final green light to begin full operations at a review meeting scheduled for next month. "We do not see any roadblocks for the remaining transition," says Di Li, the chief scientist of FAST. "I feel both excited and relieved."

…The Chinese observatory's massive size means that it can detect extremely faint radio-wave whispers from an array of sources across the Universe, such as the spinning cores of dead stars, known as pulsars, and hydrogen in distant galaxies. It will also explore a frontier in radioastronomy — using radio waves to locate exoplanets, which may harbour extraterrestrial life.

Since testing began in 2016, only Chinese scientists have been able to lead projects studying the telescope's preliminary data. But now, observation time will be accessible to researchers from around the world, says Zhiqiang Shen, director of the Shanghai Astronomical Observatory and co-chair of the Chinese Academy of Sciences' FAST supervisory committee.

…FAST examines only a tiny fraction of the sky at any one time, making it unlikely to discover many new FRBs, which are fleeting and occur in seemingly random locations. But the telescope's "impressive sensitivity" will be useful for following up on sources in detail, says Laura Spitler, an astronomer at the Max Planck Institute for Radio Astronomy in Bonn, Germany. Repeat observations could allow scientists to learn about the environment from which an FRB emerged, and to determine whether the blasts vary in energy or recur with any set pattern.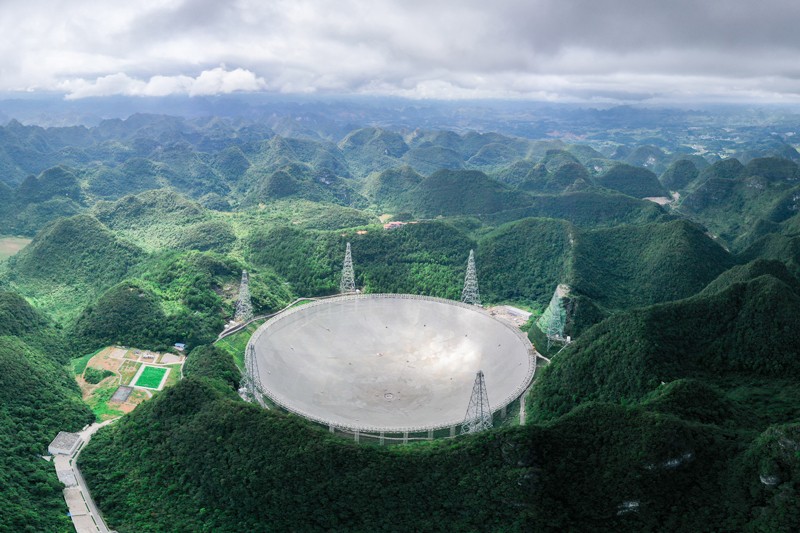 FAST will enable highly sensitive measurements of astronomical phenomenon.
Credit: Ou Dongqu/Xinhua/ZUMA