I originally posted this in another thread, but I think it is also highly relevant to this thread. Now, if I could only find the time to read through this thread.
DNA testing companies offer telomere testing – but what does it tell you about aging and disease risk?
https://theconversat...ase-risk-118019
Introduction:
Quote
(The Conversation) Over the past few years direct-to-consumer genetic tests that extract information from DNA in your chromosomes have become popular. Through a simple cheek swab, saliva collection or finger prick, companies offer the possibility of learning more about your family tree, ancestry, or risk of developing diseases such as Alzheimer's or even certain cancers. More recently, some companies offer tests to measure the tips of chromosomes, called telomeres, to learn more about aging.

But what exactly are telomeres, what are telomere tests, and what are companies claiming they can tell you? Age based on your birthday versus your "telomere age"?

Telomeres play a big role in keeping our chromosomes and bodies healthy even though they make up only a tiny fraction of our total DNA. The Greek origins of the word telomere describes where to find them. "Telo" means "end" while "mere" means "part." Telomeres cap both ends of all 46 chromosomes in each cell, and protect chromosomes from losing genetic material. They are often compared to the plastic tips at the ends of shoelaces that prevent fraying.

We are molecular biologists studying how chemicals, agents from the environment and metabolism damage telomeres and affect their lengths and function, and how damaged telomeres affect the health of our cells and genome. The idea of offering telomere length as part of a genetic test is intriguing since telomeres protect our genetic material. But equating telomere length with something as complex as aging struck us as tricky and overly simplistic.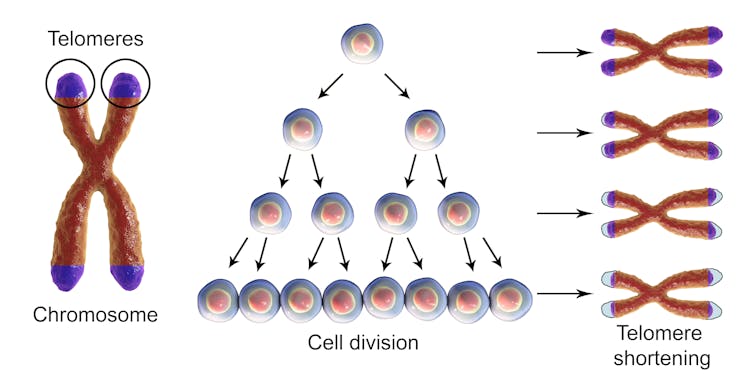 Telomeres get shorter with each round of cell division.