Intense Drought Exposes 4,000-Year-Old 'Stonehenge' in Spain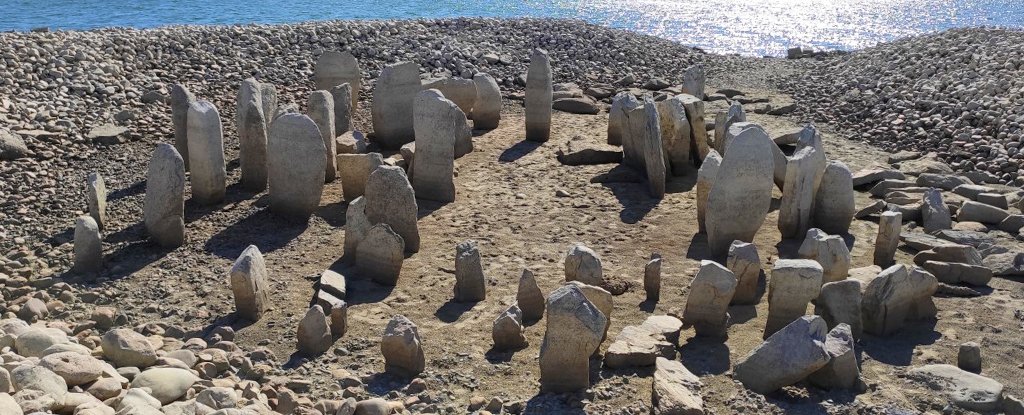 The Dolmen of Guadalperal. (Pleonr/Wikimedia Commons/CC BY 4.0)

MIKE MCRAE 23 SEP 2019

For decades, an ancient circle of stones has lain just out of sight beneath the waters of Spain's Valdecañas Reservoir, its tallest pillars occasionally breaking the surface like the fingers of a drowning swimmer.

Months of intense drought have now caused the reservoir's waters to fall - enough to reveal the structure in its entirety. Given the opportunity to revive research on the circle's archaeology, there's now debate over whether stones should be moved or left for rising waters to reclaim once more.

The 150 stones arranged in an oval are referred to as the Dolmen of Guadalperal. Built by Copper or Bronze Age locals on the banks of the Tagus River, it's thought to be at least 4,000 years old.

Lost to time, the ancient site was rediscovered in the 1920s and sparked interest from German anthropologist Hugo Obermaier, who analysed the architecture and its surrounding mounds of rocks.

The upright pillars – or orthostates – resemble the roughly hewn megaliths of Britain's notorious Stonehenge, not to mention a bunch of other similar constructs around Europe. And it could well have served similar purposes.

More:
https://www.sciencea...nish-stonehenge