The Hitchhiker's Guide to the Galaxy: 40 years of parody and predictions
https://www.nature.com/articles/d41586-019-02969-8
Introduction:
(Nature) It begins simply. "Far out in the uncharted backwaters of the unfashionable end of the Western Spiral arm of the Galaxy lies a small unregarded yellow sun. Orbiting this at a distance of roughly ninety-two million miles is an utterly insignificant little blue green planet whose ape-descended life forms are so amazingly primitive that they still think digital watches are a pretty neat idea."

Astonishingly, it is 40 years since Douglas Adams published The Hitchhiker's Guide To The Galaxy. We've since replaced digital watches with smartphones and virtual assistants, and we rarely describe them as "neat". Yet the themes of the book have hardly dated. As ecosystems are destroyed to make way for roads, artificial intelligence (AI) threatens to get seriously unruly and the Universe continually reveals it's a lot more complicated than we thought, Adams's creation and its deadpan surreality never seem to fade.

The Hitchhiker's Guide began life as a BBC radio comedy in 1978, a year before the first book was published. Adams wrote four more volumes. Before he died in 2001, the 5 books had between them sold more than 15 million copies. The scientific community teemed with fans, including the late theoretical physicist Stephen Hawking, who provided the voice of the titular Guide in a 2018 radio reboot of the story.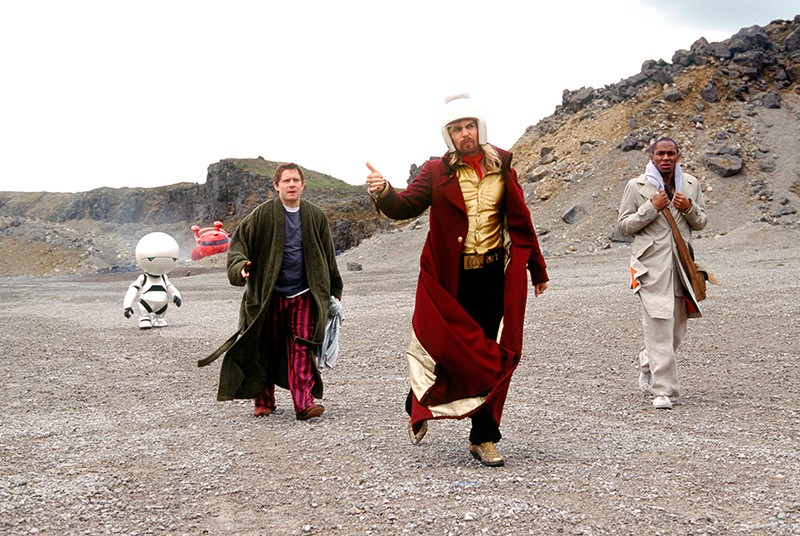 Warwick Davis, Martin Freeman, Sam Rockwell and Mos Def in the 2005 film adaptation of The Hitchhiker's Guide to the Galaxy.
Credit: Entertainment Pictures/Alamy