A couple weeks ago, I read a very interesting showerthought that said out loud something that's been tickling the back of my brain for almost a decade now:

In movies killer robots almost always have two "eyes", meaning people can sneak up from behind and attack them. However, in reality, anyone designing a killer robot would it 360 degrees vision to prevent exactly that.

It's true! An actual Terminator wouldn't be a lumbering, overexposed silver humanoid with glowing red eyes. It'd be a pylon decked out with turrets and lasers. If anything, that makes it scarier. It'd be pure left-valley (e.g. far left on the Uncanny Valley), meaning it would have no humanlike features to speak of, instead being this abstract shape that kills.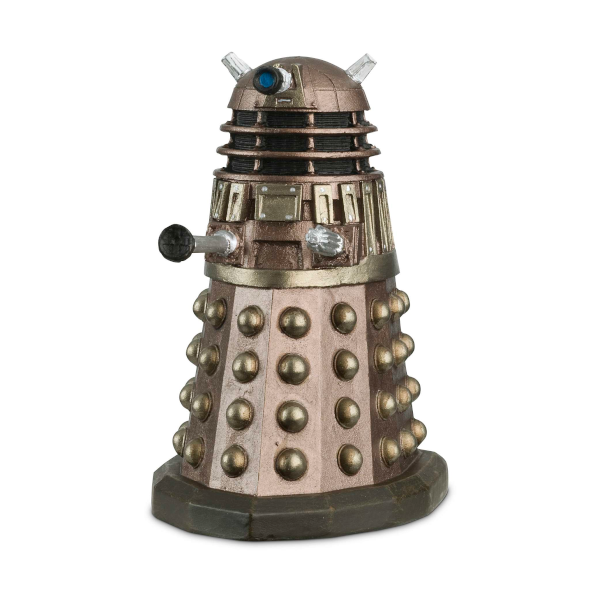 Seriously, the Daleks were actually onto something.


kuahara
This is one of the things I complain about with respect to futuristic AI driven robot movies. "The robot shot at the slow, clumsy human and missed".
At least 10 years ago (2010ish), I watched a demo where the robot basically looked like a projector sitting on a table. It was equipped with a camera and two small mirrors. One of the mirrors could tilt forward/back vertically and the other tilted horizontally. It could move these together to get sight of anything in front of it. This was not the impressive part.
What impressed me about all this was that they had a TV hooked up to this thing so that you could see what the robot sees. This guy stood in front of it with a paddle ball toy and flung the ball around wildly. The program running just required the robot to follow the ball. They could pause and unpause. When it was paused, the screen showed the ball flailing around wildly, just like what you and I see. When it was unpaused... the mirrors went into action and the ball appeared perfectly still in the center of the screen. They even had it draw a smiley face on the red ball while it was moving. This ball that was flying around all over the place appeared perfectly still to our little projector looking friend. All I could think of was, "if they armed that thing with a gun that tilted the way those mirrors are tilting and let it fire.... humans would never have a chance".
Now before all the gun enthusiasts jump on me: I understand that this was just a demo in a room with a robot operating at very close range and no weather to take into consideration. But this is still a damn good first step and that technology by today's standards is old as hell. I don't really follow it, but I'd imagine tremendous improvements have been made over the last 10 years.

Seriously, let's think about a supreme death machine: a rolling tracked pylon maybe the size of a small building, powered by a nuclear reactor and tens of thousands of rounds of high-impact ammunition, large directed energy weapons, near instant (perhaps quantum-linked) connection to satellites and drones, and a quick-deployment Faraday Cage, all with a fairly advanced artificial intelligence powering it. To make our day particularly unlucky, it's running on a photonic computer as well, so it's computing at light speed.




Unless you pit it against another perfect killbot.


Right off the bat, there is no way to actually hit this thing. It sees in 360° at all times. Every bullet that approaches it is tracked and countered with perfect accuracy. Every tank round is shot out of the sky; every ICBM is zapped away or shot down. It doesn't shoot where the bullets are at the current time; it shoots where it predicts they'll be, and it's factoring in every weather condition around it as well. Only a tiny fraction of any wave of fire will ever strike it due to probabilities failing it, and if its armor is thick enough, it is completely negligible.
It can fire multiple bursts of its guns before the electrical impulses in our brains can fire to tell us of the current situation reaching our ocular nerves which could then be fed back to our brains to inform them to pull the trigger on our guns. There is no running from cover to cover as it misses a bunch of shots— the nanosecond the tiniest fraction of a human body emerges from cover, it's been spotted and will soon be eviscerated by gunfire.
These things, powered by the full might of artificial intelligence, could take into account everything from wind speed, distance, bullet velocity, bullet mass, the flap of butterfly wings affecting wind currents an hour in advance, and so much more that we humans don't think about (I think I've talked a few years before about telescopic thinking and how humans are largely incapable of considering very tiny, microscopic events building up over time, often resulting in us claiming "God willed it" when the explanation was a thousand tiny different things coming together in a logical way).
And let's not forget that they are not limited to human senses, nor will they be forced to min-max different abilities like in a video game or movie that's trying not to make its opponents too overpowered. We can make whatever we want overpowered in real life. Indeed, that's usually what we try to do.

BadW3rds
The odds of a killer robot only using the visual spectrum are pretty low.

They could combine acoustic, MMwave, thermal and IR to get a total image of anything around it.

All the technologies already exist. If a dome array can pinpoint a sniper, then I'm sure the tech could be used to identify anything around a killer bot.

A battle to destroy it, where you have the full might of the US military trying to destroy just one perfect killbot, will likely end with a sweeping US defeat and very minor damage to the bot itself. You can't even nuke the damn thing because it would just shoot the nuke out of the sky. And thanks to the quick-deployment Faraday cage, you couldn't even fry its electronics either. As they "think" at lightspeed, only lightspeed objects could possible affect them in any major way. Thus, "gotcha" sorts of weapons like a trusty railgun can also be predicted and at least avoided to an extent (though now you're getting into the territory of "even this killing machine will have trouble stopping it"). Triggering an earthquake from afar might also help, if you've exhausted all options and are willing to put humans in harms way to stop it at all costs.

Of course, if it's powered by a nuclear reactor, that might be on purpose: destroying it only releases radiation into the environment, meaning that even in death, it continues to kill.

Whatever you think is too fast or too much for it to comprehend is too fast or too much for you to comprehend; not this killing machine. There's a vast space of cognition beyond that humans can fathom.

Humans can't easily imagine splitting consciousness into multiple different entities; that's something this sort of bot will be capable of doing. There won't be just one ultimate killing machine but a whole swarm of them, all feeding back into each other. If even one could bring the United States to its knees, a small platoon of them could easily crush humanity several times over.

This all sounds hyperbolic, but the scary thing is, I think I'm actually understating just how dominating such a machine could be. This is just running with some basic facts about the abilities of computers and machines, not imagining some sort of magical phlebotinum. It's not my fault Hollywood undersells their full capabilities for the sake of drama and human victory narratives.

In reality, even the best human intuition and skill crumbles pathetically against the sheer godlike abilities of these robots. Such machines are unstoppable by all human efforts, barring the most extreme exploitation of the environment.