Interesting article from Discovery News and Centauri Dreams. It discusses sources of helium 3 for fusion.
http://news.discover...nus-110531.html
http://www.centauri-...ms.org/?p=18193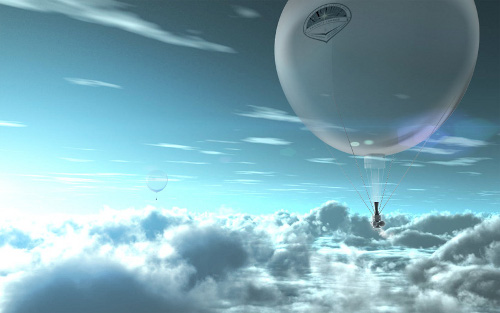 Mining site on Uranus, at this level the surface pressure is 1 bar gravity is 90% of Earth.
The Gas Mines of Uranus

However, there is a surprising amount of helium-3 in the gas giant planets of the outer solar system, and in the original 1978 "Project Daedalus" report Bob Parkinson suggested mining it via floating robotic factories in the atmosphere of Jupiter. Since then a different planet has moved to the forefront of gas-mining plans because it lacks Jupiter's intense gravity, Saturn's gigantic rings of orbital debris and is closer than distant Neptune.

You guessed it; the best helium-3 supply in the solar system is from the "Gas Mines" of Uranus.

That the planet which is the butt of so many poor jokes should be relatively rich in methane as well is purely coincidental, but as a mining site it has several advantages. The surface gravity, which is defined from the 1 bar pressure level in a gas giant's atmosphere, is 90 percent that of Earth's and the speed needed to reach low orbit is lowest of all the gas planets. Uranus's rings are also high, thin and not showering the atmosphere below with a hail of meteors, unlike Saturn's.

Accessing the gas riches of Uranus will require nuclear power, however. Designs exist for nuclear powered ramjets that could fly indefinitely in the atmospheres of the gas giants -- this might prove a viable means of keeping an extraction factory aloft. Else we'll be back to using balloons like "Project Daedalus," serviced by nuclear ramjets.

An atmosphere composed of a cold gas mix that is lighter than helium and not much heavier than hydrogen, means that hot-air ballooning will need to be used. That the oldest technology of flight will find a role supporting the latest, fusion propulsion, has a certain poetic justice.

Getting the fuel home, where it can be used domestically as well as for tanking-up starships, could provide an early pay-off for developing a fusion propelled starship.
A Helium Market

The original "Daedalus" starprobe design had two stages. A Stage Two, by itself, would be well suited to being a deep space freighter, able to carry payloads of up to 500 tons at very high speed. Uranus is nearly three billion kilometers from the sun and Earth, thus traveling there, and back, requires a high-speed vehicle.

A Stage Two freighter could carry itself, with an empty mass of 500 tons, to Uranus in 70 days for just 114 tons of fuel, and then bring back a load of 614 tons using about 254 tons of fuel. Of the return load, 114 tons would be used to return the empty tanker to Uranus, while 500 tons would be used for starships and the terrestrial energy market.

A starprobe might launch by the year 2100 and if world energy demands continue to increase at their historic rate of 2.5 percent, then by 2100 about 14,000 tons of deuterium/helium-3 fuel-mix would supply the world's energy demand per year, adding an incentive to develop the gas-mines of Uranus.

Alternatively, a means might be found to put the neutrons from pure deuterium fusion to good use. Some fusion ignition designs can confine the fusion neutrons in the dense plasma formed by the reaction, sharing their energy with the rest of the fusion plasma, thus reducing the damage to the reactor walls. If such a design can be successfully used for a starship engine, then a source of deuterium can be sought closer to home.

Unlike helium-3 we know the moon has large amounts of hydrogen, as ice, and a significant fraction of it will be deuterium. The moon's low gravity also means that water composed of regular hydrogen and oxygen will escape quicker than heavy water, perhaps leading to a concentration of deuterium in the water of the moon. We won't know until we return to the moon for a closer look.