We Now Know Why There Are Dead Galaxies Floating Lost in The Void of Space
by David Nield
September 11, 2021
https://www.sciencealert.com/we-now-kno ... d-of-space
Introduction:
(Science Alert) Ultra-diffuse galaxies (UDGs) are something of a mystery for astronomers.

They're smaller galaxies in terms of the number of stars, but they're still spread out over great distances, making them faint and difficult to spot. It's not clear how they're formed or if there's something special about the dark matter halos that helps them form.

Recently published research might be able to answer a few outstanding questions about UDGs and, in particular, "quenched" UDGs – ones that aren't forming any new stars. Through a series of simulations, astronomers have been able to spot and analyze some new galaxies that match this description.
Observations and modeling revealed these quenched UDGs were born in what's known as a backsplash orbit, far beyond the edges of a host galaxy but still loosely connected. In other words, they were part of a bigger system before becoming isolated and share some characteristics with that original system.

"What we have detected is at odds with theories of galaxy formation since quenched dwarfs are required to be in clusters or group environments in order to get their gas removed and stop forming stars," says astronomer Laura Sales from the University of California, Riverside.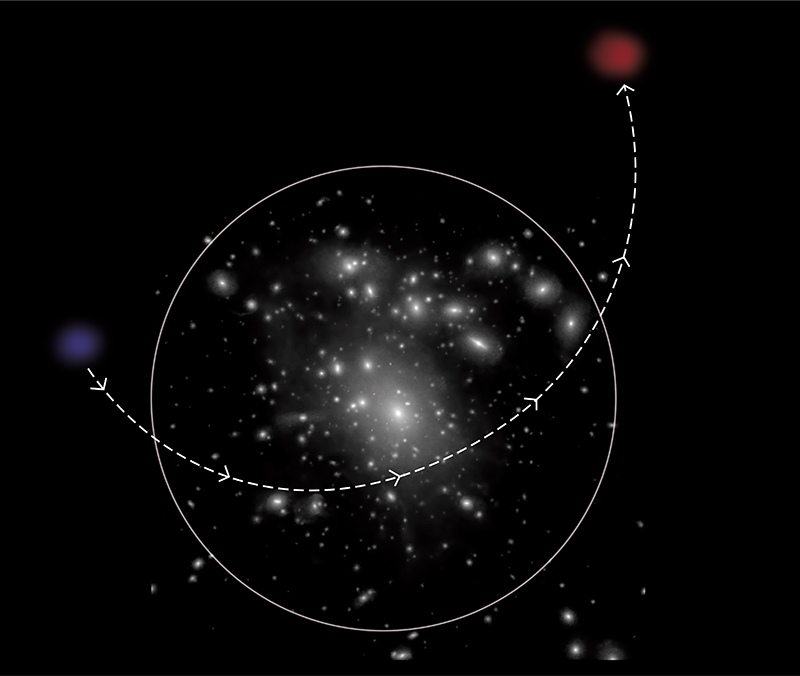 The fall of a blue ultra-diffuse galaxy into a galaxy system and its subsequent ejection as a red ultra-diffuse galaxy.
Vanina Rodriguez