I guess we should have a thread for this, since it's emerging as a potential competitor to SpaceX.
As most of you probably know, Blue Origin is the space company established by Amazon boss (and world's richest person) Jeff Bezos in 2000.
https://www.blueorigin.com/
Its current rocket, New Shepard, is just 18 m (59 ft) tall and has only a tiny payload, falling into the sub-orbital class of rockets. However, Blue Origin is developing a much larger rocket, the New Glenn, standing 95 m (313 ft) and designed to carry 45,000 kg (99,000 lb) into low-Earth orbit (LEO) or up to 13,000 kg (29,000 lb) to geosynchronous transfer orbit (GTO). New Glenn will be partially reusable and is scheduled for a first test flight in
2022
.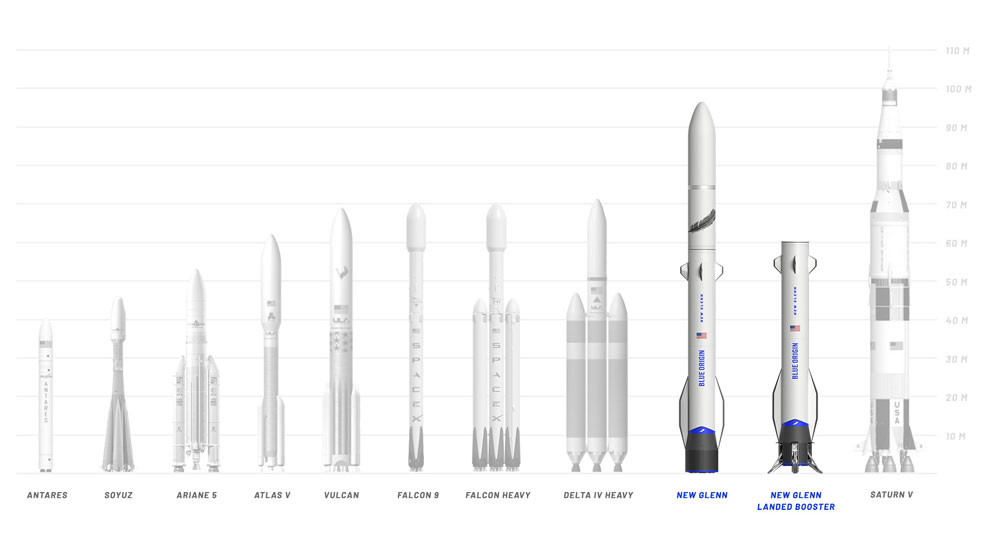 Additionally, the company has longer-term plans for a lunar lander, known as Blue Moon. This could deliver 4,500 kg (9,900 lb) to the Moon's surface and potentially astronauts too, using a New Glenn as the launch vehicle.
In related news, the smaller New Shepard rocket will attempt its first crewed flight tomorrow (20 July), after 15 uncrewed tests. A seat on the rocket was auctioned for $28 million and given to Oliver Daemen, son of millionaire businessman Joes Daemn.
18-year-old Daemen will be the youngest person to go into space... if all goes well.
https://news.yahoo.com/oliver-daemen-mi ... 57662.html