Ancient Embers Reveal Wild Fires in Antarctica That Occurred 75 Million Years Ago
by Laura Geggel
October 27, 2021
https://www.sciencealert.com/scientists ... -years-ago
Introduction:
(Science Alert) Raging wildfires tore through Antarctica 75 million years ago, back when dinosaurs still roamed the Earth, a new study finds.
During the late Cretaceous period (100 million to 66 million years ago), one of the warmest periods on Earth, Antarctica's James Ross Island was home to a temperate forest of conifers, ferns, and flowering plants known as angiosperms, as well as to a slew of dinosaurs.

But it wasn't a total paradise; ancient paleo-fires burned parts of those forests to a crisp, leaving behind charcoal remnants that scientists have now scooped up and studied.

"This discovery expands the knowledge about the occurrence of vegetation fires during the Cretaceous, showing that such episodes were more common than previously imagined," study lead researcher Flaviana Jorge de Lima, a paleobiologist at Federal University of Pernambuco in Recife, Brazil, said in a statement.

The finding marks the first evidence on record of a paleo-fire on James Ross Island, a part of the Antarctic Peninsula that now sits below South America.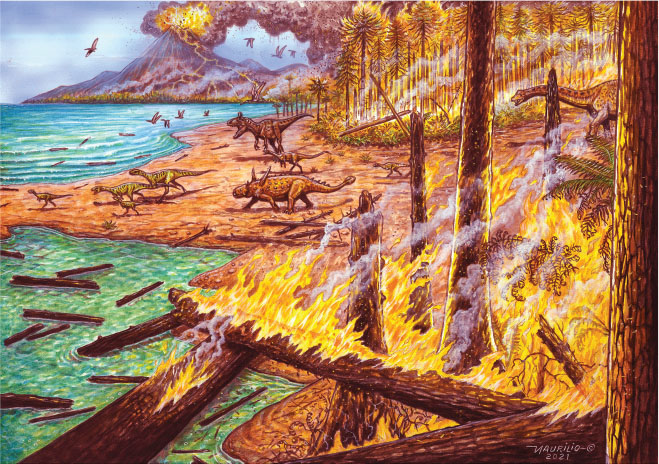 Reconstruction of paleo-wildfires in Antarctica during the Cretaceous.
Maurilio Oliveira