Population (global)

The graphs below are based on data from the United Nations (UN) and the US Census Bureau.**
As shown here, population growth increased significantly during the Industrial Revolution. The last 50 years have seen a yet more rapid increase, due to medical advances and substantial increases in agricultural productivity, particularly beginning in the 1960s with the Green Revolution.
The rapid increase in human population over the course of the 20th century has raised concerns about whether Earth is becoming overpopulated. The scientific consensus is that the current population growth and exponential increase in use of resources are linked to threats against the ecosystem - such as rising levels of atmospheric carbon dioxide, global warming and pollution.
It is possible that disasters triggered by the rising demand for scarce resources will eventually lead to a sudden population crash, or even a Malthusian catastrophe.
Taking just the medium variant, the population forecast looks like this. However, it should be noted that this graph takes no account of future medical advances, or other factors (such as deaths from climate-related catastrophes). It is based purely on the current trend: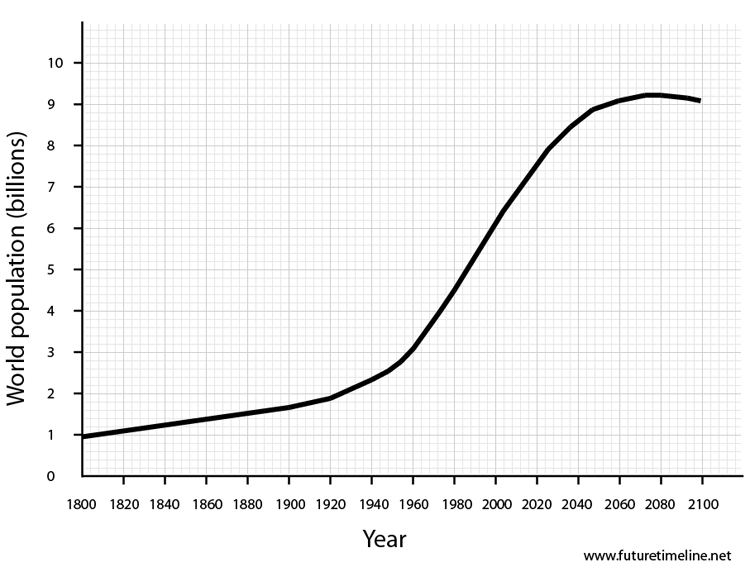 Globally, the population growth rate has been declining from its peak of 2.2% in 1963, but growth remains high in Latin America, the Middle East and Sub-Saharan Africa.
In some countries there is negative population growth (i.e. net decrease in population over time), especially in Central and Eastern Europe (mainly due to low fertility rates). Within the next decade, Japan and some countries in Western Europe are also expected to encounter negative population growth due to sub-replacement fertility rates.