16th October 2016
The world's first nation state in space
At a press conference in Paris this week, plans were announced for the creation of 'Asgardia' – the first nation state in outer space.
Named after the city of the skies in Norse mythology, Asgardia is a space-based nation proposed by Dr Igor Ashurbeyli, founder of the Aerospace International Research Centre (Vienna), and Chairman of UNESCO's Science of Space committee. The concept is aimed at creating a new framework for how space activities are regulated and owned, ensuring that "the future of space is peaceful and done for the benefit of humankind."
Dr Ashurbeyli, one of the Russian Federation's most distinguished scientists, has consulted globally renowned scientists, engineers, entrepreneurs and legal experts on the development of the concept. The project's official website is currently requesting people to register for "citizenship" with the aim of applying to the United Nations for official recognition as a nation state. Already, hundreds of thousands have signed up.
As a first step, the organisation plans to crowd-source a satellite for launch in 2017, sixty years after Sputnik 1, the first ever satellite. This will mark a new era in the space age, the organisation claims, as the satellite will be independent of any current nation state on Earth: the satellite will comprise the nation itself – creating its own legal system, flag and other symbols of nationhood.
"The project's concept comprises three parts – philosophical, legal and scientific/technological," Dr Ashburbeyli explained. "Asgardia is a fully-fledged and independent nation, and a future member of the United Nations – with all the attributes this status entails. The essence of Asgardia is 'Peace in Space', and the prevention of Earth's conflicts being transferred into space.
"Asgardia is also unique from a philosophical aspect: to serve entire humanity and each and everyone, regardless of his or her personal welfare and the prosperity of the country where they happened to be born. The scientific and technological component of the project can be explained in just three words – peace, access and protection. The scientific and technological envelope of Asgardia is a space arena for the scientific creativity of its citizens and companies in developing a broad range of future space technologies, products and services for humanity on Earth and humanity in space."
In recent years, access to space has been opening up, but the process remains slow and is tightly controlled by states on Earth, restricting commerce and scientific developments by private enterprise. Of the 196 nation states, just thirteen (China, France, India, Iran, Israel, Japan, North Korea, Russia/former USSR, South Korea, UK, Ukraine, USA) and one regional organisation (the European Space Agency, ESA) have independently launched satellites on their own indigenously developed launch vehicles.
Professor David Alexander, Director of the Rice Space Institute at Rice University in Texas: "As low-Earth orbit becomes more accessible, what's often called the 'democratisation' of space, a pathway is opening up to new ideas and approaches from a rich diversity of participants. The mission of Asgardia to create opportunities for broader access to space, enabling non-traditional space nations to realise their scientific aspirations is exciting."
Under current international space law, including the widely adopted Outer Space Treaty, states are required to authorise and supervise national space activities, including the activities of commercial and not-for-profit organisations. Objects launched into space are subject to their nation of belonging and if a nation launches an object into space, that nation is responsible for any damage that occurs internationally and in outer space.
Asgardia aims to create a new framework for ownership and nationhood in space, adapting current laws governing responsibility, private ownership and enterprise so they are fit for purpose in the new era of space exploration. By creating a new "space nation", private enterprise, innovation and the further development of space technology to support humanity could flourish, free from the tight restrictions of state control that currently exist.
Professor Ram Jakhu, Director, Institute of Air and Space Law at McGill University, Montreal, Canada: "An appropriate and unique global space legal regime is indispensable for governing outer space in order to ensure it is explored on a sustainable basis, for exclusively peaceful purposes and to the benefit of all humanity – including future generations living on planet Earth and in outer space. The development of foundational principles of such a legal regime ought to take place at the same time as technological progress is being made."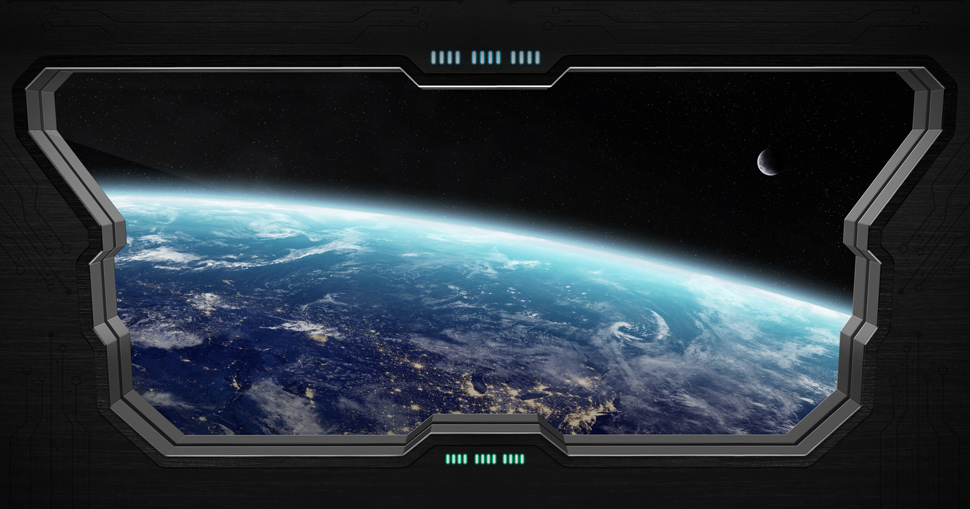 One of the early developments planned by Asgardia's team will be the creation of a state-of-the-art protective shield for all humankind from cosmic manmade and natural threats to life on Earth such as space debris, coronal mass ejections and asteroid collisions.
There are estimated to be more than 20,000 traceable objects of man-made space debris (MSD) including non-active spacecraft, upper-stage rockets and final stage vehicles, as well as fragments of craft that potentially pose a danger in near-Earth orbits. The impact of the Chelyabinsk meteorite which crashed over a Russian town as recently as 2013, injuring 1,100 people and damaging 4,000 buildings, is a reminder of the threat that natural objects pose to life on our planet.
Whilst steps have already been taken by the UN and the Space Mission Planning Advisory Group (SMPAG) to identify potentially hazardous scenarios, Asgardia will build on these developments to offer a more comprehensive mechanism.
Dr. Joseph N. Pelton, former Dean of the International Space University in Strasbourg, France: "The Asgardia project, among other things, may help prepare better answers to the future governance of outer space – a topic of major concern to the United Nations. The exciting aspect of this initiative is its three phase approach to providing broader access to space; promoting peace in outer space; and addressing cosmic hazards and planetary defence."
The Asgardia Project Team will comprise a collaborative, multi-disciplinary effort from leading experts around the globe which it is envisaged will grow over time as the project evolves. But as well as expert involvement in the project, Asgardia is looking to capture the wider public imagination by crowd-sourcing key aspects of the missions and involving members of the public in competitions – for example, to help design the nation's flag, insignia and other symbols of nationhood.
To coincide with the press conference, a website with further details was launched at www.asgardia.space. The project can also be followed on Twitter where updates will be provided, along with interaction between the Asgardia team and members of the public.
---
• Follow us on Twitter
• Follow us on Facebook
15th October 2016
A guest piece by sci-fi author Drew Wagar.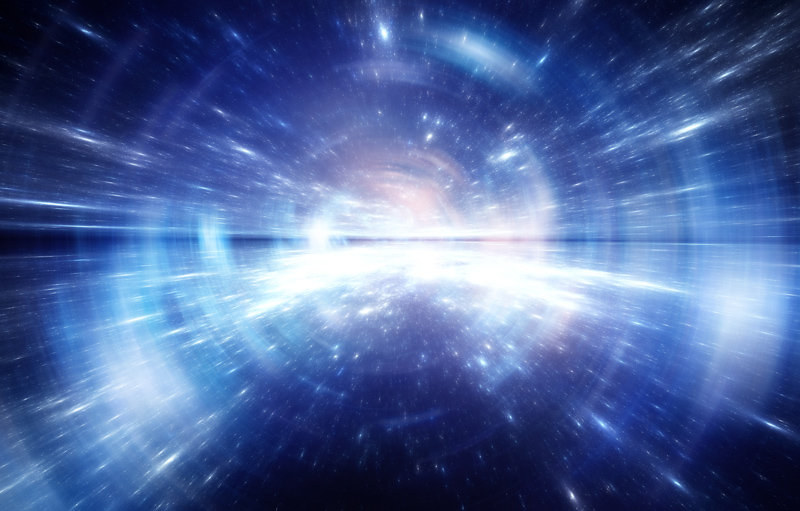 In this guest piece, we talked to sci-fi author Drew Wagar about his predictions for the next five, 50, 500 and 5,000 years.
---
Being an SF writer means you have to imagine different futures, different worlds. It is generally easier to do that when you aren't tied to the present, or you can pick another world or civilisation and use your imagination.
Predicting where we might be in the future is rather more tricky, and, almost certainly, is going to be wrong – but it's a fun exercise and here are my thoughts on where we might be...
The next 5 years (2021)
This period is probably the hardest as it is most likely to be wrong, or at least, proved as inaccurate by progress!
On the technology front, 3D printing is one to watch in the next few years; it has the potential to revolutionise the provision and transport of items, in the same way that email displaced the letter. 4G (and better) mobile network access will become the norm for all devices, relegating 'wired' connections to history for most users. 2 terabyte SD cards will appear in this time frame. Storage will soon cease to be an issue for most users.
Entertainment will continue to shift away from traditional broadcast media and print to reality augmented and deeply personalised content. I suspect there will be interesting developments as VR and augmented reality leaves the realms of 'geekdom' and moves into the mainstream.
I fear the divide between the haves and have-nots will continue to widen, with continued social unrest. For those without means, the future looks bleaker. Pension provision will continue to erode with massive numbers wakening to the realisation that they will never be able to stop working. Debt will continue to force reductions in public spending, against an outcry regarding social welfare. Unfortunately, the traditional 'left' will continue to field unworkable and outdated solutions to these problems and leave unfettered capitalism as the unopposed solution.
We will spectacularly fail to get to grips with the burgeoning climate crisis, due to political lobbying, ignorance and the impact of religion world-wide. The 2020s will open with territorial conflicts over oil, water and food supply, enflamed by religious disputes continuing or even worse than the 2010s.
The next 50 years (2066)
Being optimistic I'm going to give us commercially available fusion power in this time period. This effectively ends the 'oil years' and makes a range of technology obsolete. Prior to this though, 'history' is punctuated by wars both big and small over the diminishing resources of the old carbon economy and the disastrous impacts of climate change.
Personalised electronics, coupled with emerging genetics and nanotechnology continues to expand, with the youngest generation having no qualms about integrating electronics to augment their minds and bodies. The first signs of 'pure humans' and 'augmented humans' becoming separate societies begins to appear.
AI becomes a recognisable 'thing' in this time period, with many jobs replaced by artificial intelligence, particularly in transport, healthcare and brokerage. There are significant amounts of the planet that are run without any human intervention at all.
The concept of 'owning' a car will seem very old-fashioned, along with 9-5 working hours. This will be part of a changing zeitgeist world-wide, as the 'baby boomer' generation and their thinking finally dies away. Constant 'debt' crises force a change whereby rampant consumerism is replaced by a more pragmatic 'value for money' consideration. Credit, loans and debt become dirty words possibly due to a catastrophic financial crash and resultant restructuring.
There remains the strong possibility of a major world conflict in this time period. India and China capitalise on this and become the dominant economic entities, overtaking the United States by mid-century.
Environmental problems grow worse before getting better, with the melting of Arctic sea ice and the widespread collapse of the Antarctic ice shelves. Coastal flooding causes major upheaval. No sea ice at the North Pole becomes the norm. Major displacement of some established coastal areas.
However, there are signs for optimism as the end of the carbon economy favours different nations and those who have invested in alternative energy sources and modern infrastructure.
The next 500 years (2516)
Humanity is now wrestling with an 'excess energy' problem, whereby energy production is so cheap and commonplace that excessive heat generation is a major global problem again. Climate engineering is a massive undertaking whereby the levels of greenhouse gases are being reduced to cater for the massive amounts of heat that global energy use is generating.
Small parts of Earth are now 'off-limits', marked as enclosures for what came to be known as 'pure humans' prior to the event known by historians as the 'Schism'; in this, humanity separated into distinct cultural sects, characterised by their desire to use, or not, selective nano/bio/electronic technology to augment themselves.
The vast majority opted for the enhancements – there was a brief war, which was a forgone conclusion. All illness, mental and physical, deformities were banished as a result. Sex and other dimorphisms ceased to exist. Humans now are partly cybernetic and have abilities that would have been regarded as 'superpowers' to humans 500 years before – able to fly, withstand harm and survive extreme acceleration. 'Pure humans', without these enhancements, are allowed in the enclosures and left undisturbed to continue their existence. Most consider them fascinating 'zoo animals' with hugely limited lifespans and intelligence.
Mars and Venus have been terraformed for the convenience of migration from Earth. They will have been seeded with water from the Kuiper belt and perhaps with minor orbit alterations, courtesy of managed asteroids, to make them even more habitable.
Mining operations across the solar system will have transformed many moons and some planets – though the gas giants will appear largely similar to 21st century eyes.
The next 5,000 years (7516)
Perhaps the most difficult, but certainly the most astonishing changes from the view point of the 21st century.
A major breakthrough in harnessing vacuum energy and a comprehensive understanding of the nature of the universe that eluded 21st century scientists in their entirety now provides the means for humanity to visit other solar systems.
Unlike the imagined crewed spacecraft of thousands of years ago, these ships are merely specialised augmented humans, with humanity's intelligence, biology crafted into the ship itself. They require no crew, as they are the crew. Humanity explores the stars directly, not by means of primitive physical containers. Much of the galaxy has been mapped.
On Earth, the planet is unrecognisable. Gone is any indication of a transport system, or even major cities. Humanity's technology is now so advanced that individuals have no need of 'devices' whether they are transports, housing, communications or sustenance. Thus the planet now looks utterly unspoilt, returned to an 'Eden' of legend. Every individual is utterly self-sufficient in all things.
Culture now revolves around the purest type of entertainment, the exchange of thought, dreams, stories and discovery. Freed from the need to fight to survive, humanity achieves unparalleled greatness.
---
Drew's books include the Shadeward Saga, a four part sci-fi epic set on the tidally-locked world of Esurio, orbiting the red dwarf star Lacaille 9352.
He is currently writing Elite Dangerous: Premonition, the official Elite Dangerous novel being published by Frontier Developments in 2017. Drew himself is a fan of the game – set in 3302 – in which players can explore a scientifically accurate, virtual recreation of the entire Milky Way galaxy. Featuring what is possibly the largest gaming environment ever created, and playable in VR, Elite Dangerous gives players the chance to travel unimaginable distances, witness breathtaking astronomical sights, land on planetary surfaces, mine asteroids, trade commodities, take part in battles and much more.
Drew lives in Kent with his wife, two sons, a dog and a cat. His favourite colour is dark green. Everything else is subject to change without notice.
---
• Follow us on Twitter
• Follow us on Facebook
14th October 2016
Universe contains 10 times more galaxies than previously thought
Using 3D imaging techniques on 20 years of photographs by the Hubble Space Telescope, astronomers estimate there are 2 trillion galaxies in the observable universe – an order of magnitude more than previously thought.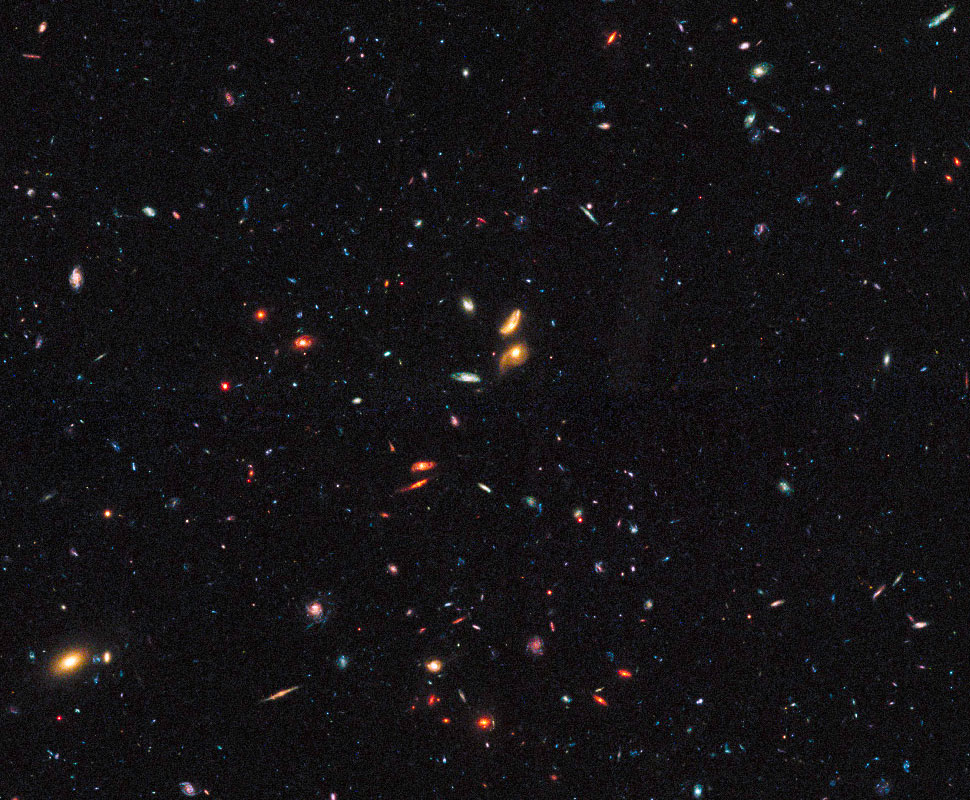 A team of astronomers led by Christopher Conselice of the University of Nottingham, UK, has found that 10 times as many galaxies were packed into a given volume of space in the early universe than today. Most of these galaxies were relatively small and faint, with masses similar to those of the satellite galaxies surrounding the Milky Way. As they merged to form larger galaxies, the population density of galaxies in space dwindled. This means that galaxies are not evenly distributed throughout the universe's history.
"These results are powerful evidence that a significant galaxy evolution has taken place throughout the universe's history, which dramatically reduced the number of galaxies through mergers between them – thus reducing their total number," said Conselice. "This gives us a verification of the so-called top-down formation of structure in the universe."
One of the most fundamental questions in astronomy is that of just how many galaxies the universe contains. The landmark Hubble Deep Field – taken in the mid-1990s – gave the first real insight into the universe's galaxy population. Later more sensitive observations, such as Hubble's Ultra Deep Field, revealed a myriad of faint galaxies. This led to an estimate that the observable universe contained about 200 billion galaxies. The new research shows that this estimate must be at least 10 times too low.
Conselice and his team reached this conclusion using deep-space images from Hubble, as well as published data from other teams. They painstakingly converted the images into 3-D, to make accurate measurements of galaxy numbers at different epochs in the universe's history. In addition, they used new mathematical models allowing them to infer the existence of galaxies that the current generation of telescopes cannot observe. This led to the surprising conclusion that for the numbers of galaxies we now see and their masses to add up, there must be a further 90 percent of galaxies in the observable universe that are too faint and too far away to be seen with present-day telescopes. These small, faint galaxies from the early universe merged over time into larger galaxies we can now observe.
"It boggles the mind that over 90 percent of the galaxies in the universe have yet to be studied. Who knows what interesting properties we will find when we discover these galaxies with future generations of telescopes? In the near future, the James Webb Space Telescope will be able to study these ultra-faint galaxies," said Conselice.
The decreasing number of galaxies as time progresses also contributes to the solution for Olbers' paradox (first formulated in the early 1800s by German astronomer Heinrich Wilhelm Olbers): Why is the sky dark at night if the universe contains an infinity of stars? The team came to the conclusion that indeed there actually is such an abundance of galaxies that, in principle, every patch in the sky contains part of a galaxy. However, starlight from the galaxies is invisible to the human eye and most modern telescopes due to other known factors that reduce visible and ultraviolet light in the universe. Those factors are the reddening of light due to the expansion of space, the universe's dynamic nature, and the absorption of light by intergalactic dust and gas. All combined, this keeps the night sky dark to our vision.
---
• Follow us on Twitter
• Follow us on Facebook
7th October 2016
Saturn's moon Dione may contain a subsurface ocean
The Cassini mission has revealed evidence of a subsurface ocean within Saturn's moon Dione.
A subsurface ocean lies deep within Saturn's moon Dione, according to new data from the Cassini spacecraft. Two other moons of the gas giant – Titan and Enceladus – are already known to hide global oceans beneath their icy crusts, but a new study suggests an ocean exists in Dione as well.
In this study, researchers from the Royal Observatory of Belgium show gravity data from recent Cassini flybys can be explained if Dione's crust floats on an ocean located 100 km (62 miles) below the surface. The ocean is several tens of kilometres deep and surrounds a large rocky core. Seen from within, Dione is similar to its smaller but more famous neighbour Enceladus, whose south polar region spurts huge jets of water vapour into space. Dione seems to be quiet now, but its broken surface bears witness of a more tumultuous past.
The researchers modelled the icy shells of Enceladus and Dione as global icebergs immersed in water, where each surface ice peak is supported by a large underwater keel. Scientists have used this approach in the past, but previous results have predicted a very thick crust for Enceladus and no ocean at all for Dione.
"As an additional principle, we assumed that the icy crust can stand only the minimum amount of tension or compression necessary to maintain surface landforms", said Mikael Beuthe, lead author of the new study. "More stress would break the crust down to pieces."
According to the new study, published in Geophysical Research Letters, Enceladus' ocean is much closer to the surface, especially near the south pole where geysers erupt through a few kilometres of crust. These findings agree well with the discovery last year that Enceladus undergoes large back-and-forth oscillations, or "libration", during its orbit. Enceladus' libration would be much smaller if its crust was thicker. As for Dione, the new study finds it contains a deep ocean between its crust and core.
"Like Enceladus, Dione librates – but below the detection level of Cassini,'' said Antony Trinh, co-author of the study. "A future orbiter hopping around Saturn's moons could test this prediction."
Dione's ocean has probably survived for the whole history of the moon, and thus offers a long-lived habitable zone for microbial life. "The contact between the ocean and the rocky core is crucial", said Attilio Rivoldini, co-author of the study. "Rock-water interactions provide key nutrients and a source of energy, both being essential ingredients for life." The ocean of Dione is too deep for easy access, but Enceladus as well as Jupiter's moon Europa are generous enough to eject water samples in space, ready to be captured by a passing spacecraft.
The club of "ocean worlds" – icy moons or planets with subsurface oceans in common parlance – is gaining new members with each new mission to the outer Solar System. Three ocean worlds orbit Jupiter, three orbit Saturn, and Pluto could also belong to the club, according to recent observations of the New Horizons spacecraft. The approach to modelling planetary bodies used in this study is a promising tool to study these worlds if we can measure their shape and gravity field, according to Mikael Beuthe. "Future missions will visit Jupiter's moons, but we should also explore Uranus' and Neptune's systems", he said.
Cassini was launched in 1997 and has been operational since 2004. Next year, on 15th September 2017, its 20-year mission will end as it plunges into Saturn's hydrogen and helium atmosphere.
---
• Follow us on Twitter
• Follow us on Facebook
28th September 2016
SpaceX founder Elon Musk reveals plan for manned missions to Mars
SpaceX founder and entrepreneur Elon Musk has revealed his plan to send humans to Mars on a new spacecraft, with the first flights beginning in the 2020s.
Yesterday, at the 67th International Astronautical Congress in Guadalajara, Mexico, Elon Musk gave a presentation in which he described his plans to send humans to Mars in the next decade. If successful, this would be achieved using the largest rocket ever designed, to launch a spacecraft capable of delivering up to 100 people into orbit. The rocket booster will be reusable, like SpaceX's existing Falcon 9 rocket, and will return to the launch pad. Another rocket launch would deliver fuel to the awaiting spacecraft, after which solar panels would be unfurled for the remaining journey to Mars.
Musk claims the trip could take as little as 80 days, significantly faster than most of today's unmanned probes that typically need 180 days (six months). Upon its arrival at the Red Planet, the spacecraft would land on its feet using retro-propulsion rockets. It would be named the "Heart of Gold" after the ship commanded by Zaphod Beeblebrox in Douglas Adams' famous novel, The Hitchhiker's Guide to the Galaxy. The astronauts would then step onto the surface of a new planet, becoming the first humans to do so. For return trips to Earth, rocket fuel could be synthesised on Mars from water and CO2.
As for the question of when this could all happen, Musk said he was "intentionally a bit fuzzy about this timeline". However, he wants to begin sending equipment and supplies to Mars every two years, starting with the first Red Dragon mission in 2018. The first humans could follow by the mid-2020s.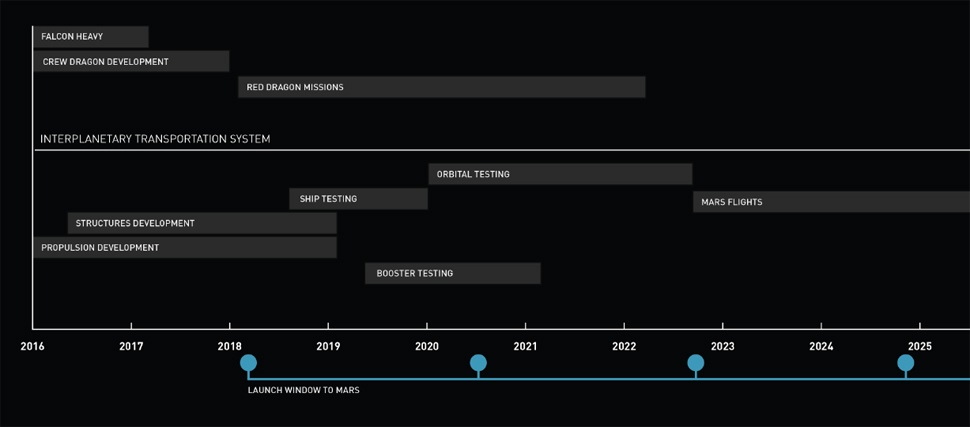 Musk is well known for his ambitious schedules when it comes to new technologies, such as electric and self-driving cars. His plans for Mars would be significantly earlier than NASA's intended missions for the 2030s. This has raised concerns regarding the financial and technical feasibility. For example, radiation could be a significant problem for the astronauts, as well as long periods without Earth's gravity, for which a great deal more research is needed to determine the impact on human health. During the presentation, he was also somewhat vague about the growing of food on Mars and the generation of energy. He said nothing about the problem of Martian dust, which not only covers solar panels, but could pose a serious risk to the astronauts' health if breathed in.
In terms of the costs involved, Musk appears confident. While a trip to Mars with current technologies may cost upwards of ten billion dollars, he hopes to bring this down substantially – so that, in the not-too-distant future, a ticket to Mars could be bought for only $100,000. This would enable many thousands of people to settle on Mars within a relatively short time. In addition to funding some aspects of the Mars missions from SpaceX profits, he is seeking backers for a public-private partnership. The interplanetary division of SpaceX currently receives up to $30 million per year in funding – but this will increase substantially after the final version of the Falcon 9 rocket is rolled out. The reusability of the Mars spacecraft, in-orbit refuelling and on-site propellant production would reduce costs by "orders of magnitude".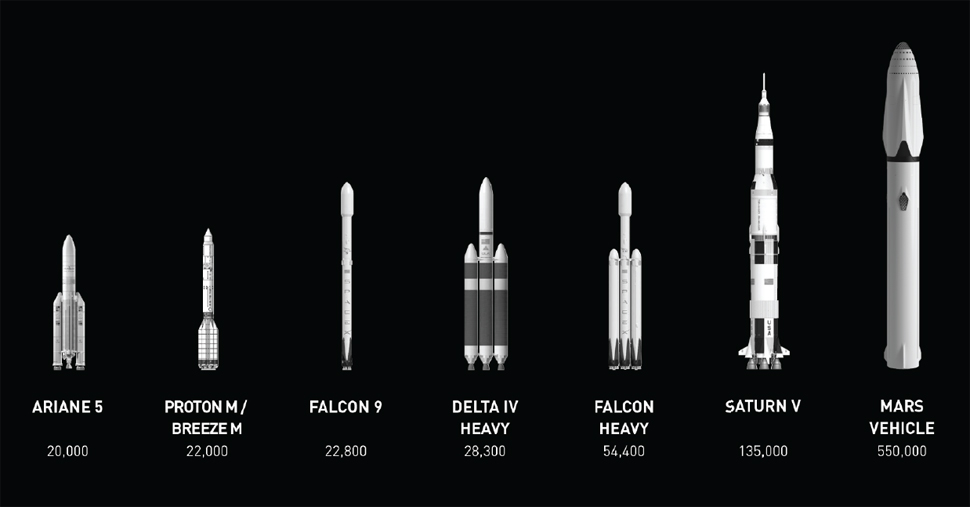 The Interplanetary Transport System, to give its official name, is not just for Mars. In the longer term, Musk claims the system it uses could be designed for extended missions to the moons of Jupiter and even further into the Solar System. SpaceX has already begun developing the Raptor rocket engine that will power the craft. His presentation also touched on the longer-term possibility of terraforming Mars to make it habitable and Earthlike.
"The thing that Mars really represents is life insurance, ensuring that the light of consciousness is not extinguished, backing up the biosphere," he said at the presentation. "It's not about everybody moving to Mars – it's about becoming multiplanetary."
The full presentation including a downloadable PDF is available on the SpaceX website.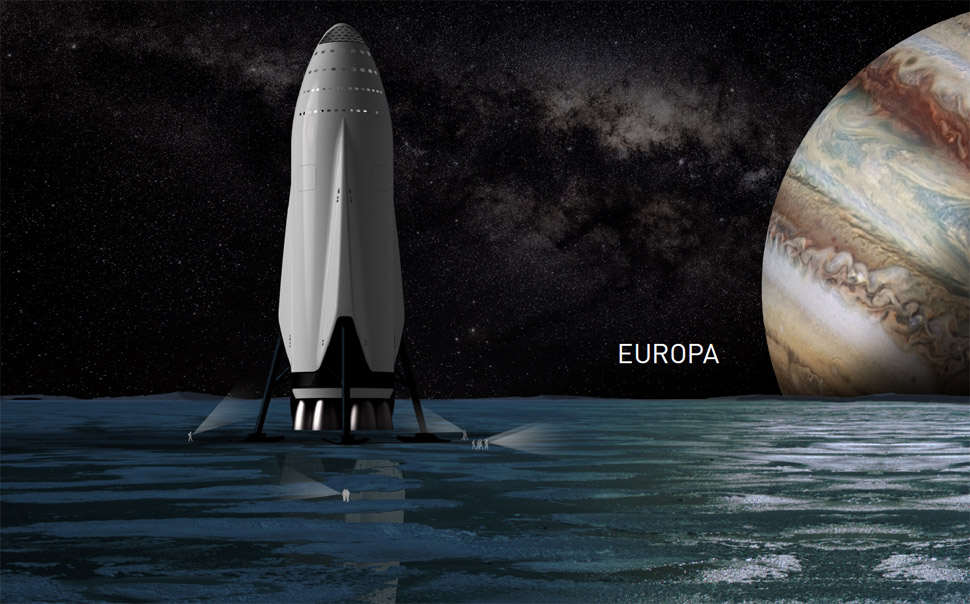 ---
• Follow us on Twitter
• Follow us on Facebook