12th December 2013
Suppliers chosen for Mars One's first unmanned mission
Mars One has secured lead suppliers for its first mission to Mars. Slated for a 2018 launch, this will include a robotic lander and orbiting communications satellite.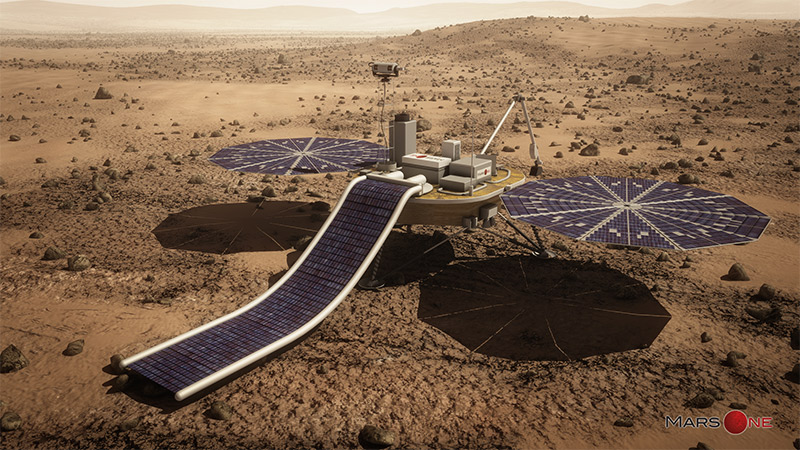 As we've blogged previously, Mars One is a not-for-profit company based in the Netherlands, which aims to construct the first permanent human settlement on Mars. Led by Dutch entrepreneur Bas Lansdorp, the plan is for a supply mission to be launched in January 2018, arriving in the same year. This will carry 2,500 kg (5,500 lb) of spare parts, solar panels and other items down to the surface. It would be followed by a rover and trailer in 2020, capable of towing equipment from landing sites to the settlement location. Six cargo units – consisting of two living units, two life support systems and two supply units – would be sent in 2022, using a rover signal as a beacon.
The outpost would be operational by 2023 and the first human crew would be delivered in 2024. These four astronauts would be joined by additional groups after that, reaching a total of 20 people by 2033. Every step of the crew's journey will be documented for a reality TV program that will broadcast 24/7/365.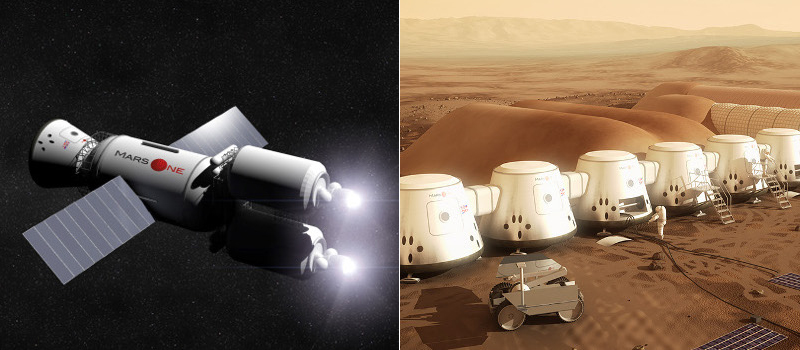 To many of our readers, this probably sounds too good to be true. And indeed, we have omitted the Mars One program from our timeline, until it becomes clearer that the project is financially and technically viable. However, the company has been making progress. Earlier this year, they secured their first investment, which was followed by a tremendous show of public support through their astronaut selection program, and now a crowdfunding campaign is underway.
This week, Mars One contracted both Lockheed Martin and Surrey Satellite Technology Ltd. (SSTL) to develop mission concept studies. This will result in Lockheed Martin building the lander, while SSTL handles the communications satellite. This 2018 mission will be a demonstration that provides "proof of concept" for some of the technologies important for a permanent human settlement on Mars.
Bas Lansdorp, Mars One Co-founder and CEO stated: "We're very excited to have contracted Lockheed Martin and SSTL for our first mission to Mars. Both are significant players in their field of expertise and have outstanding track records. These will be the first private spacecraft to Mars and their successful arrival and operation will be a historic accomplishment."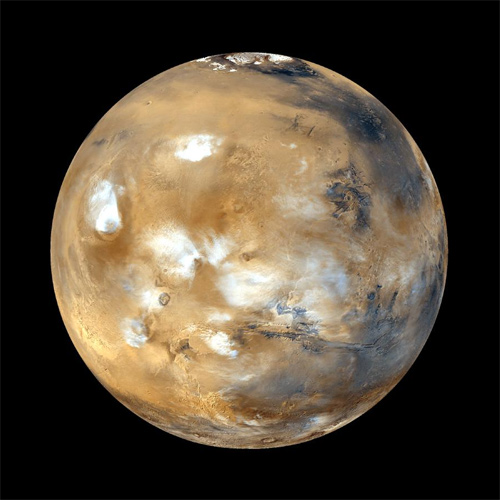 The surface lander will be based on the 2007 NASA Phoenix mission spacecraft. Lockheed Martin has a distinct legacy of participating in nearly every NASA mission to Mars. For the successful Phoenix mission, the company designed, built, tested and operated the lander for NASA.
"Lockheed Martin is very excited to have been contracted by Mars One. This is an ambitious project and we're already working on the mission concept study – starting with the proven design of Phoenix," said Ed Sedivy, Civil Space chief engineer at Lockheed Martin. "Having managed the Phoenix spacecraft development, I can tell you, landing on Mars is challenging and a thrill and this is going to be a very exciting mission."
The lander will have the ability to scoop up Martian soil with a robotic arm similar to the Phoenix mission. A water experiment will extract water from the Martian soil. A power experiment will demonstrate the deployment and operation of thin-film solar panels on the surface, and a camera on the lander will be used to make continuous video recordings.
The demonstration satellite will provide a high bandwidth communications system in a Mars synchronous orbit and will be used to relay data and a live video feed from the lander on the surface of Mars back to Earth. Sir Martin Sweeting, Executive Chairman of SSTL: "We believe the commercialisation of space exploration is vital, in order to bring down costs and schedules and fuel progress. This study gives an unprecedented opportunity to take our tried and tested approach and apply it to Mars One's imaginative and exhilarating challenge of sending humans to Mars through private investment."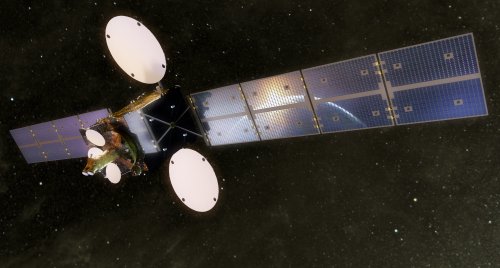 Arno Wielders, Co-founder and CTO of Mars One, said: "With our 2018 missions, Mars One brings the settlement of Mars one step closer to reality. The demonstration of water production on Mars is crucial for manned missions. The live video feed from the surface camera will bring Mars closer to people on Earth. And with the STEM education challenges and university competitions planned on our lander, we will enthuse a whole new generation for Mars exploration, even before our first crew lands."
Mars One decided to launch the lander and communications satellite in 2018, two years later than their original schedule. This new schedule provides time for development of the two spacecraft and for student participation in STEM education and university challenges.
Mars One's mission will not be financed by any government. Instead, means of funding the project include sponsorships and exclusive partnerships. Mars One is in discussion with several partners about participating in specific components of the mission. As mentioned, a crowdfunding campaign has also been launched that enables people to donate online. Among other things, contributors will be granted voting rights for mission decisions in the future.
"Landing the first humans on Mars should be everyone's mission and not just the mission of one country or organisation" said Lansdorp. "Our 2018 mission will change the way people view space exploration as they will have the opportunity to participate. They will not only be spectators, but also participants. We think it is important to involve people from all over the world in what we're doing, and crowdfunding and crowdsourcing activities are important means to do that."
10th December 2013
Giant telescope being developed by DARPA
By using lightweight "membrane optics" instead of traditional glass, a new generation of space telescopes could be deployed that reach sizes of 20 metres (68 foot) or larger.
As the need for higher-resolution orbital imagery expands, glass mirrors are fast approaching the point where they will be too large, heavy and costly for even the largest of today's rockets to carry to orbit. DARPA's Membrane Optical Imager for Real-Time Exploitation (MOIRE) program seeks to address these challenges by developing technologies that would make orbital telescopes much lighter, more transportable and more cost-effective. Currently in its second and final phase, the program recently successfully demonstrated a ground-based prototype that incorporated several critical technologies, including new lightweight polymer membrane optics to replace glass mirrors.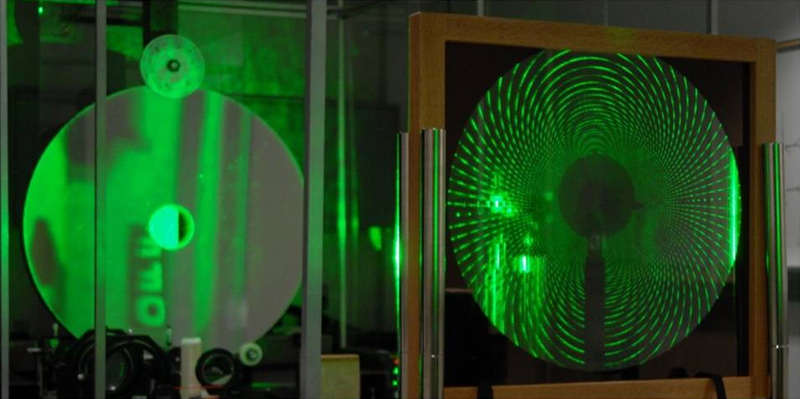 Instead of reflecting light with mirrors or refracting it with lenses, MOIRE's membrane optics diffract light. Roughly the thickness of household plastic wrap, each membrane serves as a Fresnel lens — it is etched with circular concentric grooves like microscopically thin tree rings, decreasing from hundreds of microns at the centre, down to only 4 microns at the outside edge. The diffractive pattern focuses light on a sensor that the satellite translates into an image.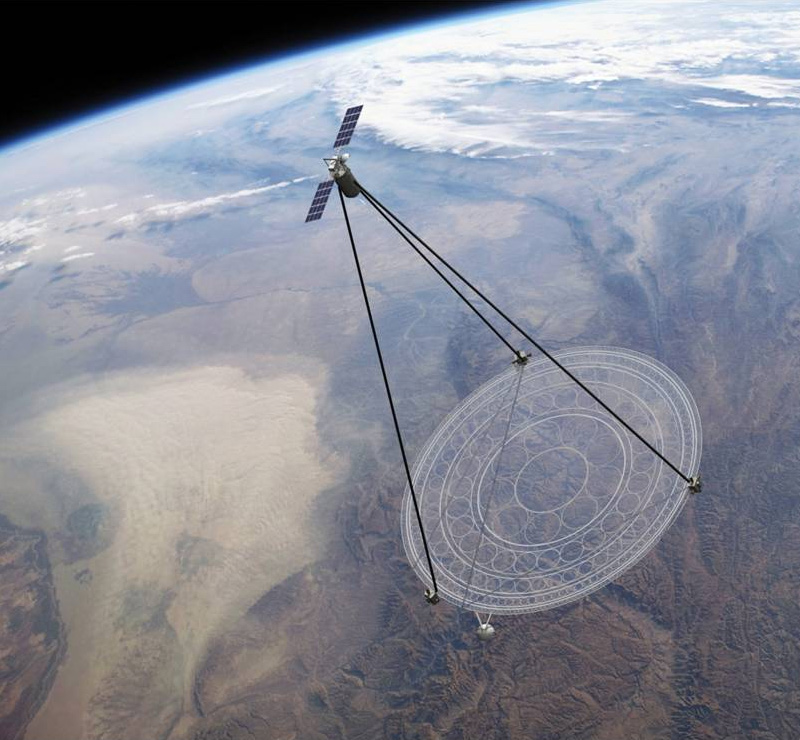 MOIRE technology houses the membranes in thin metal "petals" that would launch in a tightly-packed configuration roughly 20 feet in diameter. Upon reaching its destination orbit, a satellite would then unfold the petals to create the full-size, multi-lens optics. The envisioned diameter of 68 feet (about 20 metres) would be the largest telescope optics ever made — dwarfing the glass mirrors contained in the world's most famous telescopes. This behemoth would be even larger than the 16-metre ATLAST observatory planned for 2025.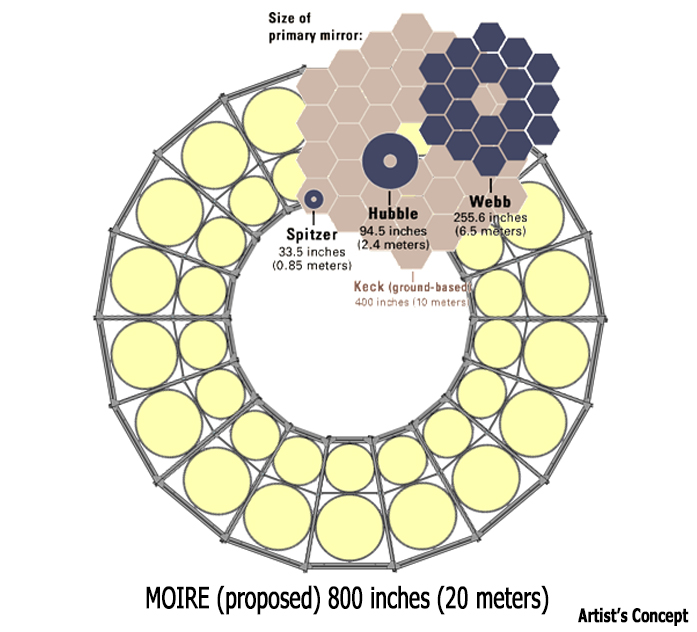 Looking down from geostationary orbit, it is believed a satellite using MOIRE optics could see approximately 40 percent of the Earth's surface at once. It could focus on a 10 km-by-10 km region at 1-metre resolution and provide real-time video of this entire area at one frame per second. In its ground-based tests, MOIRE has achieved a technological first for membrane optics by nearly doubling their efficiency, from 30 percent to 55 percent.
Lt. Col. Larry Gunn, DARPA program manager: "Membrane optics could enable us to fit much larger, higher-resolution telescopes in smaller and lighter packages. In that respect, we're 'breaking the glass ceiling' that traditional materials impose on optics design. We're hoping our research could also help greatly reduce overall costs and enable more timely deployment using smaller, less expensive launch vehicles."
5th December 2013
Water found on multiple exoplanets
The Hubble Space Telescope has found evidence of water in the atmospheres of five distant exoplanets orbiting stars beyond our Solar System.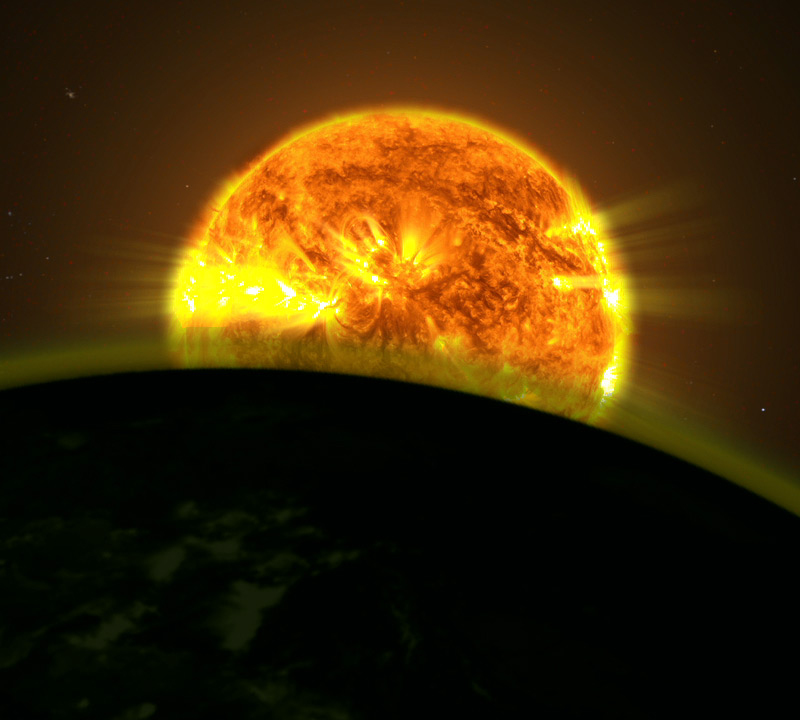 Using the Hubble Space Telescope, two teams of scientists have detected faint signatures of water in the atmospheres of five distant exoplanets. Atmospheric water on exoplanets has been reported previously – but this new study is the first to conclusively measure the profiles and intensities of these signatures on multiple worlds.
The five planets – WASP-17b, HD209458b, WASP-12b, WASP-19b and XO-1b – orbit stars ranging in distance from 154 to 1,000 light years from Earth. The strengths of their water signatures varied. WASP-17b, a planet with an especially puffed-up atmosphere, and HD209458b had the strongest signals. The signatures for the other three planets, WASP-12b, WASP-19b and XO-1b, are also consistent with water.
"We're very confident that we see a water signature for multiple planets," said Avi Mandell, planetary scientist at NASA's Goddard Space Flight Center, and lead author of an Astrophysical Journal paper describing the findings. "This work really opens the door for comparing how much water is present in atmospheres on different kinds of exoplanets – for example, hotter versus cooler ones."
The studies were part of a census of exoplanet atmospheres led by Prof. L. Drake Deming at the University of Maryland. Hubble's Wide Field Camera 3 was used to determine light absorption through the planets' atmospheres. The observations were made in a range of infrared wavelengths where a water signature, if present, would appear. The teams compared shapes and intensity of the absorption profiles, and the consistency of signatures gave them confidence they saw water.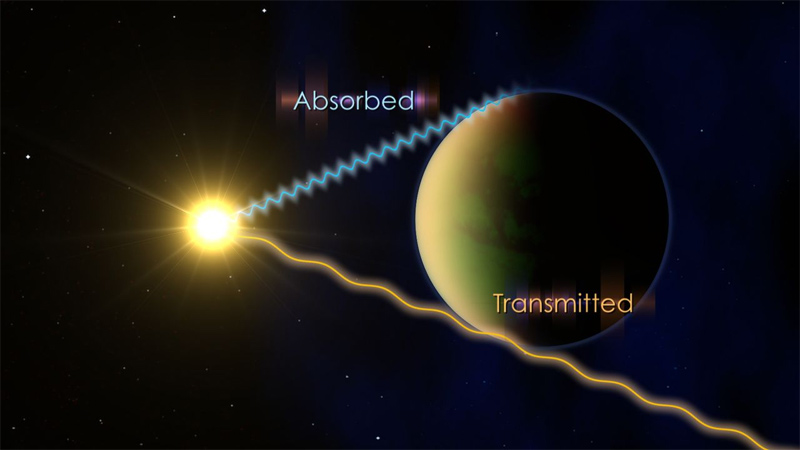 "To actually detect the atmosphere of an exoplanet is extraordinarily difficult. But we were able to pull out a very clear signal, and it is water," said Deming, whose team employed a new technique with longer exposure times, which increased the sensitivity of their measurements.
The water signals were all less pronounced than expected, and the scientists suspect this is because a layer of haze or dust blankets each of the five planets. This haze can reduce the intensity of all signals from the atmosphere in the same way fog can make colours in a photograph appear muted. At the same time, haze alters the profiles of water signals and other important molecules in a distinctive way.
The five planets are "hot Jupiters" – massive worlds that orbit close to their host stars. The researchers were initially surprised that all five appeared to be hazy. But Deming and Mandell noted that other researchers are finding evidence of haze around exoplanets.
"These studies, combined with other Hubble observations, are showing us that there are a surprisingly large number of systems for which the signal of water is either attenuated or completely absent," said Heather Knutson of the California Institute of Technology, a co-author on Deming's paper. "This suggests that cloudy or hazy atmospheres may in fact be rather common for hot Jupiters."
Hubble's high-performance Wide Field Camera 3 is one of only a few capable of analysing the atmospheres of exoplanets many trillions of miles away. These exceptionally challenging studies can be done only if the planets are spotted while they are passing in front of their stars. Researchers can identify the gases in a planet's atmosphere by determining which wavelengths of the star's light are transmitted and which are partially absorbed.
As detection methods improve, astronomers will be able to search the atmospheres of Earth-sized planets. Some of the missions being planned in the future include the CHEOPS satellite (2017), James Webb Telescope (2018), the European Extremely Large Telescope (2022) and the Advanced Technology Large-Aperture Space Telescope (2025-2035).
23rd November 2013
Driving economic growth into the Solar System
Planetary Resources, Inc. was co-founded in 2010 by Peter Diamandis and Eric C. Anderson. This new startup company hopes to address one of the paramount problems faced on Earth: resource scarcity. It will achieve this by developing a robotic asteroid mining industry, based on reduced fuel costs. As this video explains, prospecting and mining asteroids could drive economic growth into the Solar System, where potentially trillions of dollars' worth of metals and minerals lie. Planetary Resources has already signed an agreement with Virgin Galactic for payload services. In early 2014, they plan to launch "Arkyd-3", a testbed for the larger Arkyd-100 spacecraft that will hunt for asteroids.
5th November 2013
Microgravity accelerates biological aging
As nations strive to put humans farther into space for longer periods of time, the real loser in this new space race could be the astronauts themselves. New experiments conducted on the International Space Station (ISS) involving cells that line the inner surfaces of blood vessels (endothelial cells) show that microgravity accelerates cardiovascular disease and the biological aging of cells. These findings are presented in the November 2013 issue of The FASEB Journal.
"Understanding the cellular and molecular events of senescence might help in finding preventive measures that are useful to improve the quality of life of millions of people," said Silvia Bradamante, a researcher from the CNR-ISTM, Institute of Molecular Science and Technologies in Milan, Italy. "Our study further supports the role of oxidative stress in accelerating aging and disease."
In this report, Bradamante and colleagues examined endothelial cells in real microgravity aboard the ISS and conducted deep gene expression and protein analysis on the cells. They compared space-flown endothelial cells to endothelial cells cultured under normal gravity — looking for differences in gene expression and/or in the profile of secreted proteins. Space-flown cells differentially expressed over 1,000 genes, and secreted high amounts of pro-inflammatory cytokines. Ultimately, this induced significant oxidative stress, causing inflammation among endothelial cells, which in turn, led to atherosclerosis and cell senescence (biological aging).
"As we plan to send people deeper into space than ever before, and for longer flights, we've got to make sure that they remain in the best health possible," said Gerald Weissmann, Editor-in-Chief of The FASEB Journal. "We've evolved to rely on gravity to regulate our biology, and without it, our tissues become confused. Worst of all: they age faster!"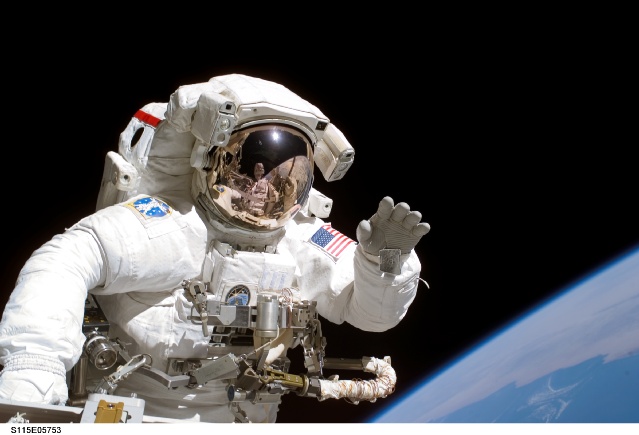 5th November 2013
How common are habitable planets?
NASA's Kepler space telescope, now crippled and its four-year mission at an end, nevertheless provided enough data to complete its mission objective: to determine how many of the 200 billion stars in our galaxy have potentially habitable planets. Based on a statistical analysis of all the Kepler observations, astronomers at UC Berkeley and University of Hawaii, Manoa, now estimate that 22 percent of stars like the Sun have planets about the size of Earth and a surface temperature conducive to life. That amounts to several tens of billions of potentially habitable worlds.
25th October 2013
An update on the New Horizons probe
New Horizons was launched by NASA in January 2006 to study the dwarf planet Pluto and return the first ever close-range photos of the distant world. This week, it reached another milestone on its long voyage.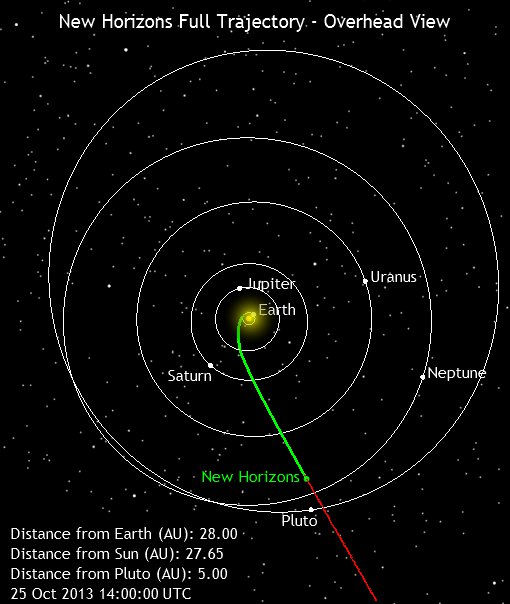 The probe is now within 5 AU of Pluto. An astronomical unit (AU) is the average distance between the Earth and Sun – about 93 million miles, or 149 million kilometres. So far, New Horizons has travelled over 2.7 billion miles (4.4 billion km), which means it has completed 85% of its journey.
Alan Stern, New Horizons principal investigator: "It's exciting to be closing in on the Pluto system. The encounter begins in January 2015 – just over 14 months from now. You can really feel the energy level rising on this mission!"
After passing by Pluto, New Horizons will continue into the Kuiper belt, a region similar to the asteroid belt, but far larger – 20 times as wide and possibly 200 times as massive – and filled with icy remnants from the Solar System's formation. Mission planners are now searching for one or more additional Kuiper belt objects (KBOs) of around 50–100 km (31–62 mi) in diameter, for flybys similar to the spacecraft's Plutonian encounter.
By 2038, the probe will be 100 AU from the Sun. If still functioning, it will explore the outer heliosphere on the edge of interstellar space. After that, it will head in the direction of the constellation Sagittarius.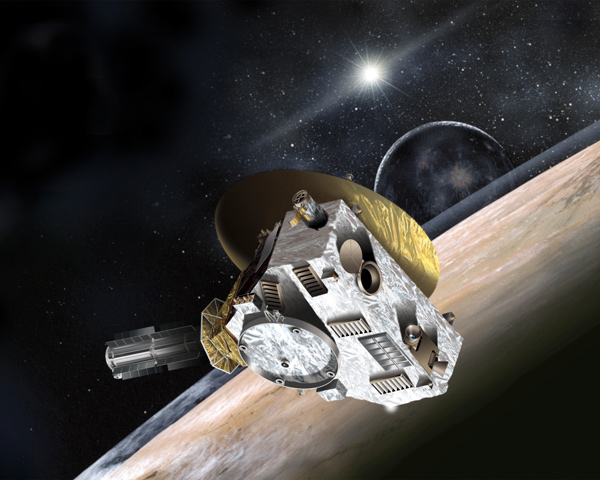 24th October 2013
Astronomers discover most distant galaxy to date
Bahram Mobasher and Naveen Reddy, from the University of California, Riverside, are members of a team that has discovered the most distant galaxy ever found. The galaxy is seen as it was just 700 million years after the Big Bang – when the universe was only 5 percent of its current age of 13.8 billion years.
In collaboration with astronomers at the University of Texas at Austin, Texas A & M University, and the National Optical Astronomy Observatories, Mobasher and Reddy identified a very distant galaxy candidate using deep optical and infrared images taken by the Hubble Space Telescope. Follow-up observations of this galaxy by the Keck Telescope in Hawaii confirmed its distance.
In searching for distant galaxies, the team selected several candidates, based on their colours, from the approximately 100,000 galaxies identified in the Hubble Space Telescope images taken as a part of the CANDELS survey – the largest project ever performed by the Hubble Space Telescope, with a total allocated time of 900 hours. However, using colours to sort galaxies is tricky, because some nearby objects can masquerade as distant galaxies.
Therefore, to measure the distance to these galaxies in a definitive way, astronomers use spectroscopy – a way of determining how much the wavelength of a galaxy's light has shifted into the red part of the spectrum, due to the expansion of the universe. This phenomenon is called "redshift." Since the expansion velocity (redshift) and distances of galaxies are proportional, the redshift gives astronomers a measure of the distance to galaxies.
"What makes this galaxy unique, compared to other such discoveries, is the spectroscopic confirmation of its distance," said Mobasher, a professor of physics and observational astronomy.
Because light travels at 186,000 miles per second, when we look at distant objects, we are seeing them as they appeared in the past. The more distant we push these observations, the farther into the past we can see.
"By observing a galaxy that far back in time, we can study the earliest formation of galaxies," he said. "By comparing properties of galaxies at different distances, we can explore the evolution of galaxies throughout the age of the universe."
The discovery was made possible by a new instrument, MOSFIRE, commissioned on the Keck Telescope. Not only is the instrument extremely sensitive, but it is designed to detect infrared light – a region of the spectrum to where the wavelength of light emitted from distant galaxies is shifted – and could target multiple objects at a time. It was the latter feature that allowed the researchers to observe 43 galaxy candidates in only two nights at Keck, obtaining higher quality observations than previous studies.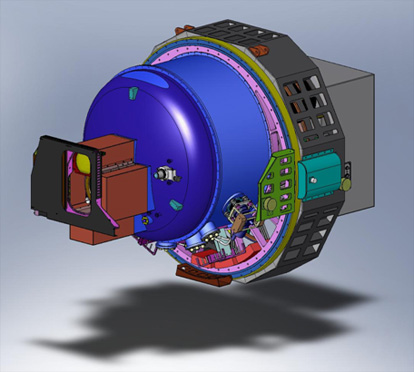 By performing spectroscopy on these objects, researchers are able to accurately gauge the distances of galaxies by measuring a feature from the ubiquitous element hydrogen called the Lyman alpha transition. It is detected in most galaxies that are seen from a time more than one billion years from the Big Bang, but as astronomers probe earlier in time, the hydrogen emission line, for some reason, becomes increasingly difficult to see.
Of the 43 galaxies observed with MOSFIRE, the research team detected this feature from only one galaxy, z8-GND-5296, shifted to a redshift of 7.5. The researchers suspect they may have zeroed in on the era when the universe made its transition from an opaque state, in which most of the hydrogen was neutral, to a translucent state when most of the hydrogen was ionised (called the Era of Re-ionisation).
"The difficulty of detecting the hydrogen emission line does not mean that the galaxies are absent," said Reddy, an assistant professor of astronomy. "It could be that they are hidden from detection behind a wall of neutral hydrogen."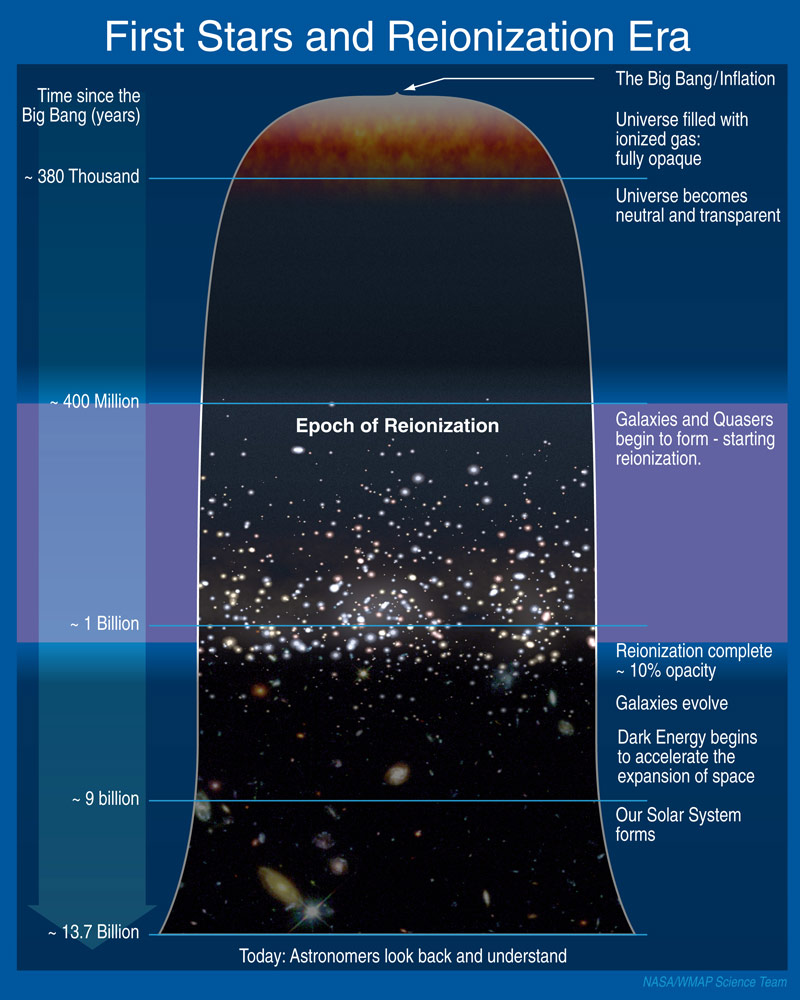 The team's observations showed that z8-GND-5296 is forming stars extremely rapidly – producing about 330 times the mass of our Sun each year. By comparison, the Milky Way forms only two to three new stars per year. The new distance record-holder lies in the same part of the sky as the previous record-holder (redshift 7.2), which also happens to have a very high rate of star-formation.
"So we're learning something about the distant universe," said Steven Finkelstein, University of Texas at Austin, who led the project. "There are way more regions of very high star formation than previously thought. There must be a decent number of them if we happen to find two in the same area of the sky."
"With the construction and commissioning of larger ground-based telescopes – the Thirty Metre Telescope in Hawaii and Giant Magellan Telescope in Chile – and the 6.5 metre James Webb Space Telescope in space, by the end of this decade we should expect to find many more such galaxies at even larger distances, allowing us to witness the process of galaxy formation as it happens," Mobasher said.
The study is published online in Nature.
20th October 2013
Large asteroid could impact Earth in 2032
Ukrainian astronomers at the Crimean Astrophysical Observatory have identified a 410 m (1345 ft) asteroid with a small chance of hitting Earth on 26th August, 2032.
The asteroid has been named 2013 TV135. It was discovered on 12th October by astronomer Gennady Borisov using a custom 0.2 m (7.9 in) telescope. Based on early observations, this rock has a 1 in 14,000 chance of impacting Earth – though NASA expects these odds to be stretched further as more data becomes available, so it probably isn't worth including on our timeline.
However, if such an impact did occur, it could be devastating. Given the mass and velocity, its kinetic energy would be equivalent to over 2,400 megatons of TNT. This is about 50 times the energy of Russia's 50 Mt Tsar Bomba, the largest nuclear detonation in history.
While its chances of hitting us might be low, this discovery is an important reminder that we need to remain vigilant when it comes to these asteroids. The number of confirmed near-Earth objects recently passed the 10,000 mark and there are possibly 10 times that many still waiting to be found.
Two asteroids with significantly greater odds are 2007 VK184 – due for a close approach in 2048 – and 1950 DA which is approaching our vicinity in 2880. Earlier this year, a 20 metre rock impacted Chelyabinsk in Russia, injuring 1,200 people and causing an explosion bigger than Hiroshima. These objects present a genuine threat to our survival and we cannot afford to be complacent.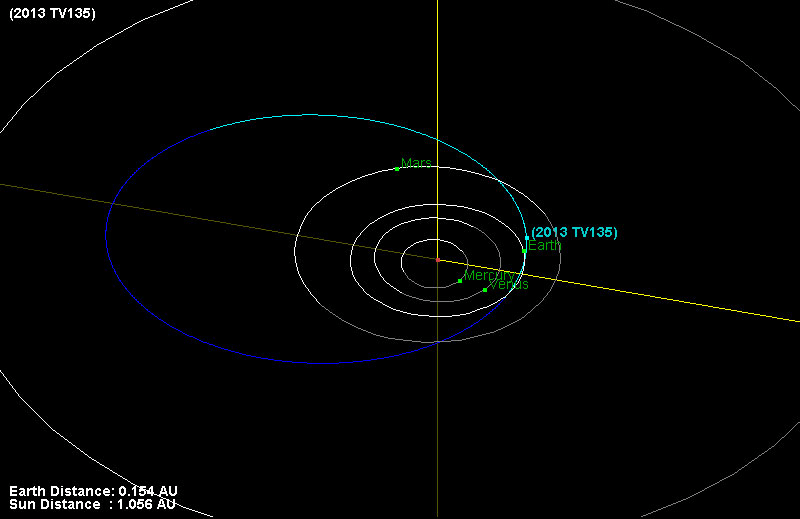 13th October 2013
SpaceX's Grasshopper flies half a mile high
The "Grasshopper" is an experimental reusable rocket being tested by SpaceX, whose founder is the billionaire entrepreneur Elon Musk. If successfully developed, it could dramatically cut the cost of space travel, with launch vehicles being reused instead of discarded and burning up on reentry. A total of eight tests have been conducted so far, with progressively higher and more difficult manoeuvres. This week, the Grasshopper completed its highest leap to date, reaching an altitude of 2,441 feet (744 m) before returning to the launch pad.
2nd October 2013
The first cloud map of an exoplanet
Astronomers using data from NASA's Kepler and Spitzer space telescopes have created the first cloud map of a planet beyond our solar system – a sizzling, Jupiter-like world known as Kepler-7b.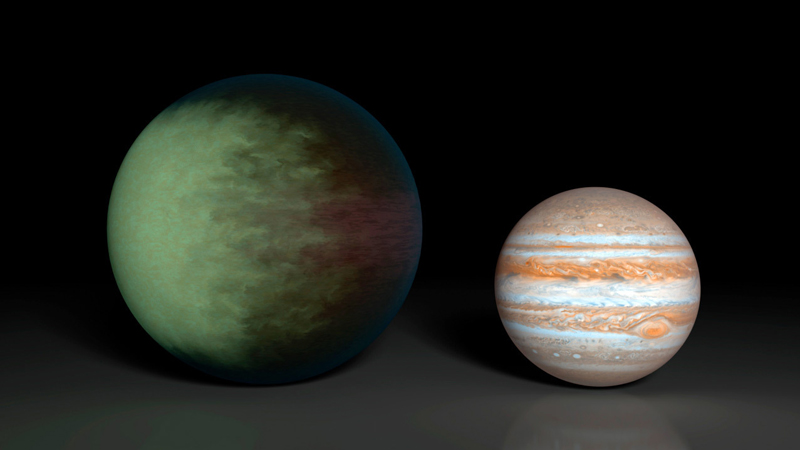 The planet is marked by high clouds in the west and clear skies in the east. Previous studies from Spitzer have resulted in temperature maps, but this is the first look at cloud structures on a distant world.

"By observing this planet with Spitzer and Kepler for more than three years, we were able to produce a very low-resolution 'map' of this giant, gaseous planet," said Brice-Olivier Demory, of Massachusetts Institute of Technology in Cambridge. Demory is lead author of a paper accepted for publication in the Astrophysical Journal Letters. "We wouldn't expect to see oceans or continents on this type of world, but we detected a clear, reflective signature that we interpreted as clouds."

Kepler has found over 150 confirmed exoplanets in 76 star systems – along with a further 3,250 unconfirmed candidates – and Kepler-7b was one of the first. The telescope's problematic reaction wheels prevent it from hunting planets anymore, but astronomers continue to pore over almost four years' worth of collected data.

Kepler's visible-light observations of Kepler-7b's moon-like phases led to a rough map of the planet that showed a bright spot on its western hemisphere. But these data were not enough on their own to decipher whether the bright spot was coming from clouds or heat. The Spitzer Space Telescope played a crucial role in answering this question.
Like Kepler, Spitzer can fix its gaze at a star system as a planet orbits around the star, gathering clues about the planet's atmosphere. Spitzer's ability to detect infrared light means it was able to measure Kepler-7b's temperature, estimating it to be between 1,500 and 1,800 degrees Fahrenheit (1,100 and 1,300 Kelvin). This is relatively cool for a planet that orbits so close to its star – within 0.06 astronomical units (one astronomical unit is the distance from Earth and the Sun) – and, according to astronomers, too cool to be the source of light Kepler observed. Instead, they determined, light from the planet's star is bouncing off cloud tops located on the west side of the planet.

"Kepler-7b reflects much more light than most giant planets we've found, which we attribute to clouds in the upper atmosphere," said Thomas Barclay, at NASA's Ames Research Center, California. "Unlike those on Earth, the cloud patterns on this planet do not seem to change much over time – it has a remarkably stable climate."

The findings are an early step toward using similar techniques to study the atmospheres of planets more like Earth in composition and size.

"With Spitzer and Kepler together, we have a multi-wavelength tool for getting a good look at planets that are trillions of miles away," said Paul Hertz, director of NASA's Astrophysics Division in Washington. "We're at a point now in exoplanet science where we are moving beyond just detecting exoplanets, and into the exciting science of understanding them."
The technical paper is online at http://www.mit.edu/~demory/preprints/kepler-7b_clouds.pdf.
29th September 2013
Astronomers discover densest galaxy ever
Imagine the distance between the Sun and the star nearest to it – Alpha Centauri. That's about 4.2 light years. Now, imagine as many as 10,000 of our Suns crammed into that relatively small space.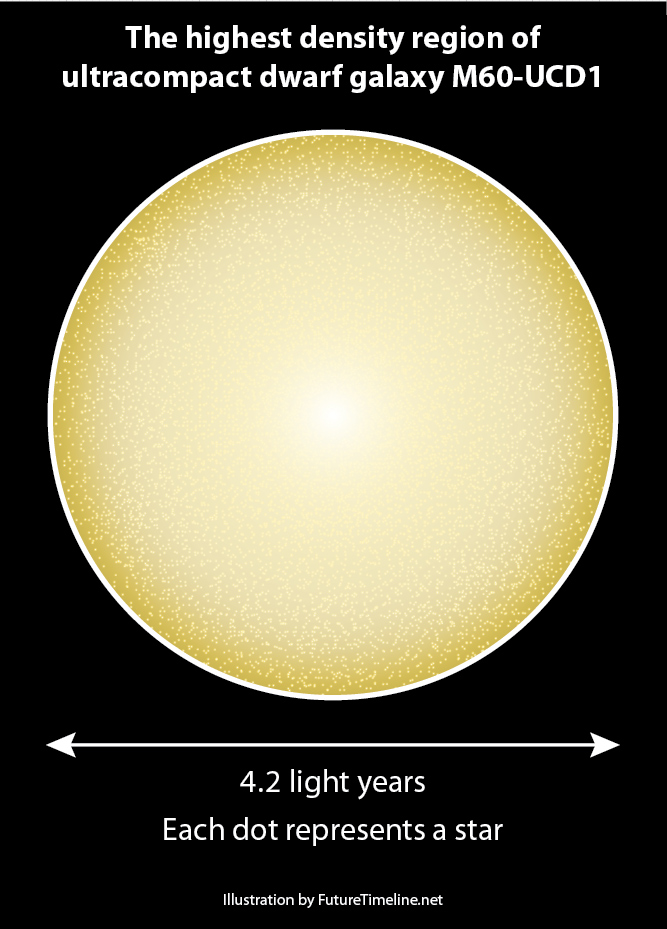 The diagram above shows the density of a galaxy that was recently discovered by an international team of astronomers led by a Michigan State University faculty member.
"This galaxy is more massive than any ultra-compact dwarfs of comparable size," said Jay Strader, MSU assistant professor of physics and astronomy, "and is arguably the densest galaxy known in the local universe."
As detailed in a recent edition of Astrophysical Journal Letters, the ultra-compact dwarf galaxy was found in the Virgo cluster of galaxies, located 54 million light years from our own Milky Way. What makes this galaxy – known as M60-UCD1 – so remarkable is that approximately half of its mass is found within a radius of only 80 light years. This would make the density of stars around 15,000 times greater than found in Earth's neighbourhood in the Milky Way.
"Traveling from one star to another would be a lot easier in M60-UCD1 than it is in our galaxy," Strader said. "Since the stars are so much closer in this galaxy, it would take just a fraction of the time."
The discovery of ultra-compact galaxies is relatively new – only within the past 10 years or so. Until then, astronomers could see these "things" way off in the distance, but assumed they were either single stars or very distant galaxies.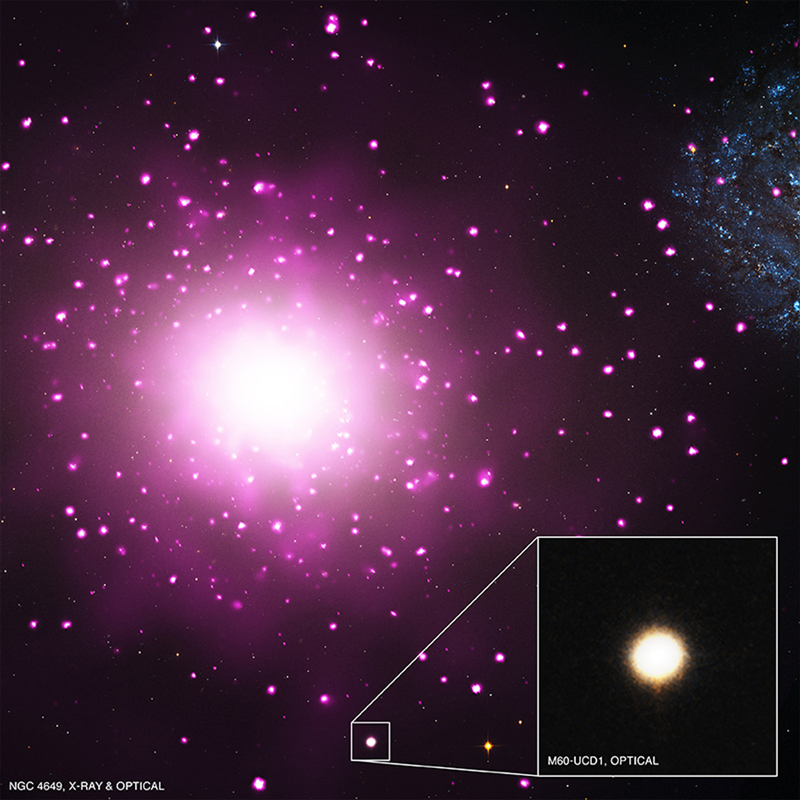 Another intriguing aspect of this galaxy is the presence of a bright X-ray source in its centre. One explanation for this is a giant black hole, weighing in at some 10 million times the mass of our sun.
Astronomers are trying to determine whether M60-UCD1 and other ultra-compact dwarf galaxies are either born as really jam-packed star clusters, or if they are galaxies that gradually get smaller because of stars being ripped away from them. The possible massive black hole, combined with the high galaxy mass and Sun-like levels of elements found in the stars, favour the latter idea. A giant black hole at the centre of M60-UCD1 helps tip the scales against the scenario where this galaxy was once a star cluster, since such large black holes are not found in these types of objects.
The galaxy was discovered using NASA's Hubble Space Telescope. Follow-up observations were done with NASA's Chandra X-ray Observatory and ground-based optical telescopes, including the Keck 10-metre telescope in Hawaii.
"Twenty years ago, we couldn't have done this," Strader said. "We didn't have Hubble or Chandra. This is one of those projects where you bring together the full force of NASA's great observatories, plus ground-based resources."
22nd September 2013
No methane on Mars, according to NASA's Curiosity rover
NASA's Curiosity rover has revealed the Martian environment lacks methane. This is surprising to researchers, because previous data reported by U.S. and international scientists indicated positive detections.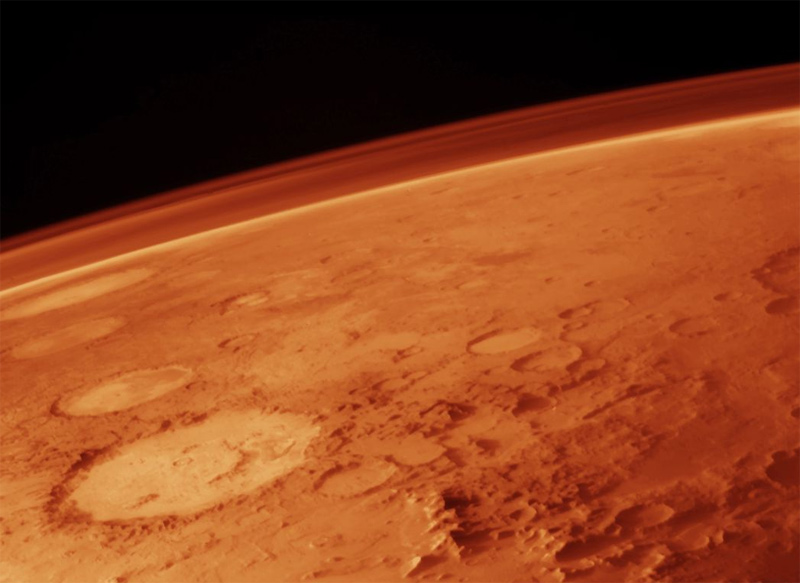 The roving laboratory performed extensive tests to search for traces of Martian methane. Whether the Martian atmosphere contains traces of the gas has been a question of high interest for decades, because methane could be a potential sign of life, although it can also be produced without biology.
"This important result will help direct our efforts to examine the possibility of life on Mars," said Michael Meyer, NASA's lead scientist for Mars exploration. "It reduces the probability of current methane-producing Martian microbes, but this addresses only one type of microbial metabolism. As we know, there are many types of terrestrial microbes that don't generate methane."
Since October 2012, Curiosity has analysed samples of the Martian atmosphere for methane six times and detected none. Given the extreme sensitivity of the instrument used – the Tunable Laser Spectrometer – and not detecting the gas, scientists calculate the amount of methane in the Martian atmosphere today must be no more than 1.3 parts per billion, which is about one-sixth as much as some earlier estimates.
"It would have been exciting to find methane, but we have high confidence in our measurements, and the progress in expanding knowledge is what's really important," said Chris Webster of NASA's Jet Propulsion Laboratory. "We measured repeatedly from Martian spring to late summer, but with no detection of methane."
Webster is lead scientist for the Tunable Laser Spectrometer, which is part of Curiosity's Sample Analysis at Mars (SAM) laboratory. It can be tuned specifically for detection of trace methane. The laboratory can also concentrate any methane to increase the gas' ability to be detected. The rover team are using this method to check for methane at concentrations well below 1 part per billion.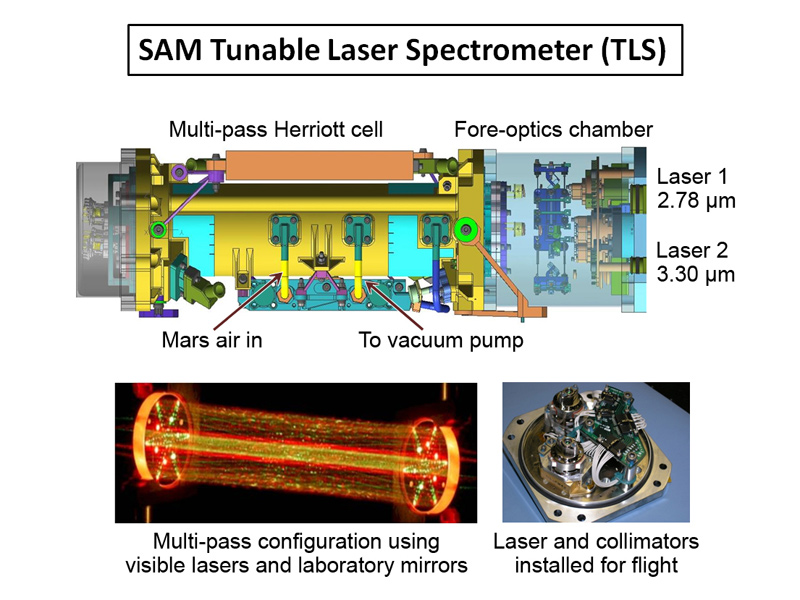 Methane, the most abundant hydrocarbon in our Solar System, has one carbon atom bound to four hydrogen atoms in each molecule. Previous reports of localised methane concentrations up to 45 parts per billion, which sparked interest in the possibility of a biological source on Mars, were based on observations from Earth and from orbit around Mars. However, the measurements from Curiosity are not consistent with such concentrations, even if the methane had dispersed globally.
"There's no known way for methane to disappear quickly from the atmosphere," said co-author Sushil Atreya of the University of Michigan. "Methane is persistent. It would last for hundreds of years in the Martian atmosphere. Without a way to take it out of the atmosphere quicker, our measurements indicate there cannot be much methane being put into the atmosphere by any mechanism – whether biology, geology, or by ultraviolet degradation of organics delivered by the fall of meteorites or interplanetary dust particles."
The highest concentration of methane that could be present without being detected by Curiosity's measurements so far would amount to no more than 10 to 20 tons per year of methane entering the Martian atmosphere, Atreya estimated. That is about 50 million times less than the rate of methane entering Earth's atmosphere. Details of these findings were published in the Thursday edition of Science Express.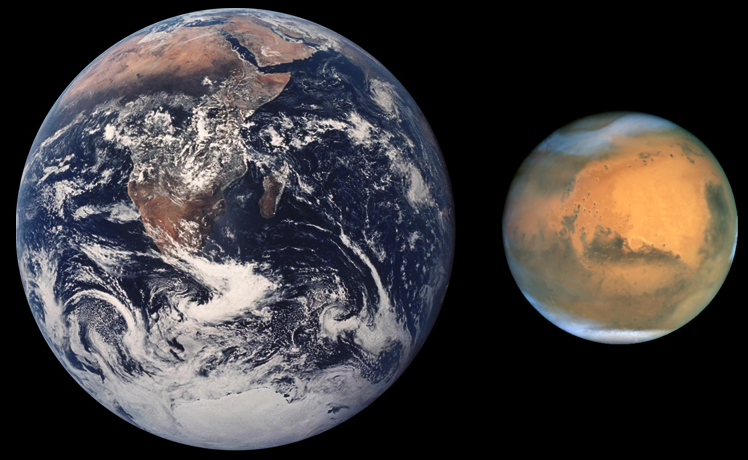 12th September 2013
NASA evaluates four candidate sites for 2016 Mars mission
NASA has narrowed to four the number of potential landing sites for its next mission to Mars, a lander designed to study the planet's interior.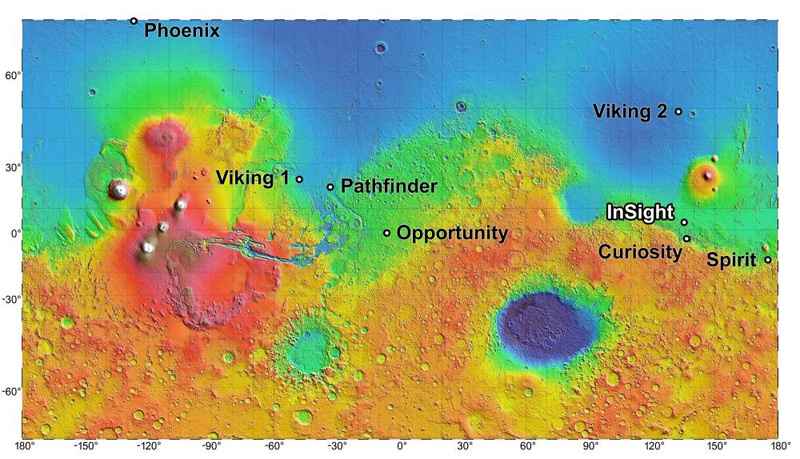 The stationary Interior Exploration Using Seismic Investigations, Geodesy and Heat Transport (InSight) lander is scheduled to launch in March 2016 and land on Mars six months later. It will touch down at one of four sites selected in August from a field of 22 candidates. All four semi-finalist spots lie near each other on an equatorial plain in an area of Mars called Elysium Planitia.
"We picked four sites that look safest," said geologist Matt Golombek of NASA's Jet Propulsion Laboratory (JPL) in Pasadena, California. "They have mostly smooth terrain, few rocks and very little slope."
Scientists will focus two cameras from NASA's Mars Reconnaissance Orbiter on the semi-finalists in the coming months to gain data they will use to select the best of the four sites well before InSight is launched.
The mission will investigate processes that formed and shaped Mars and will help scientists better understand the evolution of our inner solar system's rocky planets, including Earth. Unlike previous Mars landings, what is on the surface in the area matters little in the choice of a site, except for safety considerations.
"This mission's science goals are not related to any specific location on Mars because we're studying the planet as a whole, down to its core," said Bruce Banerdt, InSight principal investigator at JPL. "Mission safety and survival are what drive our criteria for a landing site."
Each semifinalist site is an ellipse measuring 81 miles (130 kilometres) from east to west and 17 miles (27 kilometres) from north to south. Engineers calculate the spacecraft will have a 99 percent chance of landing within that ellipse, if targeted for the centre.
Elysium is one of three areas on Mars that meet two basic engineering constraints for InSight. One requirement is being close enough to the equator for the lander's solar array to have adequate power at all times of the year. The elevation must also be low enough to have sufficient atmosphere above the site for a safe landing. The spacecraft will use the atmosphere for deceleration during descent.
All four semifinalist sites, as well as the rest of the 22 of the candidate sites studied, are in Elysium Planitia. The only other two areas of Mars meeting the requirements of being near the equator at low elevation – Isidis Planitia and Valles Marineris – are too rocky and windy. Valles Marineris also lacks any swath of flat ground large enough for a safe landing.
InSight also needs penetrable ground, so it can deploy a heat-flow probe that will hammer itself up to 5 yards into the surface to monitor heat coming from the planet's interior. This tool can penetrate through broken-up surface material or soil, but could be foiled by solid bedrock or large rocks.
"For this mission, we needed to look below the surface to evaluate candidate landing sites," Golombek said.
InSight's heat probe must penetrate the ground to the needed depth, so scientists studied Mars Reconnaissance Orbiter images of large rocks near Martian craters formed by asteroid impacts. Impacts excavate rocks from the subsurface, so by looking in the area surrounding craters, the scientists could tell if the subsurface would have probe-blocking rocks lurking beneath the soil surface. InSight will also deploy a seismometer on the surface and use its radio for measurements.