14th December 2017
NVIDIA launches graphics card with 110 teraflops of processing power
NVIDIA has unveiled the TITAN V – the most powerful graphics processing unit (GPU) ever made, equivalent to the world's 3rd fastest supercomputer in 2006.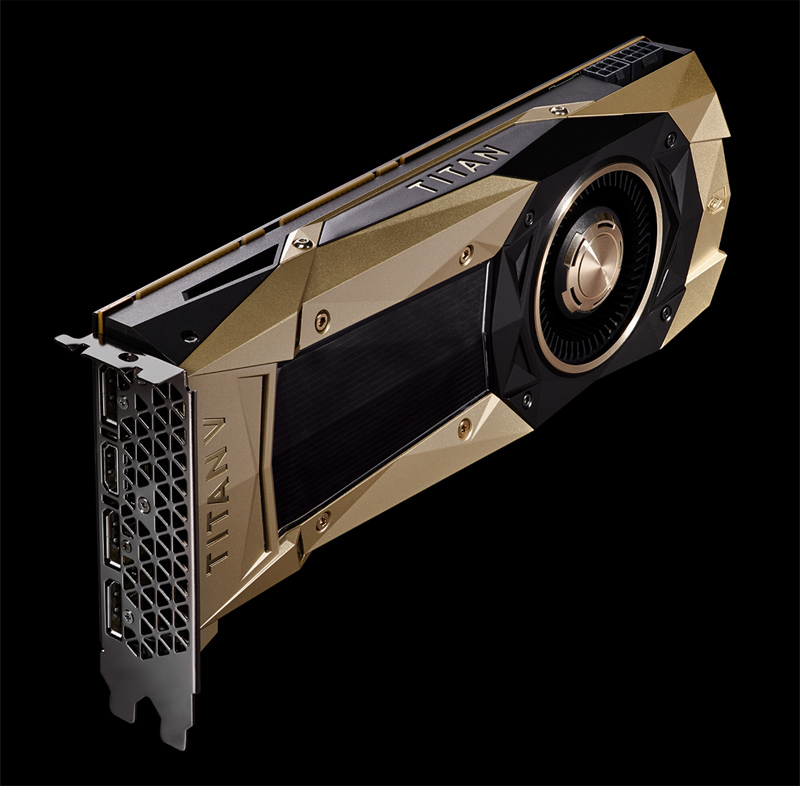 Credit: NVIDIA
This month, NVIDIA has introduced the TITAN V – a graphics card with truly monstrous capabilities. The new GPU excels at scientific simulation and is designed for AI researchers in particular. It was announced by company founder and CEO Jensen Huang at the Neural Information Processing Systems (NIPS) conference in Long Beach, California.
With a retail price of $2,999 USD, the TITAN V will be outside the budget of most individuals, except for the most hardcore of gamers, along with businesses and research organisations. It is the most powerful GPU ever released for the PC, with 21.1 billion transistors and 12GB of memory delivering 110 teraflops of raw computational power – nine times that of its predecessor – and featuring the world's most advanced GPU architecture, NVIDIA Volta. It also provides extreme energy efficiency.
"Our vision for Volta was to push the outer limits of high performance computing and AI," said Huang at the NIPS conference. "We broke new ground with its new processor architecture, instructions, numerical formats, memory architecture and processor links. With TITAN V, we are putting Volta into the hands of researchers and scientists all over the world. I can't wait to see their breakthrough discoveries."
The TITAN V's Volta architecture features a major redesign of the streaming multiprocessor at the centre of the GPU. It doubles the energy efficiency of the previous generation "Pascal" design, enabling dramatic boosts in performance in the same power envelope.
New Tensor Cores have been designed specifically for deep learning applications. With independent parallel integer and floating-point data paths, Volta is much more efficient on workloads with a mix of computation and addressing calculations. Its new combined L1 data cache and shared memory unit significantly improve performance, while also simplifying programming.
Fabricated on a new 12-nanometre (nm) high-performance manufacturing process customised for NVIDIA, the TITAN V also incorporates Volta's highly tuned 12GB HBM2 memory subsystem for advanced memory bandwidth utilisation.
The TITAN V will be ideal for developers who want to use their PCs to do work in AI, deep learning and high performance computing. In terms of raw power, it is greater than the maximal LINPACK of the BGW - eServer Blue Gene Solution, the world's 3rd fastest supercomputer in 2006. Back then, an entire room of computers at IBM's research centre provided less than 100 teraflops; today that same computational power is available within a single desktop PC.
---
• Follow us on Twitter
• Follow us on Facebook
• Subscribe to us on YouTube
Comments »