17th February 2018
Global sea ice at record low
The National Snow and Ice Data Centre (NSIDC) reports that global sea ice extent has fallen to a new record low.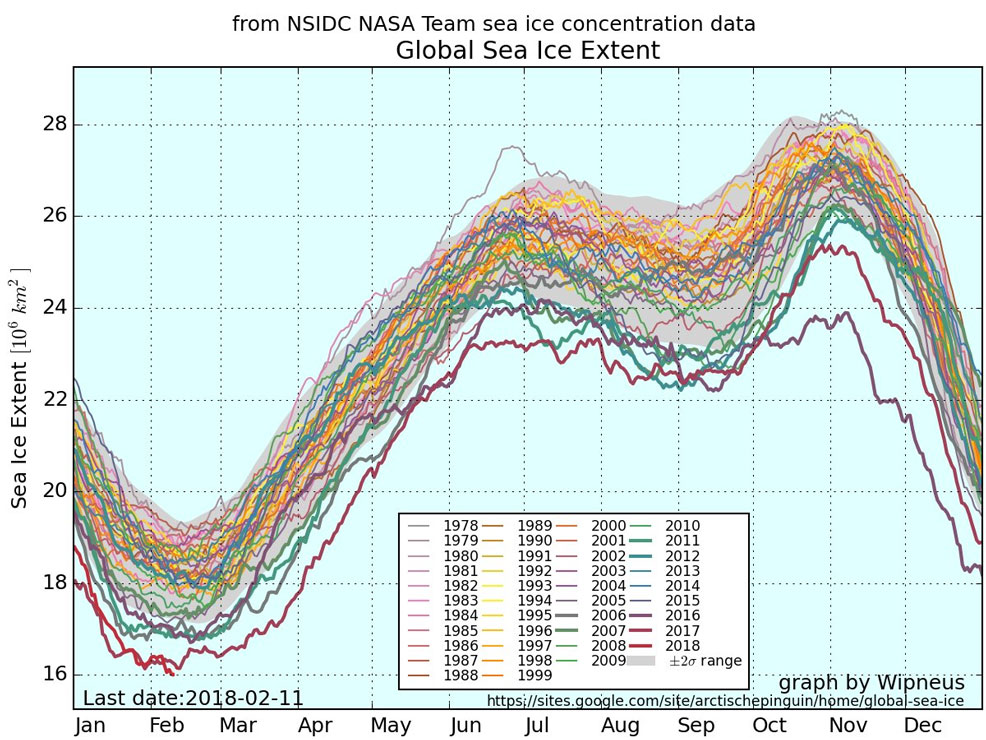 During early February 2018, the area of sea covered by ice was the lowest ever recorded in the satellite era, according to the latest available data from the National Snow and Ice Data Centre (NSIDC). As shown on the graph above, satellites have been monitoring global ice coverage since 1978.
The most recent observations show that globally, sea ice briefly touched 16 million km² earlier this month, more than 3 million km² below the same time of year in the 1970s. This loss represents an area equivalent in size to India. The rate of ice loss appears to be accelerating, as shown by the alarming collapse of 2016, when a substantial departure from the long-term trend was initiated.
"The recent sea ice loss is unprecedented," said Ingrid Onarheim, a researcher at the University of Bergen and Bjerknes Centre for Climate Research, during the recent Arctic Frontiers conference in Norway. When combined with longer-term records dating back to 1850, it is evident that "we've never had as little ice as we have now," Onarheim told her colleagues. These other records include whaling ship logs, sea ice charts from meteorological institutes, compilations by U.S. Navy oceanographers, observations from aircraft, and other sources – digitised and synthesised to be compatible with one another.
"We are losing sea ice in all seasons now," Onarheim added. "The changes in ice are spreading from the summer to winter season."
Air temperatures at the 925 hPa level (2,500 feet above sea level) have been unusually high over the Arctic Ocean, NSIDC reports. Nearly all of this region was 3°C (5.4°F) above average last month. The largest departures from average were over the Kara and Barents Seas, centred on the Norwegian archipelago of Svalbard, with temperatures 9°C (16.2°F) higher than normal.
"Whatever happens in the Arctic has a direct impact on the rest of the world, and especially Europe," said Péter Szijjártó, the Minister of Foreign Affairs and Trade for Hungary, who attended the same conference as Onarheim.
His comments come as nations with Arctic territory increasingly exert their influence in this frigid region. Russia, for example, has seen its northern coastline opening up as thawing polar ice makes industrial development and maritime trade increasingly viable. Last month, a liquefied natural gas (LNG) tanker became the first commercial ship to make independent passage through the Arctic's northern sea route in winter. Norwegian company Teekay, one of the largest ship-owners in the world, was able to send its huge vessel Eduard Toll from Sabetta terminal in northern Russia to Montoir, France. Part of the journey was captured in this timelapse video below.
Teekay is investing in six ships to serve the Yamal LNG project in northern Russia, which aims to provide an output capacity of 16.5 million tons per year and has reserves estimated at 926 billion cubic metres. The northern sea route can provide shorter travel times than alternatives through the Suez Canal for many trade links between Europe and Asia.
---
• Follow us on Twitter
• Follow us on Facebook
• Subscribe to us on YouTube
Comments »