29th March 2018
Solar megaproject to boost global capacity by 200GW
Saudi Arabia and the Japanese multinational, SoftBank Group Corp., have signed a memorandum of understanding to build a 200-gigawatt (GW) solar power development by 2030.
This megaproject was unveiled on Tuesday at a ceremony in New York, attended by Saudi Crown Prince Mohammed Bin Salman and the SoftBank founder, Masayoshi Son. The agreement will form part of the Saudi Vision 2030 plan, which aims to reduce the kingdom's dependency on oil and natural gas in order to diversify its economy. The venture is expected to cost $200 billion (about $1 billion per GW) and generate up to 100,000 jobs.
"It's a huge step in human history," Prince Mohammed said. "It's bold, risky and we hope we succeed doing that."
"The kingdom has great sunshine, great size of available land and great engineers, great labour – but most importantly, the best and greatest vision," Son told reporters at the ceremony.
The project is so huge, in fact, that it dwarfs any other solar development by two orders of magnitude. The next largest project is the Bulli Creek Solar Farm with a "mere" 2GW of capacity planned for construction in Australia by 2024. Another 2GW plant, Helios PV Plant Phase 1, is approved in Greece. After that, the next largest is the 1.3GW Capital Dynamics Nevada PV Portfolio under construction in the U.S.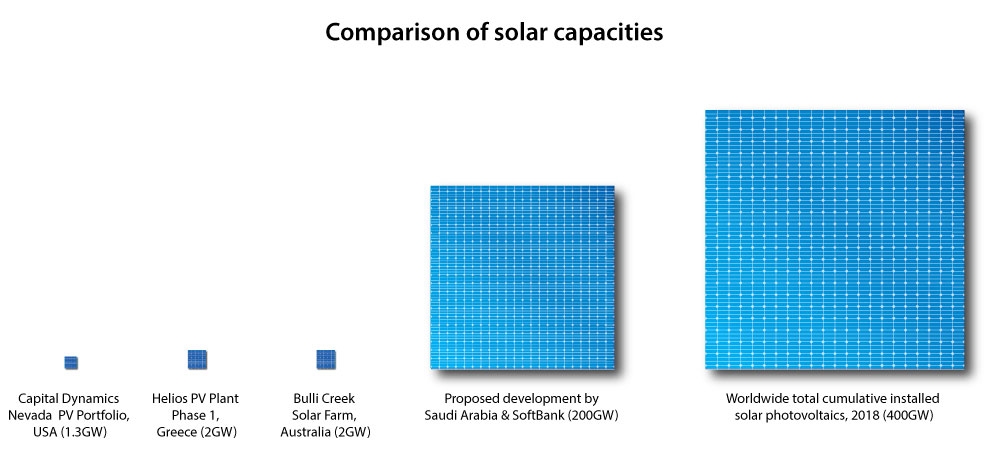 The worldwide cumulative total of installed solar photovoltaics was estimated at just over 400GW for the start of 2018. In other words, this single project being announced by Saudi Arabia and SoftBank would be equivalent to almost half of the solar photovoltaic energy today. Like many forms of technology, solar power has been increasing exponentially for decades and it seems this growth will continue for the near future, thanks to ventures like this.
Mr. Son, the richest man in Japan, is a "Singularitarian" who appreciates these rapid trends. Last year, he claimed that robots will outnumber humans and become more intelligent than people by 2050, an event referred to as the "Singularity." SoftBank's $100bn Vision Fund plans to become the largest shareholder in 100 technology companies, in a bid to create the biggest ecosystem of such companies in the world, in anticipation of the coming age of AI.
---
• Follow us on Twitter
• Follow us on Facebook
• Subscribe to us on YouTube
Comments »