5th March 2018
World's most powerful offshore wind turbine planned for 2021
GE Renewable Energy has unveiled its plan to develop the largest, most powerful offshore wind turbine: the Haliade-X. Featuring a 12 MW direct drive generator and towering 260 metres (853 feet) high, the Haliade-X will produce 45% more energy than any other offshore turbine.
GE will invest over $400 million over the next three to five years in developing and deploying the Haliade-X. John Flannery, Chairman and CEO of GE, commented: "We want to lead in the technologies that are driving the global energy transition. Offshore wind is one of those technologies and we will bring the full resources of GE to make the Haliade-X program successful for our customers."
The Haliade-X will carry a 220-metre rotor. Designed and manufactured by LM Wind Power, the 107-metre-long blades will be the biggest ever built for an offshore turbine, longer than a soccer field. A single Haliade-X 12 MW turbine will generate up to 67 GWh annually, enough clean power for 16,000 households and up to a million households in a 750 MW windfarm configuration.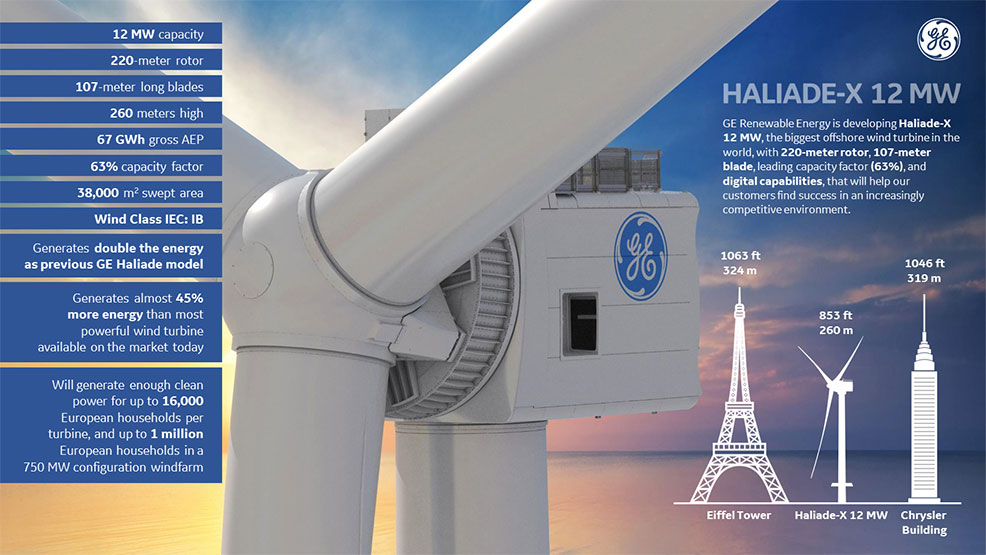 Jérôme Pécresse, President of GE Renewable Energy, commented: "The renewables industry took over 20 years to install the first 17 GW of offshore wind. Today, the industry forecasts that it will install more than 90 GW over the next 12 years. This is being driven by the lower cost of electricity from scale and technology. The Haliade-X shows GE's commitment to the offshore wind segment and will set a new benchmark for cost of electricity, thus driving more offshore growth."
The ability to produce more power from a single turbine means a smaller number of turbines in the total farm, which translates to less capital expenditure for the balance of plant and reduced risk in project execution as the installation cycle time is reduced. It also simplifies the operation and maintenance of the wind farm. All of this reduces the investment and operation cost for the developers, makes offshore wind projects more profitable, and ultimately lowers the cost of electricity for consumers.
GE's Haliade-X platform is designed to offer greater efficiency in generating power from the wind that is available. With a 63% gross capacity factor, it is five to seven points above the current industry benchmark. In other words, it will remain efficient at lower wind speeds. GE Renewable Energy aims to supply its first nacelle for demonstration in 2019 and ship the first units in 2021.
---
• Follow us on Twitter
• Follow us on Facebook
• Subscribe to us on YouTube
Comments »