11th June 2018
Car vending machines appearing in the U.S.
Fully automated, coin-operated car vending machines have now been introduced by Carvana in more than 10 cities around the U.S.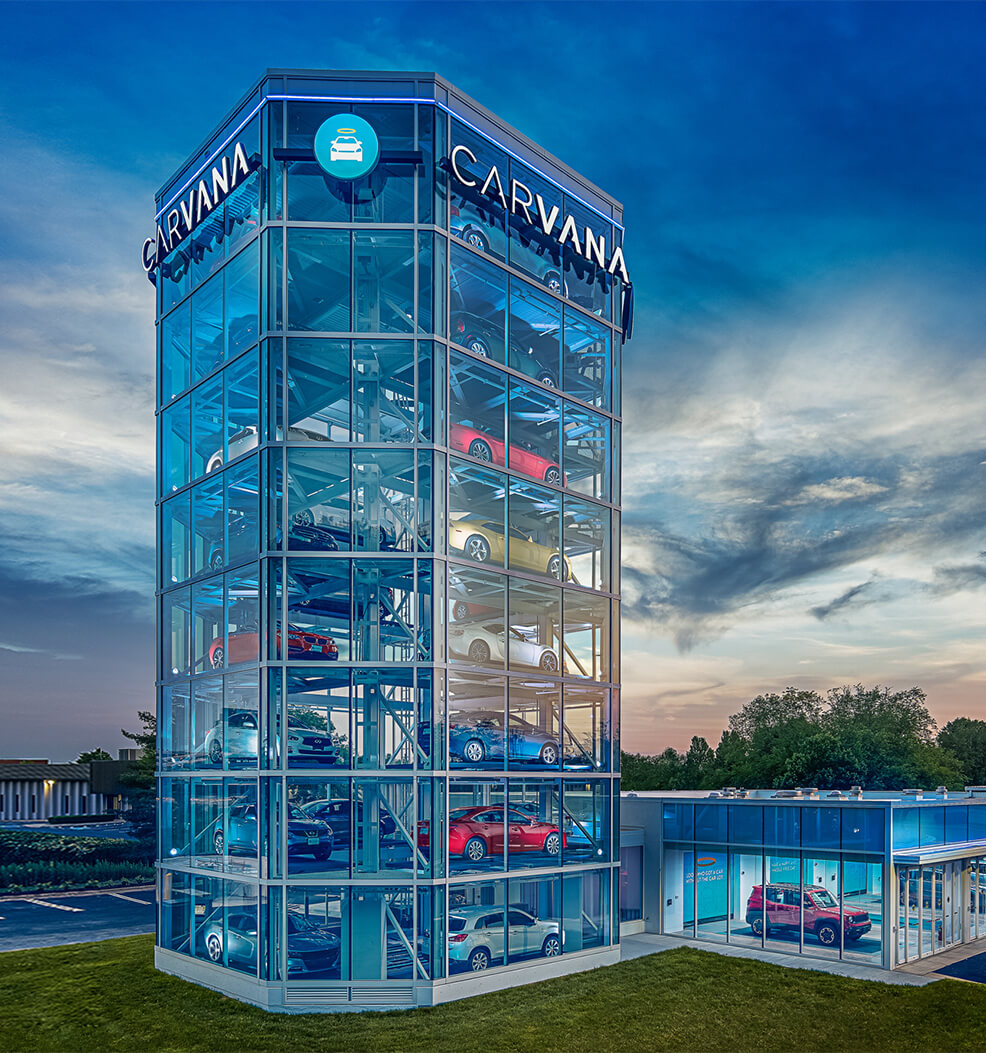 Car Vending Machine in Washington, D.C., Maryland. Credit: Carvana
Founded in 2012 and based in Phoenix, Carvana is an e-commerce platform that aims to change the way people buy cars. By removing the traditional dealership infrastructure and replacing it with technology and exceptional customer service, the company says it provides consumers with "an intuitive and convenient online automotive retail platform."
Carvana.com allows buyers to quickly and easily find a car online, choose their preferred vehicle, qualify for financing, get a trade-in value, sign contracts and receive as-soon-as-next-day delivery or pickup from one of Carvana's Car Vending Machines.
Each of these fully automated, coin-operated vending machines is an eight-story, all-glass tower that holds up to 30 vehicles, offering a unique and memorable pick-up experience. Rather than inserting just any coin or bill to retrieve their newly purchased vehicle, customers instead receive a commemorative, oversized Carvana coin on-site to activate the vending process and transport the car into the delivery bay.

Credit: Carvana
All Carvana vehicles come with a seven-day return policy, an upgrade to the traditional dealership test-drive experience, giving customers the chance to see if the vehicle really fits their life. Additionally, all vehicles are Carvana Certified, which means they pass a rigorous 150-point inspection, have never been in a reported accident and have no frame damage. Detailed information is available online for every vehicle in the company's inventory.
This month, Carvana is opening its 10th and 11th Car Vending Machines – in Washington, D.C., Maryland and Orlando, Florida. These two join nine other counterparts across the country in Austin, Charlotte, Dallas, Houston, Jacksonville, Nashville (where the first multi-storey pick-up location opened in 2015), Raleigh, San Antonio and Tampa.
Could these large, automated machines be more commonplace in the future? Carvana says that by cutting out the middleman, its vehicles are on average $1,430 cheaper than those at traditional dealerships.
"Our mission is to change the way people buy cars, and our Car Vending Machines bring fun back into car buying, while providing a great customer experience." says Ernie Garcia, founder and CEO. "Growing our presence on the East Coast is a great way to kick off the summer. We're looking forward to bringing the fun car-buying experience we're known for to even more people."
---
• Follow us on Twitter
• Follow us on Facebook
• Subscribe to us on YouTube
Comments »