30th June 2018
New standard allows SD cards to reach a theoretical maximum of 128TB
A new technical specification will enable SD cards to achieve a theoretical maximum storage capacity of 128 terabytes (TB), with transfer speeds of up to 985 megabytes per second (MB/s).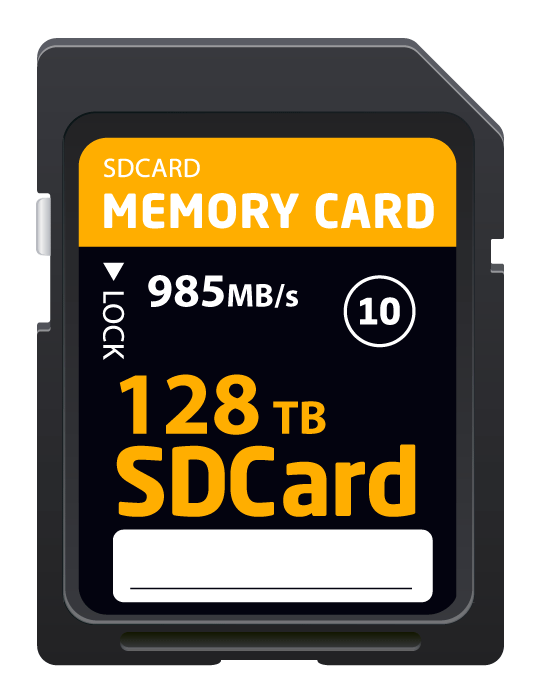 The SD Association (SDA), formed in January 2000, is a California-based organisation that sets the industry standards for memory cards. These standards define the next generation of small, removable memory cards used in countless devices worldwide, allowing product-makers to develop new models.

This week, the SDA announced "SD 7.0", its latest technical specification. This will introduce two major new functions:
• SD Express: Incorporates PCIe and NVMe interfaces, known worldwide for high bandwidth and low latency storage, into SD memory cards alongside legacy SD interfaces

• SD Ultra Capacity (SDUC): Extends the potential maximum SD memory card capacity from 2TB up to 128TB. This is equivalent to approximately 182,000 CD-ROMs, 27,000 DVDs, or 5,120 single-layer Blu-ray discs
The current Ultra High Speed II (UHS-II) bus, available on some SDHC and SDXC cards, has a transfer speed of 312MB/s, while forthcoming UHS-III cards will have a maximum of 624MB/s. The new SD Express, however, will reach an impressive 985MB/s – nearly a gigabyte per second. This will provide the speeds required to move enormous amounts of data generated by 5G wireless communication, RAW continuous burst mode and 8K videos, 360° cameras, multi-channel Internet of Things (IoT) devices, super-slow motion video, powerful applications on mobile devices, ever-evolving gaming systems and vehicular technologies, among others. In addition to huge performance improvements, SD Express will maintain backwards compatibility with billions of existing host devices. It will initially be offered on SDUC, SDXC and SDHC memory cards.
"With SD Express, we're offering an entirely new level of memory card with faster protocols turning cards into a removable SSD," said Hiroyuki Sakamoto, SDA president. "SD 7.0 delivers revolutionary innovations to anticipate the needs of forthcoming devices and content-rich and speed-hungry applications."
"SD Express' use of popular PCIe and NVMe interfaces to deliver faster transfer speeds is a savvy choice since both protocols are widely used in the industry today and creates a compelling choice for devices of all types," said Mats Larsson, Senior Market Analyst at Futuresource Consulting, UK. "The SDA has a robust ecosystem with a strong history of integrating SD innovations and has earned the trust of consumers around the world."
While these new specifications are an exciting glimpse into the near future of storage technology, it remains unclear when the next generation of SD cards – specifically, terabyte versions – will emerge. Between 2000 and 2012, maximum capacities were doubling consistently each year. That exponential growth appears to have stalled, however, with 512GB still the current highest on the market. Western Digital unveiled a 1TB prototype in late 2016, but this has yet to be made commercially available.
---
• Follow us on Twitter
• Follow us on Facebook
• Subscribe to us on YouTube
Comments »