13th September 2018
Amazon to open checkout-free store in NYC
Amazon is to open another of its automated, cashier-less "Go" stores, this time in New York City.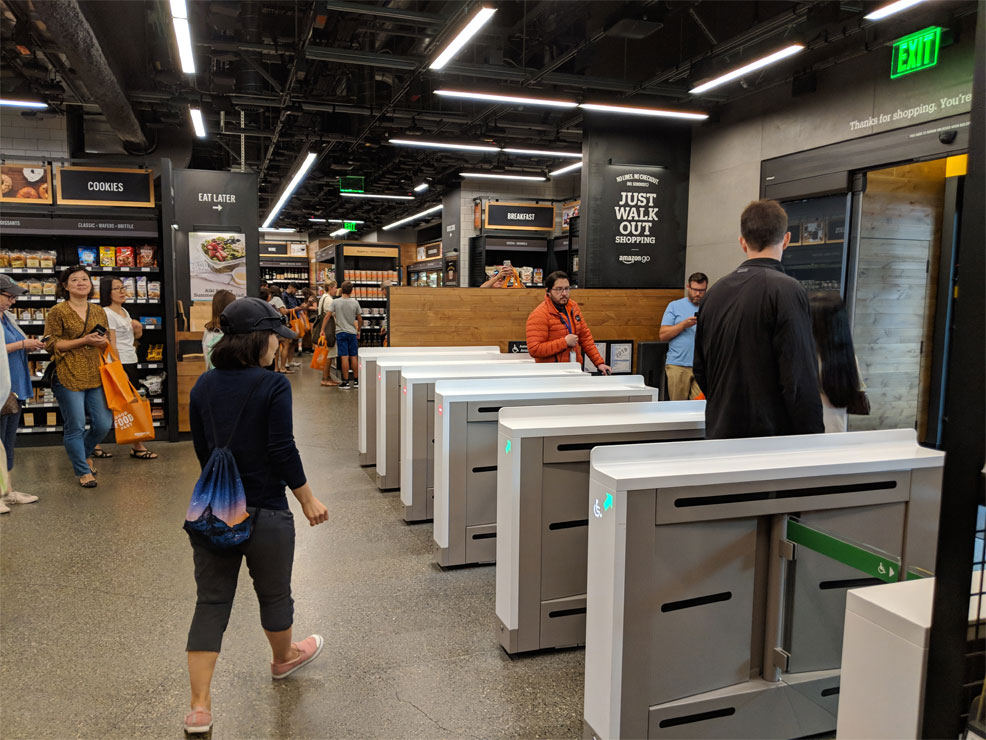 By Sikander Iqbal [CC BY-SA 4.0], from Wikimedia Commons
In January 2018, online retail giant Amazon opened its "Amazon Go" store to the public, the first completely cashier-less grocery store. Located on the ground floor of its headquarters building in Seattle, it offered a variety of food, groceries and drinks for purchase – but unlike an ordinary shop of this type, did not require customers to interact with a checkout. A patron could simply take whatever they wanted from the shelves and then leave.
This lack of any physical payment system was made possible through Amazon's "Walk Out" technology, which combined two elements. Firstly, a mobile app for iOS and Android, downloaded to a person's smartphone and linked to their Amazon account. This would need to be activated before passing through the store's entrance barriers. Secondly, a hi-tech network of cameras and sensors, alongside machine learning, to constantly track each product's location.
Since then, Amazon has opened two more of these stores, also in Seattle. The third one is the largest at 2,100 sq ft (200 m²). In May, The Seattle Times reported that additional stores were planned for Chicago and San Francisco.
It is now reported that yet another store will open, in New York City. This was revealed after several job opportunities were posted online for positions such as store manager. Online news site Mashable confirmed the plans after an Amazon spokesperson told them by email: "We plan to open Amazon Go in New York," although no further information was given.
In October 2016, Business Insider revealed internal Amazon documents that described plans for as many as 2,000 stores over the next ten years, but this was later refuted by Amazon. Nevertheless, it appears likely that further expansions will occur in the coming decade, as the shop format proves increasingly popular and convenient, offering a way to eliminate queues and save time. Amazon is not the only company developing such retail automation – Walmart is said to be working on its own cashier-less stores and could use Microsoft technology to accomplish it.
---
• Follow us on Twitter
• Follow us on Facebook
• Subscribe to us on YouTube
Comments »