8th September 2018
World's largest offshore wind farm officially opens
The 659-megawatt (MW) Walney Extension has become operational off the coast of North West England.
The Walney Extension was officially opened on Thursday at a ceremony in Cumbria. The 659-megawatt (MW) project, owned by Ørsted (50%) and partners PKA (25%) and PFA (25%), has overtaken the 630MW London Array to become the world's largest operational wind farm. With 87 turbines, it can produce enough green energy to power almost 600,000 UK homes. Covering an area of 145km² in the Irish Sea, the project is Ørsted's 11th offshore wind farm in the UK.
Using the latest technology from two of the world's leading turbine manufacturers, the Walney Extension features 47 MHI Vestas turbines each with 8MW of power generating capacity and a further 40 Siemens Gamesa turbines of 7MW each. The blades were manufactured in the UK (Hull and the Isle of Wight) and the project has worked with key suppliers from across the country, supporting the growth of wind "clusters" around the coastline. More than 50 local suppliers were involved in the construction. The completion of Walney brings Ørsted's total capacity operating out of Barrow up to 1.5 gigawatts (GW) – enough to power over 1.2 million UK homes. Ongoing operations and maintenance activities will support more than 250 direct jobs in the region.
"The UK is the global leader in offshore wind and Walney Extension showcases the industry's incredible success story," said Matthew Wright, Ørsted's UK managing director. "The project, completed on time and within budget, also marks another important step towards Ørsted's vision of a world that runs entirely on green energy.
"The North-West region plays an important role in our UK offshore wind operations and our aim is to make a lasting and positive impact here. We want to ensure that the local community becomes an integral part of the renewable energy revolution that's happening along its coastline."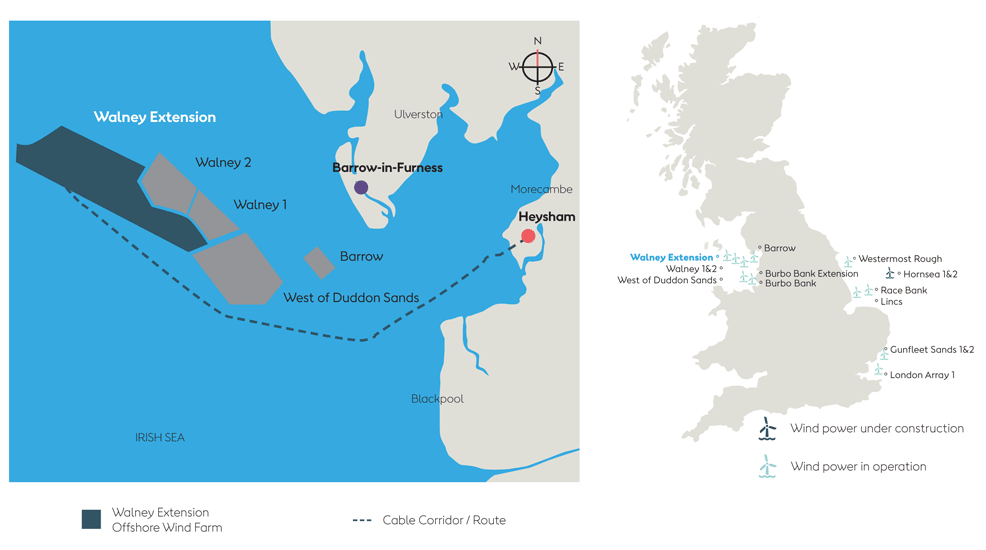 "Record-breaking engineering landmarks like this huge offshore wind farm help us consolidate our global leadership position, break records for generating renewable energy, and create thousands of high quality jobs," said Claire Perry, the government's Energy and Clean Growth Minister, who was appointed by Theresa May in January 2018. "As part of our modern Industrial Strategy, we've set out a further £557 million of funding for new renewable projects, helping to tackle climate change and deliver clean growth to local economies."
As part of Ørsted's commitment to the region, a £15 million Walney Extension community fund has been set up to support local projects and organisations. £600,000 (US$775,000) will be made available each year for the expected 25-year lifetime of the wind farm. £100,000 is also ring-fenced for a 'Skills Fund' to promote education, support local students and increase uptake of STEM subjects for young people. Ørsted has now expanded its apprenticeship scheme to the West coast and has partnered with Furness College to deliver courses for the next generation of wind turbine technicians.
The rapid growth of wind power in the UK means the Walney Extension will not hold its title for long. Various even larger projects are scheduled for completion within the next few years – including ScottishPower's East Anglia One (714MW) and Ørsted's Hornsea One and Two (1,200MW and 1,800MW, respectively) off the Yorkshire coast. East Anglia One is just part of a massive scheme known as the East Anglia Zone – featuring a combined total capacity of 7,200MW that is forecast to be fully operational by 2025.
The Offshore Wind Industry Council (OWIC), a senior Government and industry forum established in 2013, predicts that the UK's total offshore wind capacity will reach 30GW by 2030; enough to meet over a third of the country's electricity needs, while increasing offshore wind power exports five-fold, creating thousands of skilled jobs and reducing overall energy costs.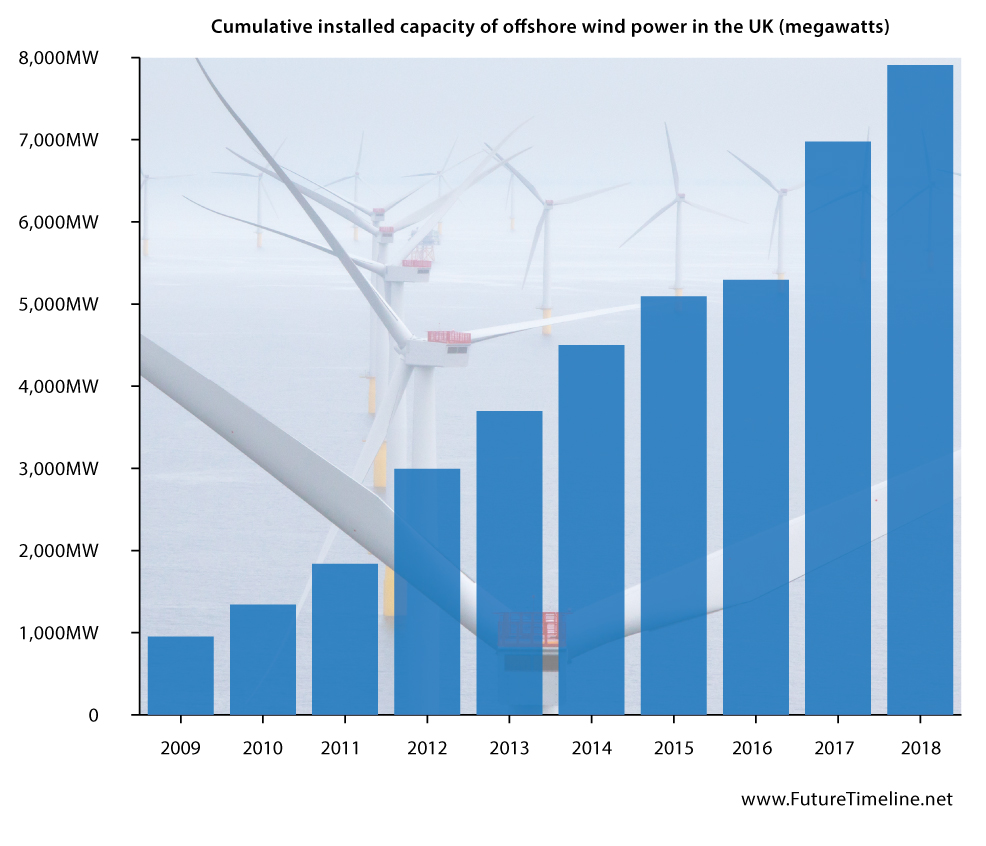 Background image credit: Ørsted
---
• Follow us on Twitter
• Follow us on Facebook
• Subscribe to us on YouTube
Comments »