19th October 2018
Life expectancy trends predicted for 2040
A comprehensive analysis of demographic trends, published in The Lancet, predicts that all countries are likely to experience at least a slight growth in life expectancy by 2040. Spain will overtake Japan as it rises from fourth to first place, with a life expectancy of 85.8 years.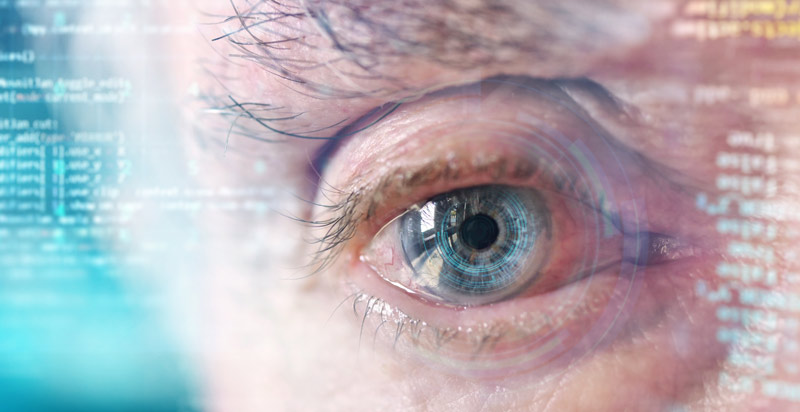 The Institute for Health Metrics and Evaluation (IHME) – an independent health research organisation at the University of Washington – has released detailed forecasts of mortality and life expectancy for a range of scenarios between now and 2040. The new data is publicly available at healthdata.org and includes predictions for life expectancy, years of life lost, and 250 causes of death in 195 countries and territories. An open access paper, funded by the Bill & Melinda Gates Foundation, appears in The Lancet.
This latest ranking of nations can offer new insights into their potential future health status. China, for example, had a life expectancy of 76.3 years in 2016 – making it the 68th highest. However, if trends continue, it could rise to 39th by 2040 with an average life expectancy of 81.9, an increase of 5.6 years.
In contrast, the United States was ranked 43rd in 2016, with a life expectancy of 78.7 years. It is forecast to increase by only 1.1 years to 79.8 and will drop in rank to 64th, as other countries overtake it. The United Kingdom, meanwhile, had a lifespan of 80.8 in 2016 and is expected to increase to 83.3, boosting its rank from 26th to 23rd by 2040.
The study projects a significant increase in deaths from non-communicable diseases (NCDs), including diabetes, chronic obstructive pulmonary disease (COPD), chronic kidney disease, and lung cancer, as well as worsening health outcomes linked to obesity. However, there is "great potential to alter the downward trajectory of health" by addressing key risk factors, levels of education, and per capita income, the authors say.
"The future of the world's health is not pre-ordained, and there is a wide range of plausible trajectories," said Dr. Kyle Foreman, Director of Data Science and the lead author. "But whether we see significant progress or stagnation depends on how well or poorly health systems address key health drivers."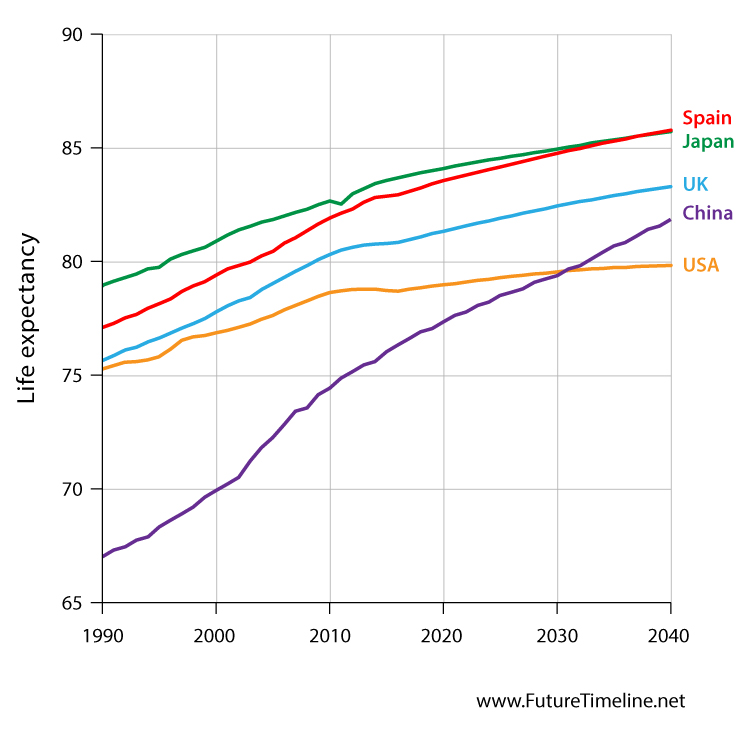 In addition to China, several other nations are expected to substantially increase their rankings for life expectancy by 2040. These include:
• Syria – rising from 137th to 80th (the single biggest increase, likely due to a conservative model for conflict, according to the authors);

• Nigeria – rising from 157th to 123rd; and

• Indonesia – rising from 117th to 100th
On the downside, Palestine is expected to drop the most in its life expectancy ranking – from 114th to 152nd by 2040. Moreover, several high-income nations are forecast to drop substantially in their rankings:
• United States – dropping the most for high-income countries, from 43rd in 2016 to 64th in 2040;

• Canada – from 17th to 27th;

• Norway – from 12th to 20th;

• Taiwan – from 35th to 42nd;

• Belgium – from 21st to 28th;

• Netherlands – from 15th to 21st
Spain is expected to rank first in the world by 2040 (average lifespan of 85.8), a rise from fourth in 2016 (average lifespan of 82.9). Japan, ranked first in 2016 (average lifespan 83.7), will drop to second place in 2040 (average lifespan 85.7). Among the top 10 nations, even their 'worse' scenarios in 2040 remain above 80 years.
After Spain and Japan, the next eight countries in the top 10 for 2040 are: Singapore (85.4), Switzerland (85.2), Portugal (84.5), Italy (84.5), Israel (84.4), France (84.3), Luxembourg (84.1) and Australia (84.1).
The study is unprecedented in scope, Dr. Foreman said, and provides more robust statistical modelling and more comprehensive and detailed estimates of risk factors and diseases than any previous forecasts. For more information and visualisations, visit healthdata.org
---
• Follow us on Twitter
• Follow us on Facebook
• Subscribe to us on YouTube
Comments »