2nd October 2018
Satellite company will partner with Amazon to deliver Internet of Things (IoT) network
Telecommunications company Iridium has joined the Amazon Web Services (AWS) partner network and is collaborating on the development of Iridium CloudConnect – the first and only satellite cloud-based solution that will offer truly global coverage for Internet of Things (IoT) applications.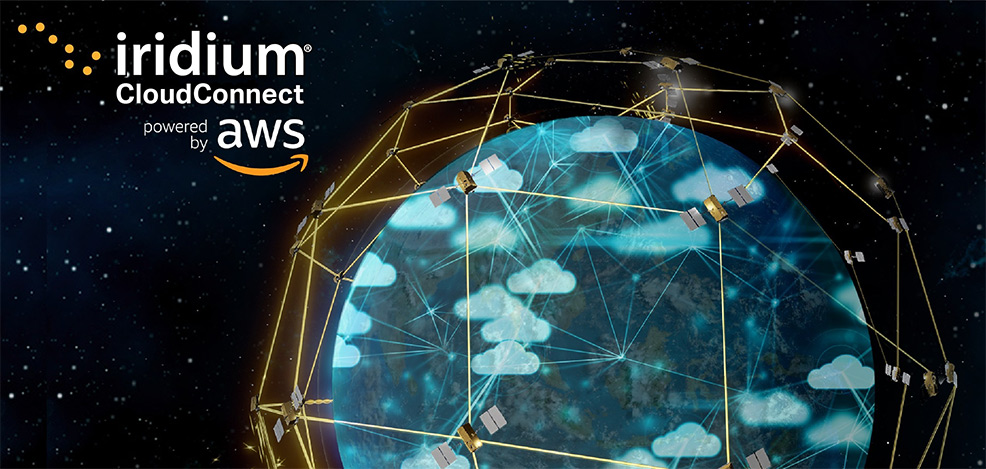 Planned for launch in 2019, this new service will make Iridium IoT services available with AWS IoT – extending the reach of AWS's powerful suite of services to the more than 80% of the Earth that lacks cellular coverage. Iridium customers will be able to take advantage of AWS IoT, while existing AWS customers will have a cost-effective way to expand their geographic IoT footprint to anywhere on the globe.
The global IoT is a new stage in the evolution of the Internet – an emerging network of physical devices, vehicles, home appliances, and other items embedded with electronics, software, sensors, actuators and connectivity. These "smart" objects connect, collect and exchange data, with opportunities for more direct integration of the physical world into computer systems, resulting in efficiency improvements, economic benefits, and reduced human exertions. The number of IoT devices increased by 31% last year to reach 8.4 billion and it is predicted to encompass 75 billion devices by 2025.
To keep pace with this exponential growth, businesses, governments and other organisations will now be able to globally expand their IoT-based services cost-effectively and reliably through Iridium CloudConnect.
A first for the satellite industry, AWS IoT will create a simplified process for companies to integrate Iridium's satellite reach, increasing their speed to market. Through this arrangement, customers will be able to reduce engineering efforts, lower fixed operating costs, and cut the times needed to develop new products and services.
"Iridium CloudConnect will completely change the speed at which a satellite IoT solution can be deployed, and will allow existing AWS customers to keep everything the same on the back end – while opening up the opportunity to quickly expand their coverage," says Iridium CEO Matt Desch. "This is a major disruption for satellite IoT. Costs will drop, time to market will speed up, risk will be reduced, and AWS IoT customers that choose Iridium CloudConnect can now enjoy true global connectivity for their solutions."
Through its constellation of 66 crosslinked satellites, Iridium is the only communications company that has truly global coverage and is ideally suited for IoT applications. The company is currently in the homestretch of its ambitious $3 billion initiative to replace its entire original constellation with new satellites, known as Iridium NEXT. To date, seven launches have taken place with launch provider SpaceX, delivering 65 new satellites to Low Earth Orbit (LEO), with the final launch of 10 satellites planned for later in 2018. Upon completion, a total of 75 Iridium NEXT satellites will have been delivered to space, with 66 in the active constellation and nine serving as on-orbit spares.
---
• Follow us on Twitter
• Follow us on Facebook
• Subscribe to us on YouTube
Comments »