1st November 2018
World's first commercial foldable smartphone
Royole Corporation has introduced the world's first commercial foldable smartphone, a combined mobile phone and tablet with a flexible screen, called the Royole FlexPai.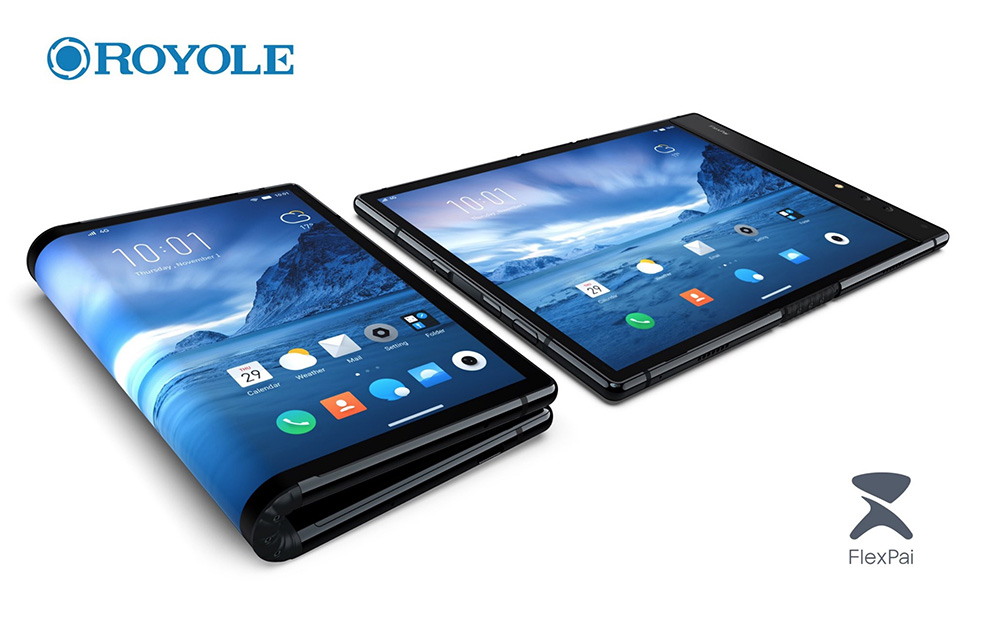 Royole Corporation was founded in 2012 by engineering graduates from Stanford University, next to Silicon Valley. Its stated mission is "to improve the way people interact with and perceive their world".
For the last six years, the company has been developing a range of next-generation human-machine interfaces. Royole's list of technology breakthroughs is impressive and includes the world's thinnest full-colour AMOLED flexible displays and sensors (2014), the world's first foldable 3D mobile theatre (2015), the world's first curved car dashboard based on flexible electronics (2016), the first smart writing pad, RoWrite, based on flexible sensors (2017), and the volume production of Royole's quasi-G6 mass production campus for fully flexible displays (2018).
Now, the company has added to its milestones by announcing the world's first commercial foldable smartphone, the Royole FlexPai. The device was unveiled at a trade event in Beijing. When opened, it presents a single display measuring 19.8cm (7.8in) – bigger than many tablets. But when folded up, it presents three separate smaller screens – on the front, rear and spine.
"The Royole FlexPai foldable smartphone provides mobile phone users with a revolutionary, different experience compared to traditional phones," said Dr. Bill Liu, Royole founder and CEO. "It perfectly solves the contradiction between the high-definition large-screen experience and portability, which introduces a whole new dimension to the human-machine interface. The phone's inherent design will forever change the consumer electronics industry, as well as the way people interact with and perceive their world."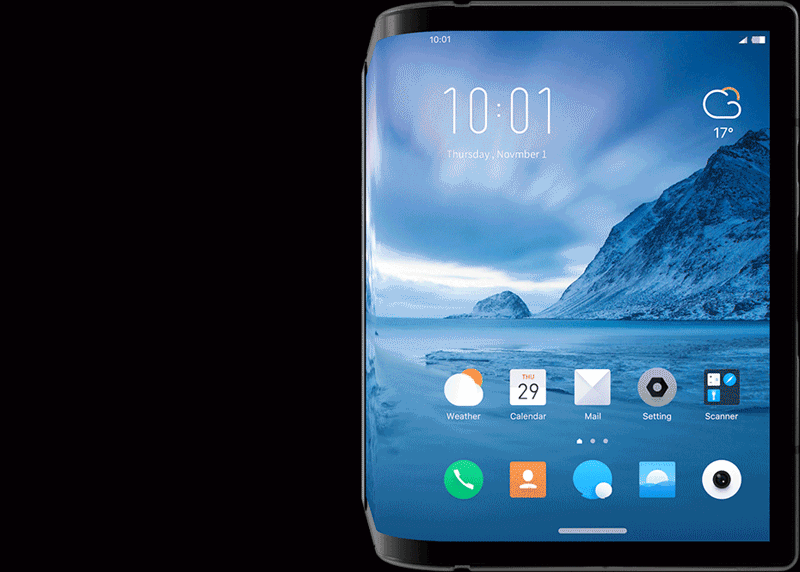 When unfolded, the FlexPai can support a split-screen mode and multi-tasking, along with drag-and-drop across applications, enabling it to share features just as a computer does. It automatically adjusts screen sizes for the optimal video-watching and gaming experiences.
When folded, FlexPai can support dual screens with separate, simultaneous operations. The interfaces on the primary and secondary screens can mutually interact with each other, or independently use different interfaces without interfering with one another. Users can also get notifications on the edge screen side bar, which can be used to manage calls, messages, and other alerts that may disturb the primary and secondary screen usage.
The FlexPai uses Qualcomm's latest Snapdragon 8-series flagship SoC (system on chip), consisting of a 2.8 GHz octa-core Adreno 640 GPU. Its two cameras are a 20-megapixel telephoto lens and a 16-megapixel wide-angle lens, which can be used for both normal photo shooting or taking a selfie – thanks to the dual view camera mode. The built-in lithium polymer battery has a capacity of 3800 mAh, with a fast charge mode available. Other features include 8GB RAM and 256GB of storage space (expandable via microSD), fingerprint ID, USB-C charging, stereo speakers, and more. The pixel density is 308 PPI and in expanded mode the screen resolution is 1920 x 1440. The product's weight is 320 g (11.3 oz).
The phones will be priced between 8,999 and 12,999 yuan ($1,290 to $1,863; or £1,011 to £1,460) depending on the specifications selected. During the presentation event, Dr. Bill Liu said that Royole would be using $30 million to support and reward global software developers to produce a variety of new apps for the FlexPai. The consumer model is now available to Chinese customers, with order fulfilment expected to start in late December 2018.
It was widely believed that Samsung or Huawei would be the first to sell such a device. This announcement from a little-known company is therefore something of a surprise to many.
"Royole gets the bragging rights to being first, and it's quite astonishing that someone you've never heard of is doing this," said Carolina Milanesi, from the Creative Strategies consultancy. "What's great is that it's putting this into the hands of developers, who will be able to start the legwork that will result in apps for flexible devices that will eventually be sold by Samsung and whoever else. You need developers to think through how they can best take advantage of screens that double in size."
Industry analysts report that the global printed and flexible electronics market will reach $330 billion by the year 2027, of which flexible display will be the major market segment. Flexible display shipments in units are projected to increase at a compounded annual growth rate of 44% to 2024.
---
• Follow us on Twitter
• Follow us on Facebook
• Subscribe to us on YouTube
Comments »