6th December 2018
World's largest container shipping group pledges to go carbon neutral by 2050
Danish conglomerate Maersk, the world's largest container ship and supply vessel operator, has announced a plan to cut its carbon emissions to zero by 2050.
Given the 20 to 25-year lifetime of most ships, carbon neutral vessels must be ready by 2030 to achieve this goal. Maersk intends to begin "an acceleration in new innovations and adaption of new technology". The company has already reduced its relative CO2 emissions by 46% (baseline 2007), which is 9% more than the industry average, but acknowledges that more needs to be done.
"The next 5-10 years are going to be crucial," said Søren Toft, Chief Operating Officer. "We will invest significant resources for innovation and fleet technology to improve the technical and financial viability of decarbonised solutions. Over the last four years, we have invested around $1 billion and engaged 50+ engineers each year in developing and deploying energy-efficient solutions. Going forward, we cannot do this alone."
Container ships carry about 80% of all global trade and currently use bunker fuel, a residue from crude oil that is cheaper but dirtier than petrol and diesel, meaning they contribute about 3% of the world's emissions. Maersk is now researching a variety of alternatives such as biofuels, hydrogen and even solar and wind power. Given the longer distances and lack of electric charge points along their route – as well as their physical size – international ships face a greater challenge than land-based vehicles in terms of transitioning. However, Maersk is hoping to lead the industry forwards to a cleaner future.
"The maritime industry and Maersk need to take their responsibility," adds Toft. The company wants to initiate open and collaborative dialogue with all possible parties in the coming years. "To reach the target by 2050, in the next 10 years we need some big breakthroughs."
In addition to this target, new limits on sulphur pollution, set by the International Maritime Organisation, will come into force on 1st January 2020.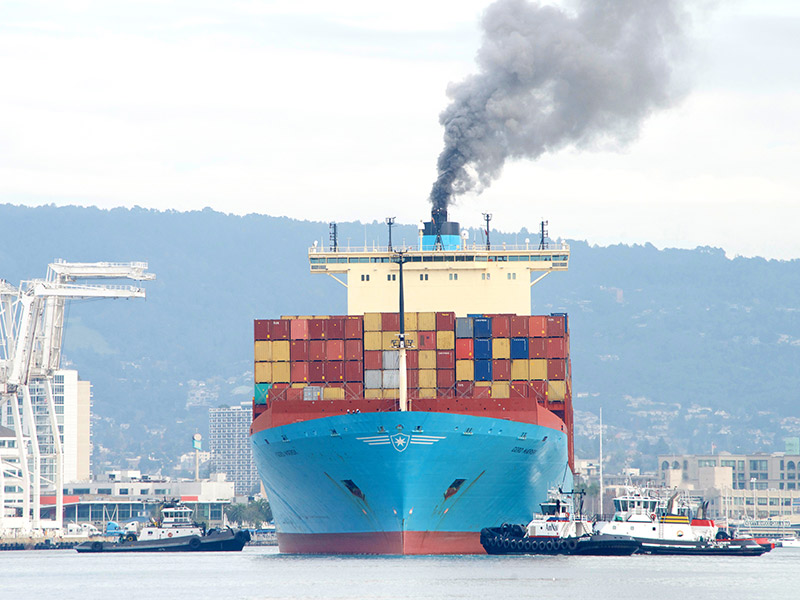 Credit: Sheila Fitzgerald
---
• Follow us on Twitter
• Follow us on Facebook
• Subscribe to us on YouTube
Comments »