21st February 2019
Samsung reveals folding smartphone and S10 model
Samsung Electronics has unveiled the highly anticipated Galaxy Fold, a foldable device creating a new mobile category.
Galaxy Fold features the world's first 7.3-inch Infinity Flex Display, which folds into a compact device with a cover display. This offers a powerful new way to multitask, watch videos, play games, and more.
"Today, Samsung is writing the next chapter in mobile innovation history by changing what's possible in a smartphone," said DJ Koh, President and CEO of the IT and Mobile Communications Division. "Galaxy Fold introduces a completely new category that unlocks new capabilities never seen before with our Infinity Flex Display. We created Galaxy Fold for those that want to experience what a premium foldable device can do – beyond the limitations of a traditional smartphone."
Galaxy Fold is designed to create a new kind of mobile experience, giving users the best of both worlds: a device that is simultaneously compact, but also unfolds to reveal Samsung's largest-ever smartphone display. It brings together material, engineering and display innovations developed over eight years, following the debut of the company's first flexible display prototype in 2011.
The internal screen does not merely bend. It folds. Folding is a more intuitive motion, and a more difficult innovation to deliver. Samsung invented a new polymer layer and created a display around 50% thinner than a typical display. This new material is flexible and tough – built to last.
The Galaxy Fold opens smoothly and naturally, like a book, and closes flat and compact with a satisfying click. To achieve this, Samsung engineered a sophisticated hinge with multiple interlocking gears. This system is housed in a hidden enclosure for a seamless and elegant look.
With its Multi-Active Window, the Galaxy Fold changes to whatever screen you need, the moment you need it. Up to three active apps can be opened simultaneously on the main display, so you can browse the web, text, work, watch videos or share content. It has six camera lenses – three in the back, two on the inside and one on the cover, ranging from 8MP to 16MP. Samsung worked with Google and the Android developer community to ensure apps and services were available for the Galaxy Fold's unique experience.
To ensure everything runs smoothly, even when three apps run simultaneously, Samsung equipped the Galaxy Fold with a 7nm 64-bit Octa-core processor and 12GB of RAM for PC-like performance. The sophisticated dual battery system (4,380mAh) can charge both itself and a second device simultaneously via the Wireless PowerShare feature.
A 4G version of the Galaxy Fold is expected to go on sale from 26th April, starting at $1,980 (£1,515). A more expensive 5G edition is also promised. It is described as a "luxury" item by Samsung.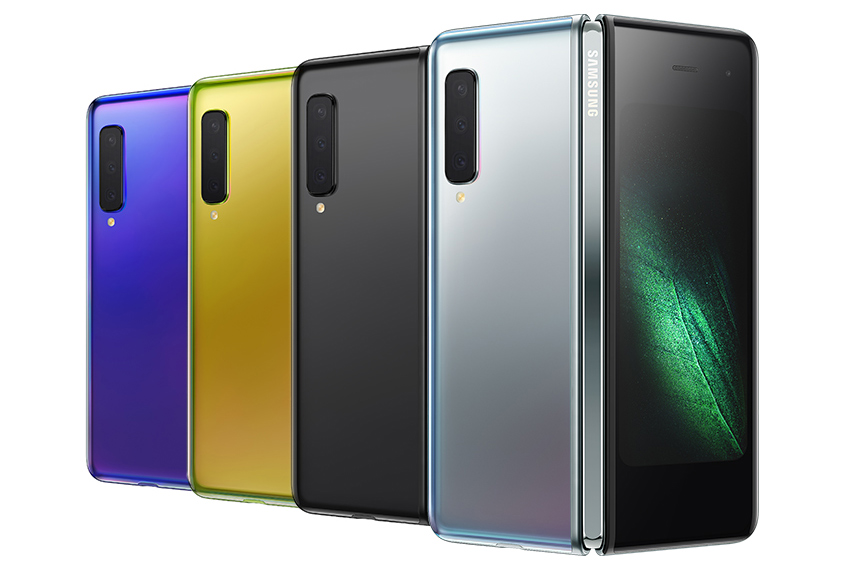 In addition to the Galaxy Fold, Samsung revealed the new Galaxy S10 smartphone and announced a range of new 5G operator partnerships to begin across Europe this summer. The S10 features the company's biggest-ever non-folding phone display and will provide much faster data speeds when the networks become available. It will be offered in four versions – the S10e, S10, S10+ and S10 5G – available in stores and online beginning 8th March 2019. Prices will start at $749.99 for the S10e, increasing to $899.99 for the S10 and $999.99 for the S10+. The 5G version is yet to be priced.
The S10 features the world's first Dynamic AMOLED display and is the first HDR10+-certified smartphone. It delivers extraordinary contrast ratio and a wider range of colours that are exceptionally accurate, even in harsh sunlight. It also reduces blue light through its TÜV Rheinland-certified Eye Comfort display – without compromising picture quality or adding a filter. Yet another feature is the first-ever in-display Ultrasonic Fingerprint Scanner that reads 3D contours of your physical thumbprint – not just a 2D image of it – for improved anti-spoofing.
A first for the S Series, the S10 offers an Ultra Wide Lens with 123° field of view – like the human eye – so what you see is what's in frame. Both the front and rear cameras can shoot in up to UHD quality, while "Super Steady" recording with digital stabilisation ensures that every detail is captured.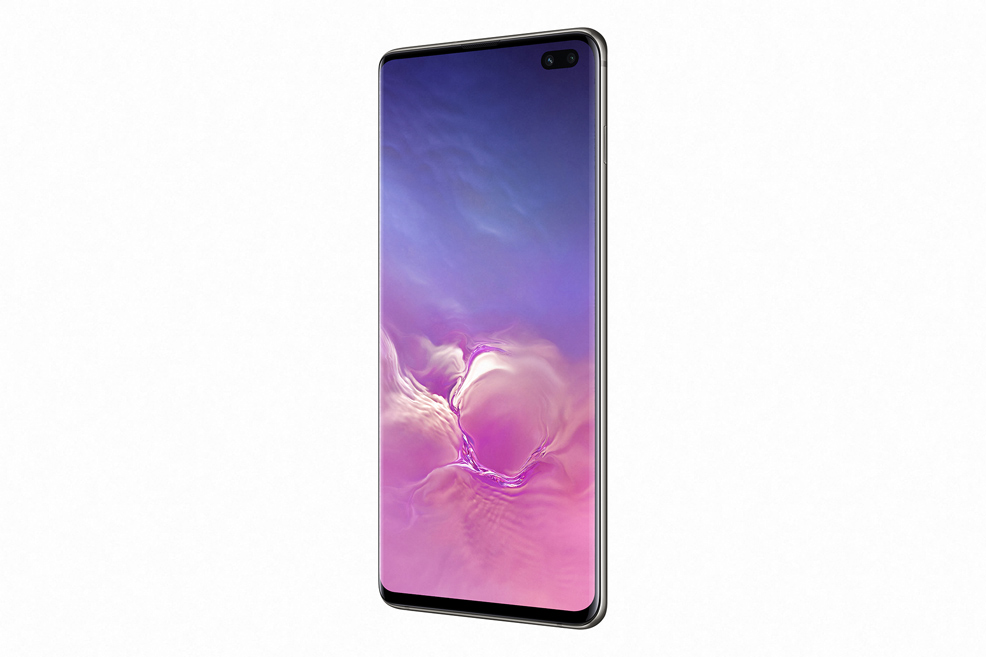 The S10 comes with Intelligent Wi-Fi that allows for an uninterrupted and safe connection, by seamlessly switching between Wi-Fi and LTE. It is also capable of accessing next-generation Wi-Fi 6, giving you prioritised and four times faster access over other users in crowded areas. Like its larger cousin, the Galaxy Fold, the S10 also includes Wireless PowerShare.
All versions include 7nm 64-bit Octa-core processors with maximum clock speed of 2.8 Ghz. The S10+ comes with 12GB of RAM and 1TB of built-in storage plus the ability to add an additional 512GB microSD card for a total of 1.5TB.
"Since its launch ten years ago, the Galaxy S series has stood for premium innovation – offering consumers an incredible experience, and the ability to find the device that's right for them," said Koh. "Galaxy S10 builds on that incredible legacy, and delivers breakthrough display, camera, and performance innovations. With four premium devices – each built for a unique consumer in mind – Samsung is leveraging a decade of industry leadership to usher in a new era of smartphone technology."
Comments »