9th February 2019
Negative CO2 emissions project gets underway
The first carbon dioxide has been captured using C-Capture technology at Drax Power Station in the UK. This pilot project could lead to a fully operational plant by the mid-2020s, helping to reverse the emissions responsible for climate change.
A new bioenergy carbon capture and storage (BECCS) project – the first of its kind – has begun capturing carbon dioxide (CO2), the primary greenhouse gas responsible for anthropogenic climate change. The demonstration plant, at Drax Power Station in North Yorkshire, UK, is using innovative technology developed by Leeds-based company C-Capture to extract and store a tonne of CO2 a day. It is the first-time that carbon dioxide has been captured from the combustion of a 100% biomass feedstock anywhere in the world.
Biomass, such as compressed wood pellets, is a renewable fuel – the CO2 captured when it grew is equal to the emissions it releases when used to generate electricity so it does not contribute "new" carbon to the biosphere. When coupled with CCS, as seen in the video above, the overall process removes more CO2 from the atmosphere than it releases.
Engineers began commissioning the Drax pilot plant in November last year. With the first carbon now being captured, they have proved that their proprietary solvent can isolate the carbon dioxide from the flue gases released when biomass is burned.
Data will be analysed throughout the pilot, to fully understand the potential of this technology and how it could be scaled up. Part of this will include identifying and developing ways to store and use the carbon dioxide after it is captured. Drax has invested £400,000 in what could be the first of several projects aiming to deliver rapid, lower cost BECCS.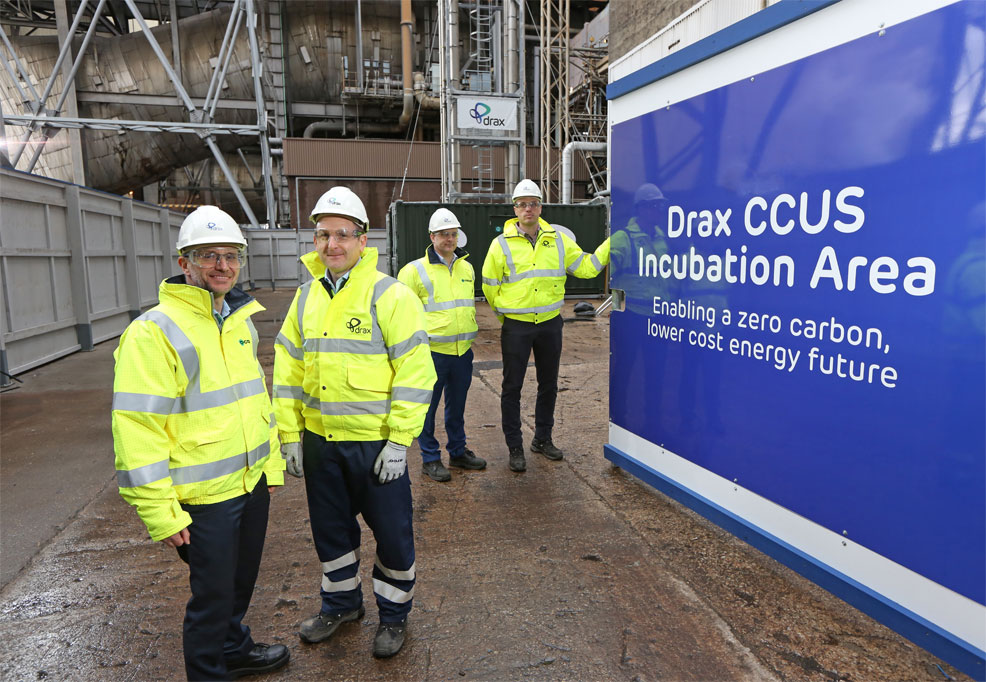 "Proving that this innovative technology works is an exciting development and another important milestone in our project. Climate change affects us all so this is of real significance – not just for us at Drax, but also for the UK and the rest of the world," said Will Gardiner, the CEO of Drax Group. "The successful deployment of BECCS requires us to identify ways in which the carbon dioxide we're now capturing can be stored or used in other processes and we're working with the government and other businesses on that."
"Working at this scale is really where the engineering gets interesting. The challenge now is to get all the information we need to design and build a capture plant 10,000 times bigger," said Caspar Schoolderman, Director of Engineering at C-Capture. "It's only really when we get to those sorts of scales that we can start to have an impact on the climate."
"This innovative technology has the potential to make huge strides in our efforts to tackle climate change while kick-starting an entirely new cutting-edge industry in the UK," said Claire Perry, Minister for Energy and Clean Growth. "World-firsts like this will help us to realise our ambition of having a first operational plant by the mid-2020s, as we continue to seize the opportunities of moving to a greener, cleaner economy."
The Royal Academy of Engineering estimates that BECCS could enable the UK to capture 50 million tonnes of carbon dioxide per year by 2050 – about half of the nation's emissions target. The government's Clean Growth Strategy identified BECCS as one of several key technologies that could remove emissions from the atmosphere and help to achieve long term decarbonisation.
It is possible that BECCS could play a major role globally, although the challenge is immense. Humanity's total CO2 emissions are now 40 gigatons (Gt) and continue to rise. However, we live in a time of rapid technological change. The project underway at Drax may signal the start of another exponential trend.

Credit: Glen Peters / Center for International Climate Research
---
• Follow us on Twitter
• Follow us on Facebook
• Subscribe to us on YouTube
Comments »