3rd June 2019
Desalination with zero emissions
Solar Water Solutions, a Finnish water technology company, has developed a new desalination system that is 100% solar powered.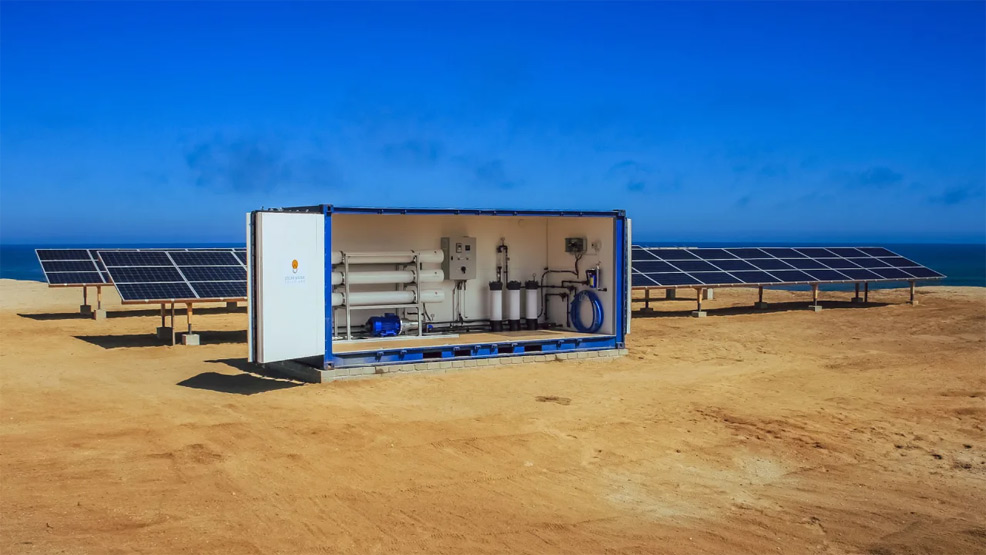 Credit: Solar Water Solutions
Desalination – the removal of salt and impurities from seawater – is one solution to the growing problem of freshwater scarcity, which is set to become a major global issue in the next few decades. However, extracting water from the ocean and making it suitable for human consumption has traditionally been an expensive, energy-intensive and polluting process.
A new system developed by Finland-based startup, Solar Water Solutions, provides a highly innovative alternative. The demonstration plant seen here is located by a coastal town in Namibia, on the southwest coast of Africa, which is currently undergoing a prolonged drought. The small-scale facility is housed within a shipping container and powered entirely by solar panels, without a battery.
"We focus on remote, off-grid areas where there is no electricity infrastructure available," says Antti Pohjola, CEO of the company. By eliminating batteries and the need for diesel fuel, the technology can pay for itself in less than four years. "Basically the running costs are zero, because solar is free," he adds.
The device uses reverse osmosis, while keeping water at the right pressure independently, so it can function without connecting to the grid. In addition to areas on the coast, inland villages where groundwater is too salty could benefit from this technology. A filter also passes water through a membrane to remove bacteria, viruses and other contaminants. The devices are modular, and a smaller system can produce up to 3,500 litres of water an hour.
Close to half of the world's population is forecast to be living in water-stressed areas by 2040. The market for these kinds of decentralised technologies powered locally and with free solar energy will be huge. If scaled up, to supply entire towns and farmlands with freshwater, devices like this could make a real difference in the battle against climate change.
Comments »