3rd June 2019
World's first raspberry-picking robot to debut in 2020
A new robotic fruit-picking system will be capable of outpacing humans when a commercial version launches next year.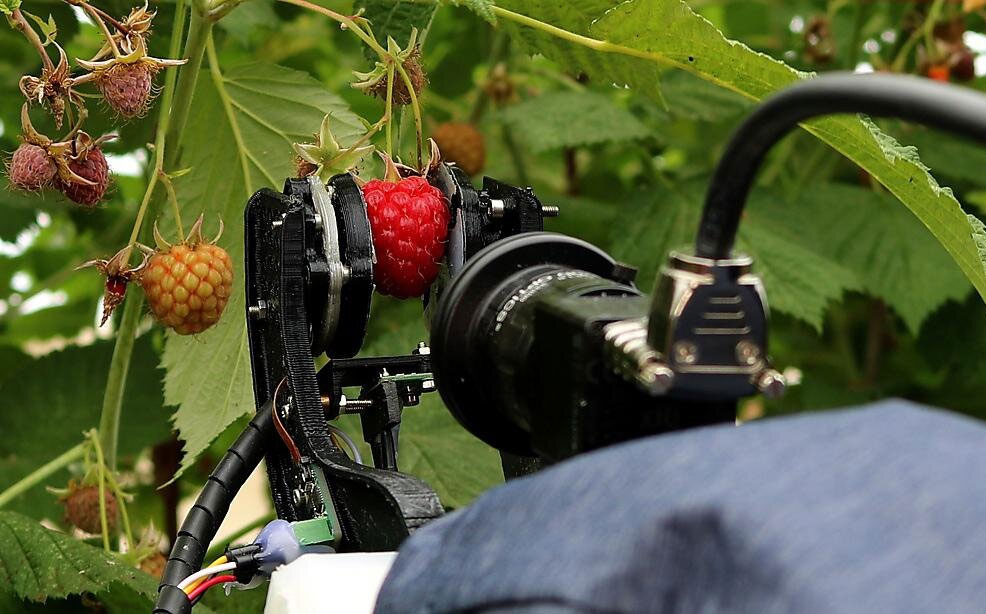 Credit: University of Plymouth
Fieldwork Robotics, a spinout company from the University of Plymouth, has completed initial field trials of a new raspberry-harvesting robot – the first machine of its kind in the world. Hall Hunter, which supplies some of the UK's biggest food retailers including Marks & Spencer, Tesco and Waitrose, conducted the tests at a farm it owns in West Sussex.
The robot uses a combination of 3D cameras, sensors and machine learning to "see" and identify objects. A mechanical arm then moves forward with a pair of grippers to gently pick a raspberry, applying the correct amount of pressure. The fruit is deposited in a tray, sorted by maturity and placed in a box ready for transportation to a supermarket. The wheeled machine, which stands 1.8 metres tall, then moves onto the next clump of fruit.
Each robot will be capable of picking more than 25,000 raspberries over a 20-hour period, according to its designers. By contrast, human workers can only pick around 15,000 in a typical eight-hour shift. Robots do not get tired or require breaks and are increasingly able to work in different light conditions.
"Starting the field testing at Hall Hunter Partnership is a major milestone for us, and will give us invaluable feedback to keep developing the system towards commercialisation, as part of our Innovate UK funding," said Dr Martin Stoelen, a lecturer in robotics at the University's School of Computing, Electronics and Mathematics. "I am very proud of the achievements of the team, at Fieldwork Robotics Ltd and across my different research projects on robotic harvesting here at the University of Plymouth."
"As has always been the case, for agricultural and horticultural businesses such as ours to stay competitive in developed economies, we must embrace and invest in the latest technological innovations as they evolve," said David Green, Chief Operating Officer at Hall Hunter Partnership. "At HHP we foresee that the direct application of robotics platforms for harvest and husbandry activities, combined with the spin-off benefits of additional data collection and microanalysis they make possible will play a significant role in increasing product quality, productivity and yields in the near to medium term."
The prototype version seen here is equipped with two arms. The final version will include four, all working simultaneously. Data from the trial is being analysed to improve the machine in preparation for its official launch and commercialisation next year. Further configuration may see the robot adapted to pick tomatoes, cauliflowers and other fruits and vegetables.
Comments »