23rd July 2019
Iceland: A letter to the future
Iceland's first glacier lost to climate change will be remembered with a monument to be unveiled next month at its former site.
Okjökull (now known simply as "Ok") is located in Borgarfjörður, West Iceland. A century ago, it covered 15 sq km (5.8 sq miles) of mountainside in western Iceland and measured 50 metres thick, but today has shrunk to barely 1 sq km of ice less than 15 metres deep and is no longer classed as a glacier. To fit the scientific criteria, glaciers need to be thick enough to sink and move under their own weight, which now excludes Okjökull. Its original name included the Icelandic word for glacier, jökull, as a suffix – hence why the newer name is just "Ok".
Researchers from Rice University in Houston, author Andri Snær Magnason, and geologist Oddur Sigurðsson (who first declared Okjökull to be lost) will join members of the Icelandic Hiking Society and the general public, to install the plaque on 18th August 2019.
The melted glacier was the subject of 2018 documentary Not Ok, produced by Rice anthropologists Cymene Howe and Dominic Boyer. The film, narrated by former Reykjavík Mayor Jón Gnarr, tells the story of Ok, which in 2014 became the first glacier in Iceland to vanish because of global warming. Boyer and Howe said scientists fear all of the island nation's 400-plus glaciers will be gone by 2200.
The plaque, intended to deliver a message to future generations, reads as follows: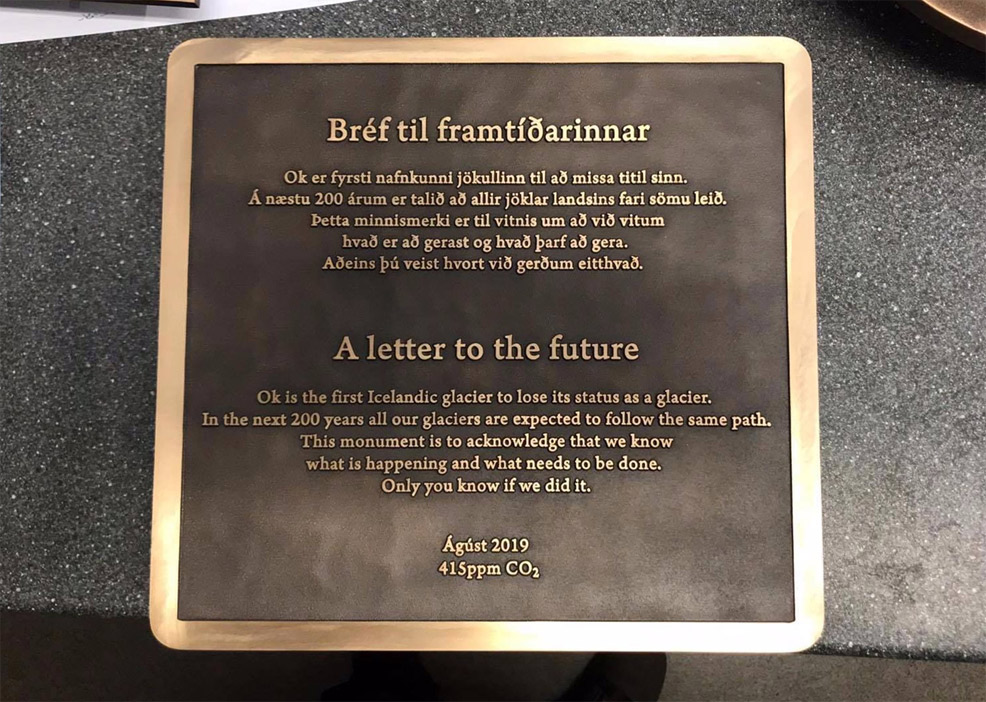 Credit: Dominic Boyer/Cymene Howe/Rice University
The memorial is dated August 2019 and ends with "415ppm CO2", referring to the record-high level of 415 parts per million of carbon dioxide in the atmosphere recorded in May this year. This trend is now melting glaciers all over the planet, at up to triple the rate of the 20th century average. Iceland as a whole is losing more than 11 billion tons of ice from its glaciers every year.
"This will be the first monument to a glacier lost to climate change anywhere in the world," said Howe. "By marking Ok's passing, we hope to draw attention to what is being lost as Earth's glaciers expire. These bodies of ice are the largest freshwater reserves on the planet and frozen within them are histories of the atmosphere. They are also often important cultural forms that are full of significance.
"In the same spirit as the film, we wanted to create a lasting memorial to Ok, a small glacier that has a big story to tell," Boyer said. "Ok was the first named Icelandic glacier to melt because of how humans have transformed the planet's atmosphere. Its fate will be shared by all of Iceland's glaciers unless we act now to radically curtail greenhouse gas emissions."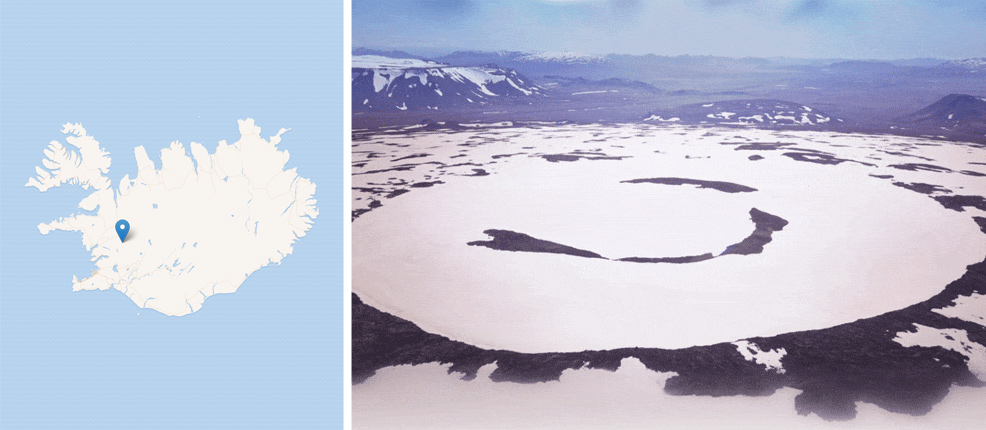 Credit: Dominic Boyer/Cymene Howe/Rice University
Comments »