14th January 2020
Record fall in U.S. cancer death rate
The American Cancer Society reports a 2.2% drop in the cancer death rate between 2016 and 2017, the largest single-year decline in mortality for this disease ever recorded in the United States.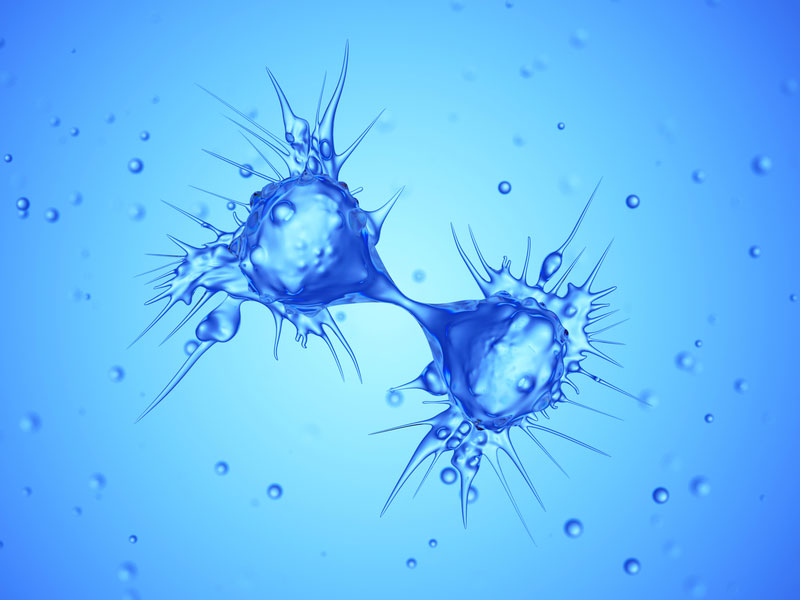 ID 127836956 © Sebastian Kaulitzki | Dreamstime.com
The cancer death rate in the United States declined by 29% between 1991 and 2017 – including a 2.2% drop from 2016 to 2017, the largest single-year drop in cancer mortality ever reported. This news comes from Cancer Statistics 2020, the latest edition of the American Cancer Society's annual report on cancer rates and trends.
As seen on the graph below, the cancer death rate peaked in the early 1990s and has fallen ever since. The ongoing decline in overall cancer mortality is driven by long-term drops in death rates for the four major cancers – lung, colorectal, breast, and prostate, although recent trends are mixed. The pace of mortality reductions for lung cancer – the leading cause of cancer death – accelerated in recent years (from 2% per year to 4% overall) spurring the record one-year drop in overall cancer mortality. In contrast, progress slowed for colorectal, breast, and prostate cancers.
"The news this year is mixed," said Rebecca Siegel, MPH, lead author of the report. "The exciting gains in reducing mortality for melanoma and lung cancer are tempered by slowing progress for colorectal, breast, and prostate cancers, which are amenable to early detection. It's a reminder that increasing our investment in the equitable application of existing cancer control interventions, as well as basic and clinical research to further advance treatment, would undoubtedly accelerate progress against cancer."
For all cancer sites combined, the overall drop since 1990 translates to around 2.9 million fewer cancer deaths than would have occurred, had mortality rates remained at their peak.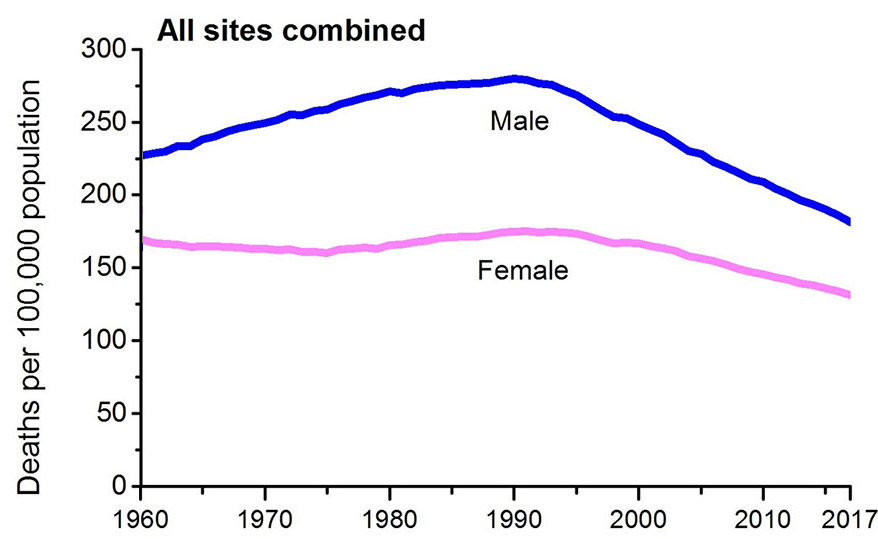 The decline in cancer mortality is contrasted with a stable trend for all other causes of death combined. For example, heart disease mortality has slowed, cerebrovascular disease has been stabilising, while deaths from both accidents and Alzheimer's disease have seen an increasing trend.
Lung cancer death rates have fallen by 51% (since 1990) in men and by 26% (since 2002) in women, with the most rapid progress in recent years. For example, reductions in mortality accelerated from 3% per year during 2008-2013 to 5% per year during 2013-2017 in men and from 2% to almost 4% in women. However, lung cancer still accounts for almost one-quarter of all cancer deaths – more than breast, prostate, and colorectal cancers combined.
The most rapid declines in mortality occurred for melanoma of the skin, following breakthrough treatments approved in 2011, which pushed one-year survival for patients diagnosed with metastatic disease from 42% to 55%. This progress is likewise reflected in the overall melanoma death rate, which fell by an average of 7% per year during 2013-2017 in people aged 20 to 64, compared to declines of 2% during 2006-2010. Even more strikingly, the death rate for individuals aged 65 and older had previously been increasing – but fell by 6% during 2013-2017.
"The accelerated drops in lung cancer mortality as well as in melanoma that we're seeing are likely due at least in part to advances in cancer treatment over the past decade, such as immunotherapy," said William G. Cance, M.D., chief medical and scientific officer for the American Cancer Society. "They are a profound reminder of how rapidly this area of research is expanding, and now leading to real hope for cancer patients."
So, when might cancer deaths be eliminated? This is highly speculative, of course – but our future projections indicate the mid-22nd century as the most likely time period, based on recent trends. That may seem like an incredibly distant goal. However, this latest news of a record reduction in overall mortality provides hope that the exact date could arrive sooner.
Comments »