12th February 2020
A bridge linking Scotland and Northern Ireland?
The UK government is studying the feasibility of a Scotland-Northern Ireland bridge. If built, the project would be the most significant of its kind in the British Isles since the early 1990s, when the Channel Tunnel linked England and France.
Prime Minister Boris Johnson described the bridge as a "very interesting idea", while Ireland's premier Leo Varadkar commented that it was "worth examining". Earlier this week, a Downing Street spokesperson told the press: "The prime minister has said it would have some merit – as a result you would expect government to be looking into it. Work is underway by a range of government officials."
The project – already dubbed "the Boris Bridge" – could span the 20 miles between Portpatrick in Scotland and Larne in County Antrim. An alternative crossing route has been suggested, approximately 60 km (37 miles) further north, between the Mull of Kintyre and Torr Head. Initial cost estimates for the southern route are in the range of £15 to £20 billion (US$19 to $26bn), while the northern option would be cheaper, but more isolated and less connected to existing transport infrastructure and population centres.
Sea-crossing bridges can be hugely beneficial to a region in terms of expanding trade, facilitating the movement of people and goods, shortening journey times and generating new jobs. Worldwide, the increasing scale and number of these developments may lead to a transglobal highway and rail network – as predicted on our timeline for the mid-2040s. Prime Minister Johnson is apparently keen to "advance the cause of cementing the union" with a physical link between Scotland and Northern Ireland. A bridge between the two countries was included in the Democratic Unionist Party's (DUP) election manifesto. The benefits would clearly be greater in Northern Ireland (and its southern neighbour, Ireland) – which would gain a through-route to continental Europe – than in the rest of Britain, which would only gain a route to Ireland.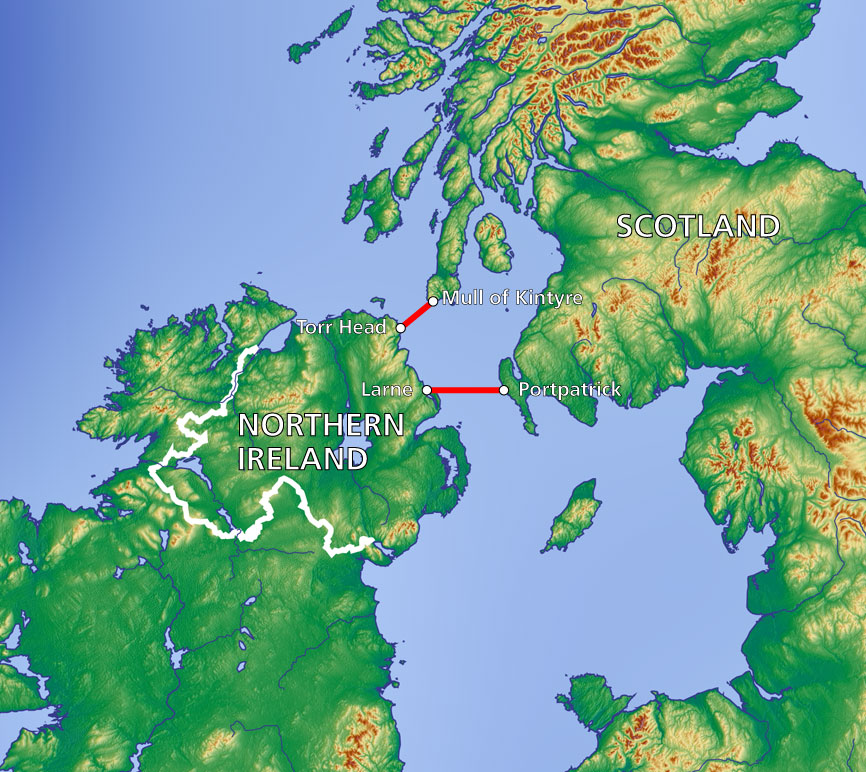 Original map image by Equestenebrarum [CC BY (https://creativecommons.org/licenses/by/3.0)]. Adapted by Will Fox.
The idea has been discussed for over a hundred years. In the 1890s, civil engineer Luke Macassey described "a rail link using either a tunnel, a submerged 'tubular bridge' or a solid causeway".
Prior to this week's announcement, Johnson had mooted the proposal in 2018. During that same year, Alan Dunlop, a professor of architecture from Aberdeen's Robert Gordon University, outlined his designs at a conference in Aberdeen, which included the concept sketch below.
"We have the engineering and architectural talent and the capability to build this project," he told attendees, comparing the bridge to a proposed road connecting coastal towns in Norway. "The Norwegian Coastal Highway is a pioneering and remarkable infrastructure project and a sign of confidence for a forward-looking innovative country. Scotland and Ireland surely can achieve the same."
Earlier that same year, in an interview with Scottish daily newspaper, The National, he said: "A bridge between Scotland and Northern Ireland would be an excellent idea. In terms of a crossing between Scotland and Northern Ireland – a Celtic Connection – the coastline between each country is more sheltered and the waterway better protected [than the English Channel].
"To propose a bridge between Scotland and Ireland would in fact be a big step in actually creating a 'Celtic Powerhouse' and give politicians the opportunity to invest in the infrastructure of the true north. A combined sea and suspension railway and road bridge much like that which connects Denmark and Sweden across the Oresund Strait could work. The part above the dyke would have to float while tied to the bottom, much like an oil rig.
"A bridge is much better than a tunnel – for it is a dramatic, visual marker for the aspirations and ambition of a country in the 21st century and beyond."
In addition to boosting the economies of Scotland and Northern Ireland, the new structure would help to solve longer-term issues over the re-emergence of an Irish border following Brexit, he added.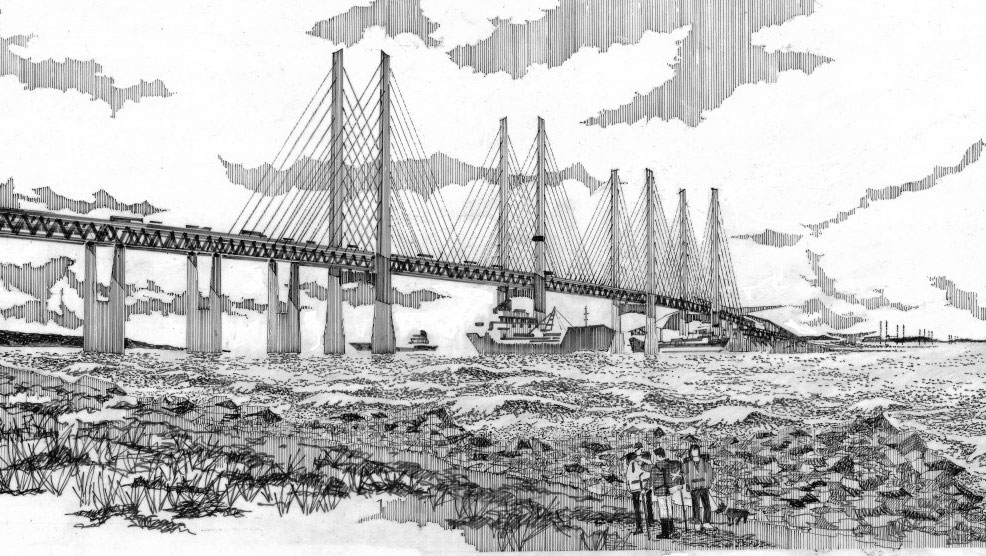 Credit: Alan Dunlop
However, while the project has its supporters, many others are strongly opposed. This week's announcement has been met with heavy criticism – just as happened in 2018 when Johnson (then a backbench MP, after resigning as Foreign Secretary) previously raised the subject. Back then, a retired offshore engineer wrote to the Sunday Times with his concerns. James Duncan from Edinburgh had this to say:
"On your front page Boris Johnson airily proposes building a bridge from Britain to Northern Ireland. As a retired offshore engineer, I know this is about as feasible as building a bridge to the Moon.

"Many long bridges have been built, but none across such a wide, deep and stormy stretch of water. For a great part of the 22-mile route, the water is more than 1,000ft deep. It would require about 30 support towers at least 1,400ft high to carry the road deck across the deepest part and above the shipping channel. In total the bridge would require 54 towers, of heights never achieved anywhere in the world.

"In addition, the trickiest section, Beaufort Dyke, was used for many years from 1946 to dump obsolete munitions. The Ministry of Defence estimates the total dumped at more than 1.5m tons. There are no maps of their locations.

"No sane contractor or responsible government would consider building such a bridge, and because of the weather conditions it would probably have to be closed for considerable periods if it did. The proposal is just another thoughtless soundbite."
This week, the reactions have been similarly mixed. A number of leading architects believe it would be possible – but other experts claim the costs would soar to far higher than £20 billion; in part because the roads on either side of the crossing would need major upgrades, in addition to construction of the bridge itself.
The bridge was called "a vanity project" by Catherine Branson, of the A77 Action Group: "We have no dual carriageway between [the current ferry terminal] Stranraer/Cairnryan and Ayr, which makes a joke of the futuristic bridge Mr Johnson proposes," she added.
Scotland's First Minister, Nicola Sturgeon, on Monday said there were "more important priorities". Critics also point to Johnson's failed Garden Bridge during his time as Mayor of London, which cost £43 million in public money before its eventual cancellation. More generally, the UK has a reputation for over-budget and delayed transport schemes, such as Crossrail in London and the HS2 high-speed route planned for the 2030s.
One possible option reportedly being explored is for the bridge to run from the Scottish coastline over the hazardous Beaufort's Dyke, before becoming a tunnel for the final stretch to Northern Ireland, with two artificial islands helping to span the channel. This plan would be similar to the Øresund Bridge, mentioned by Alan Dunlop in his 2018 presentation, and pictured below. The Øresund Bridge, which links Sweden and Denmark, charges a toll and will recoup its costs by the late 2030s. Another solution for part of the route might be a submerged floating tunnel, a concept that Norway is now developing and plans to have ready for public use by 2035. It will become clearer later this year if the controversial project is likely to proceed, and if so, in what form, when the UK Treasury and the Department for Transport publish the results of their studies.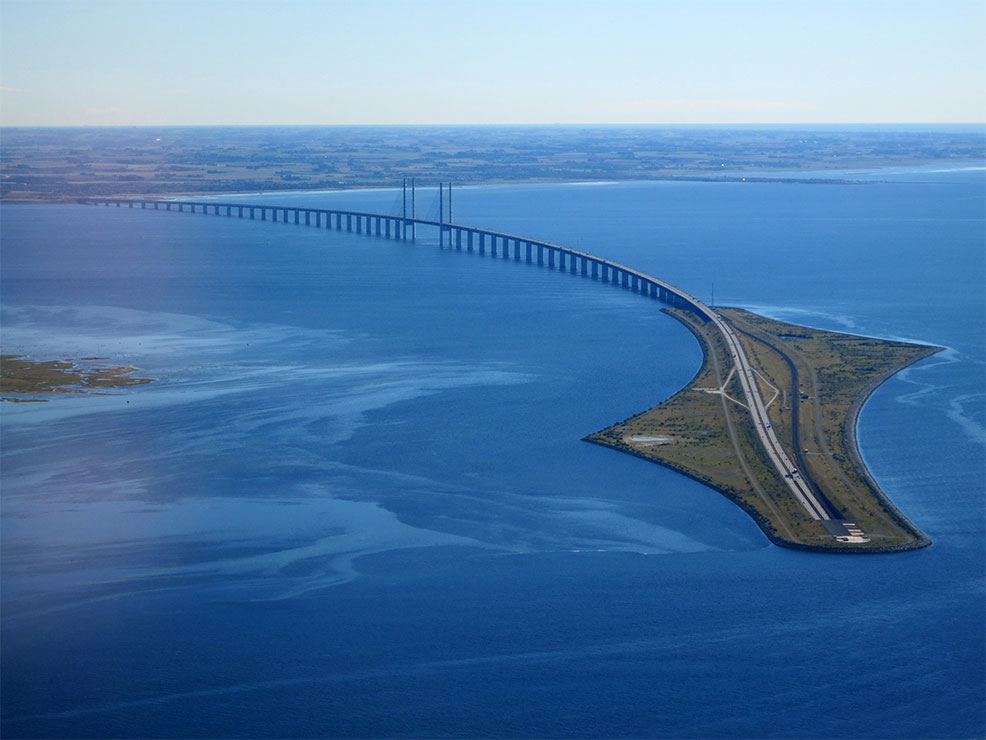 The Öresund Bridge, a combined railway and motorway bridge between Sweden and Denmark. Credit: Nick-D [CC BY-SA (https://creativecommons.org/licenses/by-sa/4.0)]
Comments »