2nd February 2020
Competition – win a copy of Peter Diamandis' new book!
This week saw the publication of The Future is Faster Than You Think – the latest book by technology entrepreneur Peter Diamandis. We are giving away copies to three lucky readers.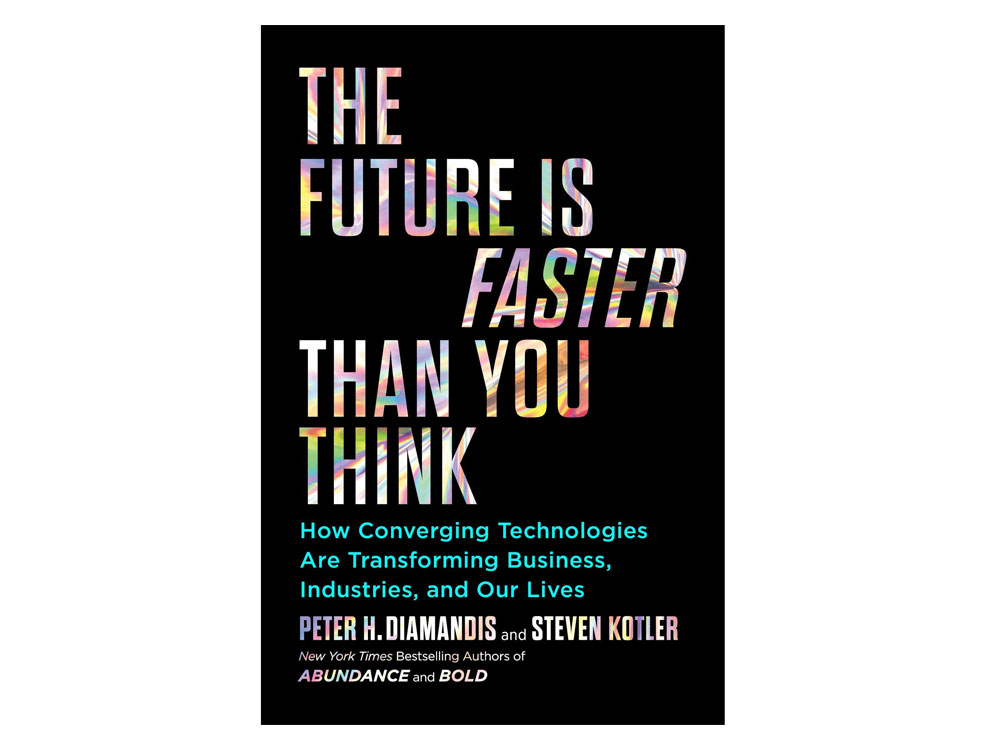 Peter Diamandis is a futurist and technology entrepreneur known for being the founder and chairman of several organisations including the X Prize Foundation, Singularity University, space tourism company Space Adventures, asteroid mining start-up Planetary Resources, and Human Longevity, Inc.
He was co-author of The New York Times bestsellers Abundance (2012) and Bold (2015), alongside fellow entrepreneur Steven Kotler, who is co-founder of the Flow Genome Project, which aims to understand the science behind ultimate human performance.
Diamandis and Kotler have teamed up again to write a third book, this time called The Future is Faster Than You Think. The book has three main parts:
• In "The Power of Convergence", Diamandis and Kotler give a rundown of recent breakthroughs in areas such as 3D printing, artificial intelligence, biotechnology, blockchain, computation, nanotechnology and transportation. They describe the forces and new industries that will cause these technologies to converge and further accelerate the speed of technological progress.

• "The Rebirth of Everything" contains a deep dive into the remarkable changes that are coming in the decades ahead. Diamandis and Kotler take an extensive look at how convergence and technological innovation will radically transform the entertainment, retail, advertising, education, healthcare, finance, insurance, real estate, transportation, and agricultural industries.

• In "The Faster Future", Diamandis and Kotler expand upon Parts 1 and 2 by giving a detailed look at the incoming threats and possible solutions humanity will encounter in the next century. They discuss topics such as water shortages, the climate crises, energy, technological unemployment and governance. The authors argue that humanity will soon experience five major migrations: climate migration, relocation to urban centres, migration into virtual worlds, expansion into space and assimilation into the meta-intelligence.
"The acceleration and convergence of exponential technologies will completely reshape every industry and society over the next decade. The Future is Faster Than You Think is the first book to thoroughly map this new territory. A fantastic guidebook for leaders, entrepreneurs, CEOs, and anyone who wants to understand the massive changes ahead," says Ray Kurzweil, Director of Engineering at Google; co-founder of Singularity University; and author of The Singularity is Near.
"Diamandis and Kotler have written a powerful and beautiful masterpiece outlining a compelling future for humanity. The Future is Faster Than You Think offers CEOs and entrepreneurs a clear vision on the transformation of every major industry this decade. Required reading for anyone who wants to surf above the tsunami of change," says Tony Robbins, New York Times best-selling author, entrepreneur and philanthropist.
"In their amazing book The Future Is Faster Than You Think, Diamandis and Kotler offer us a hopeful and powerful vision of the future. Packed with amazing stories, mind-blowing technology and deep lessons about all of the extraordinary opportunities before us – a must read!" says Anousheh Ansari, CEO of XPRIZE; and the first private female astronaut.
Diamandis and Kotler, together with fellow futurist Ray Kurzweil, will be holding a special launch event in Silicon Valley on 7th February. Ticket registrations can be made here: https://www.diamandis.com/future-faster-registration
COMPETITION!
We are giving away free copies of this book to our readers.
For a chance of winning, just follow these steps:
1. Follow us on Twitter (if you aren't already doing so!)

2. Tweet a link to this competition page (including the hashtag #FutureTimeline)
And that's it! We will select three winners at random in 10 days' time.
Comments »