7th March 2020
Half of world's sandy beaches could vanish by 2100
Half of the world's beaches could disappear by the end of the century due to rising sea levels and coastal erosion, according to a new study led by the European Commission's Joint Research Centre (JRC).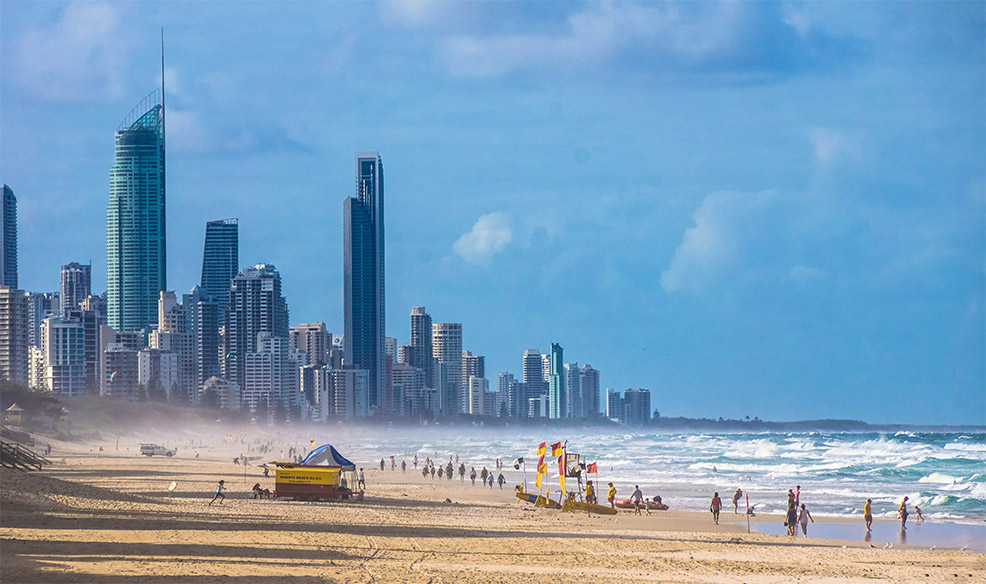 The Gold Coast, Australia. Petra / CC BY (https://creativecommons.org/licenses/by/2.0)
Erosion is a major problem facing sandy beaches that will worsen with rising sea levels brought about by climate change, according to a study published this week in the journal Nature. The good news is that even "moderate" climate action could prevent 40% of that erosion.
Sandy beaches cover more than 30% of the world's coastlines. In addition to being popular spots for tourism and recreation, they provide many important habitats for wildlife, and serve as natural buffer zones that protect coastline and backshore coastal ecosystems from waves, surges and marine flooding. Their role as shock absorbers will become more important with rising sea levels and more powerful storms expected in the future.
However, climate change will accelerate erosion and could make more than half of the world's sandy beaches completely vanish by the end of this century. With a growing population and urbanisation along coastlines, this is likely to result in more people's homes and livelihoods being impacted in the decades to come.
Australia will be hit hardest, according to the findings, with nearly 15,000 kilometres (more than 9,000 miles) of white-beach coastline washed away over the next 80 years. The next most at-risk countries are: Canada, Chile, the United States, Mexico, China, Russia, Argentina, India and Brazil. Large beaches could narrow by up to 200 metres on Atlantic and Pacific coasts and the Australian side of the Indian Ocean, as shown on the figure below.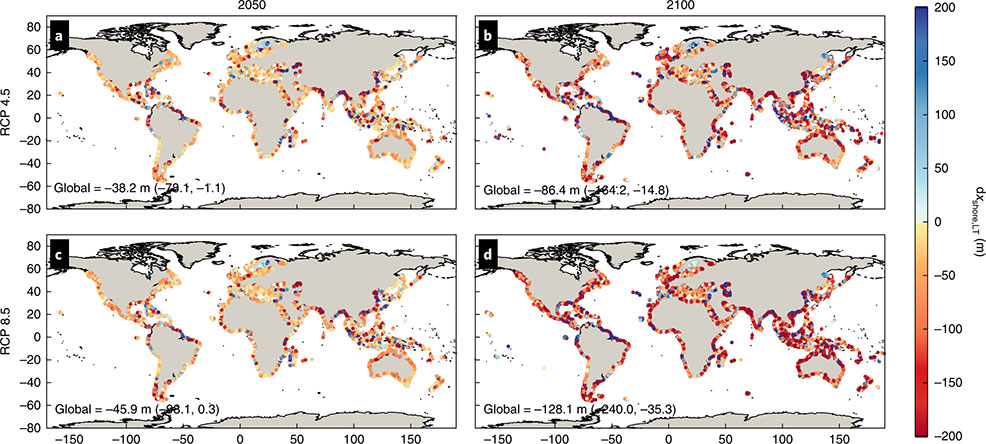 Projected long-term shoreline changes under low (RCP 4.5) and high (RCP 8.5) emissions scenarios in 2050 and 2100.
Human activity is accelerating coastal erosion in other ways, besides climate change. For example, gravel and sand is extracted from rivers and beaches for use in the construction industry, in enormous quantities and at much faster rates than it can be naturally replenished. Sediment supply to the coast is also affected by dams and irrigation systems upstream. In some regions, the losses are counteracted to a certain extent by "accretive ambient shoreline changes" – the build-up of sandy beaches from sediments arriving due to other natural or anthropogenic factors. This is true for parts of the Amazon, East and Southeast Asia and North Tropical Pacific.
These findings come from the first comprehensive, global assessment of future sandy shoreline dynamics. Scientists from the European Commission's Joint Research Centre (JRC) combined 35 years of satellite coastal observations with 82 years of climate and sea level rise projections from several climate models. They then simulated 100 million storm events and measured the resulting coastal erosion.
The results showed that a moderate cut in emissions could prevent 17% of the shoreline retreat by 2050 and 40% by 2100, preserving on average 42 m (138 ft) of sand between the land and sea. However, even if global warming is curbed, societies will still need to adapt and better protect sandy beaches from erosion. Apart from the loss of valuable ecosystems, the socioeconomic implications could be severe, especially in poorer, tourism dependent communities where beaches are the main tourist attraction. Small island nations are among the most vulnerable regions.
"Building defences helps to maintain coastline position, but defences are known to reduce beach width or depth over multiple decades," said Dr Sally Brown, Deputy Head of Department of Life and Environmental Sciences at Bournemouth University, who was not involved in the study. "Responding to sea-level rise means looking strategically at how and where we defend coasts today, which may mean protecting only limited parts of the coast.
"Beach nourishment schemes can help the problem, but these beaches need a regular top-up. Ultimately, we cannot nourish everywhere forever – meaning that hard decisions need to be made about how much to spend and how to manage the coast in decades to come. This could affect those living on the coast, and tourists who enjoy the sandy beaches too. Sea-level rise will only make this situation worse."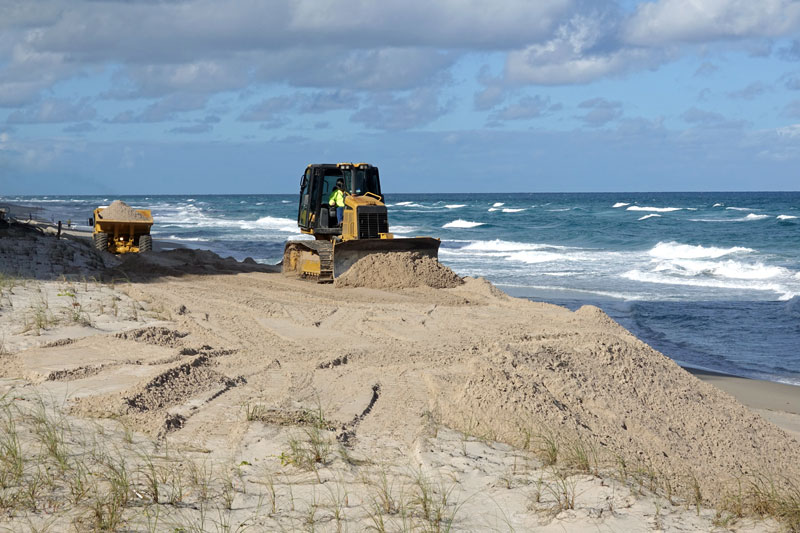 Beach replenishment on Singer Island, Florida
Comments »