21st May 2020
Election model predicts landslide defeat for Trump
Donald Trump is forecast to lose by a landslide in the 2020 presidential election, based on a model by Oxford Economics.
The model – which uses unemployment, disposable income and inflation to forecast election results – has correctly predicted the winner of the popular vote in 16 of the past 18 elections going all the way back to 1948, with only 1968 and 1976 being wrong.
The U.S. economy, formerly one of Trump's greatest political assets, has been ravaged by the COVID-19 pandemic. This week, the Congressional Budget Office (CBO) reported a 38% fall in GDP on an annualised basis in the second quarter of 2020. Nearly 39 million Americans have lost their jobs and applied for government aid, meaning the unemployment rate is now 14.7%. For comparison, the highest ever U.S. unemployment was 24.9% in 1933, during the peak of the Great Depression, and unemployment remained above 14% from 1931 to 1940.
Oxford Economics predict the economy will remain in bad shape for the rest of 2020, with unemployment above 13%, real per capita incomes down nearly 6% from a year previously, and a period of deflation. Based on the available data, their U.S. election model is forecasting a "historic defeat" for Trump in November, which is likely to see him capturing just 35% of the popular vote.
"It would take nothing short of an economic miracle for pocketbooks to favour Trump," the authors write in their report, which describes the economy as being a "nearly insurmountable obstacle for Trump come November."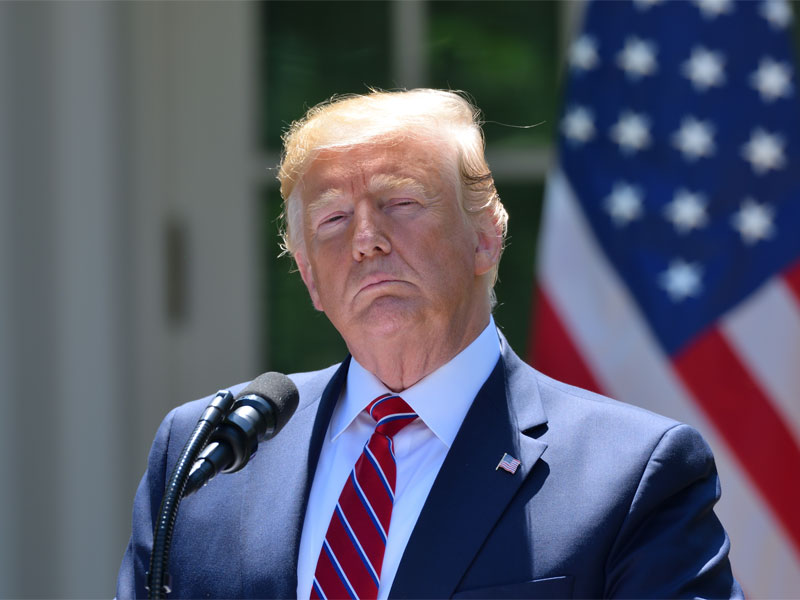 Credit: Evan El-Amin
A separate model run by Oxford Economics looks at individual states and localised economic trends. This second model has predicted that Trump will lose the electoral college by 328 to 210. It forecasts that seven battleground states will flip to the Democrats: Iowa, Michigan, Missouri, North Carolina, Ohio, Pennsylvania, and Wisconsin.
"We would expect these states to experience significant economic contractions and traumatic job losses that would likely swing pocketbook vote," the report states.
Oxford Economics developed the state-based model last year. It would have correctly predicted Trump's upset electoral college victory, as well as seven of the previous nine elections since 1980. However, the research agency has acknowledged that its models have "inherent limitations," including the fact that they exclude non-economic factors, such as a candidate's agenda or likeability.
What are your predictions for the 2020 U.S. presidential election? Let us know in the comments below!
Comments »