2nd February 2021
Guinea worm disease is close to being eradicated
Guinea worm cases in humans fell by 50% in 2020, according to the Carter Center. The disease could be eradicated worldwide by 2030.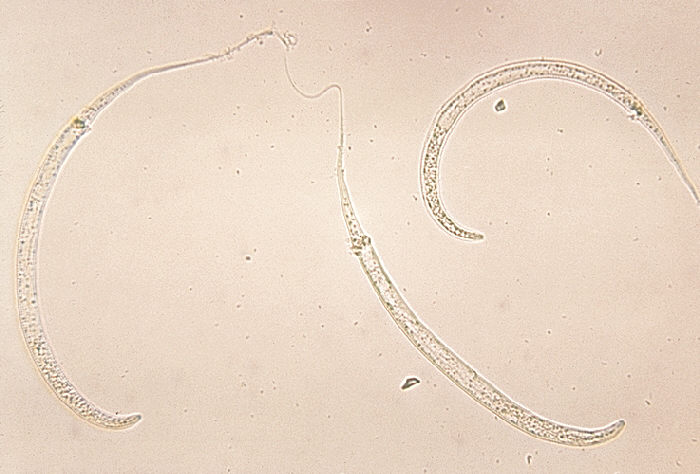 While media headlines are dominated by the ravages of COVID-19, some good news has emerged regarding other disease types. The World Health Organisation (WHO) declared the eradication of wild polio from Africa in August 2020. And now, it appears that dracunculiasis, also known as guinea worm disease, will soon be disappearing too.
The Carter Center, a not-for-profit organisation founded by former U.S. President Jimmy Carter in 1982, has announced that guinea worm cases in humans fell by half between 2019 and 2020. Just 27 cases of the disease occurred across six African countries last year. The highest counts were in Chad (12) and Ethiopia (11). The remaining countries – Angola, Cameroon, Mali, and South Sudan – each had only a single case.
As for infections in animals, Chad reported 1,570 (1,507 domestic dogs, 61 domestic cats, and two wild cats), while Ethiopia reported 15 (eight domestic dogs, three domestic cats, four baboons), and Mali reported eight infected domestic dogs.
"The numbers we are seeing are very encouraging," said Jason Carter, chair of the Center Board of Trustees, and a grandson of the former President. "However, the target number is zero – a complete, sustained absence of human cases and infections in animals – and we will not stop pushing until we get there."
"The Chad Ministry of Health Guinea Worm Eradication Program saw a significant reduction in both human cases and animal infections in 2020," said Kashef Ijaz, Carter Center vice president of health programs. "This was achieved through recommitted country and community efforts, innovation, and aggressive, science-based interventions. The dramatic reductions may be an early indication that we're turning a corner in the most Guinea worm-endemic country."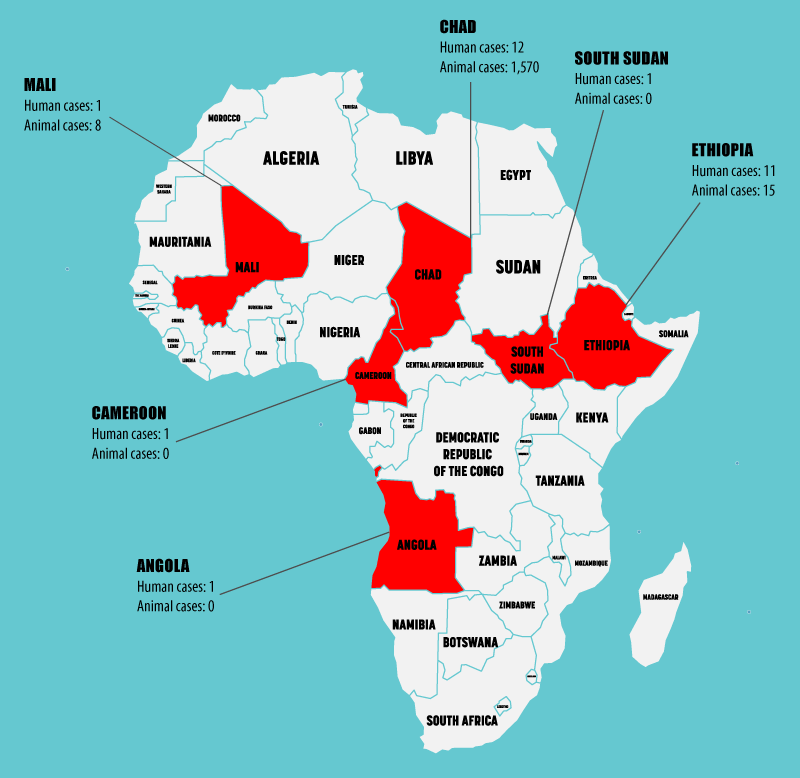 Guinea worm disease (dracunculiasis) is usually contracted when people consume water contaminated with tiny crustaceans (called copepods) that carry guinea worm larvae. The larvae mature and mate inside the patient's body. The male worm dies. After about a year, a metre-long female worm emerges slowly through an excruciatingly painful blister in the skin, often of the legs or feet. A sufferer may seek relief by dipping the affected limb in water. However, contact with water stimulates the emerging worm to release its larvae into the water and start the process all over again. While rarely fatal, guinea worm disease incapacitates people for weeks or months, reducing individuals' ability to care for themselves, work, grow food for their families, or attend school.
The presence of guinea worm disease in an area usually indicates abject poverty, including lack of safe drinking water. Interventions to stop transmission include community-based health education, filters for all drinking water (such as the LifeStraw donated from Vestergaard), preventing people and animals with emerging guinea worms from entering water sources, and targeted use of larvicides in stagnant water sources.
Only one human disease has ever been eradicated globally; that was smallpox, in 1980. For a disease to be declared eradicated, every country in the world must be certified free of both human and animal infection, even countries where transmission has never taken place. To date, 199 countries have been certified free of guinea worm, with just seven remaining.
The final cases of any eradication campaign are the most challenging and the most expensive. To boost surveillance at this critical point in the global campaign, national programs offer cash rewards for reporting potential cases.
"Swift investigation of rumoured cases is essential to stopping transmission of the disease," said Adam Weiss, director of the Carter Center's Guinea Worm Eradication Program. "The South Sudan Guinea Worm team pursues those rumours aggressively, and even though almost all turn out to be something else, in an eradication campaign it's that remarkable level of effort that's required to catch every single case and reach zero."
The World Health Organisation (WHO) is the international body that certifies whether a disease has been eliminated nationally or globally. The WHO's current goal is for eradication of dracunculiasis by 2030. Based on this latest data from the Carter Center, that goal appears to be in reach.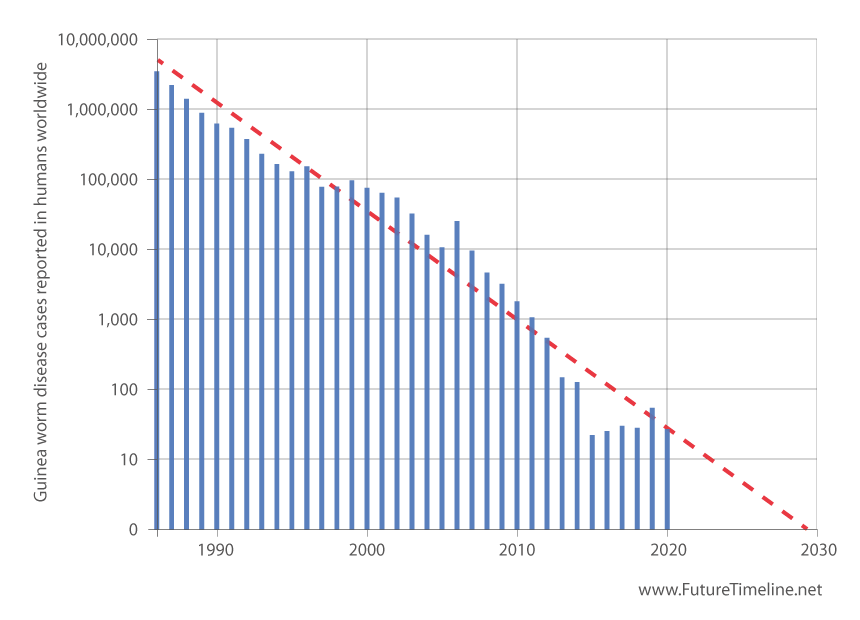 When the Carter Center became established in the early 1980s, cases of guinea worm disease stood at 3.5 million annually. Since then, the worldwide count has declined exponentially, as seen on the logarithmic scale above. The Carter Center estimates that a total of 80 million cases have been avoided over the decades, thanks to the eradication campaigns among the world's poorest and most neglected people. The Carter Center has spearheaded these efforts, and works in close partnership with national programs, the World Health Organization, U.S. Centers for Disease Control and Prevention, UNICEF, and many other partners.
Last year's improvement is especially notable in the context of the COVID-19 pandemic, which has forced many public health programs throughout the world to suspend or curtail activities due to supply-chain interruptions and the need to avoid close personal contact. By contrast, the Guinea Worm Eradication Program is not dependent on the delivery of pharmaceuticals, because there is no vaccine or medicine to treat the disease. The day-to-day work of community awareness and education about guinea worm infections, along with monitoring for infections, filtering drinking water, and protecting water sources from contamination is performed by community and family members. As a result of these differences, the program remained up to 95% operational throughout 2020.
"I've been so impressed with how entire communities in every country where we work embrace the responsibility for safeguarding their own health," said Weiss. "The people who live in the villages are the heart of the program. Foreigners like me are a very small part of the operation. As an example, we have 1,026 people on the payroll in Chad, and 1,000 of them are Chadians. Beyond that, there are thousands of village volunteers safely working together with their neighbours."
"There should be no such thing as a neglected disease, tropical or otherwise," said Jimmy Carter, now aged 96. "With the resources, knowledge, and technology available to us today, there is little excuse for millions of people to continue to suffer from these preventable illnesses. We are grateful for our partners who are committed to righting this wrong."
---
• Follow us on Twitter
• Follow us on Facebook
• Subscribe to us on YouTube
Comments »