6th February 2021
Australia plans world's biggest battery for 2023
CEP Energy, a specialist renewable energy fund company in Australia, has announced plans for the largest ever utility-scale battery system.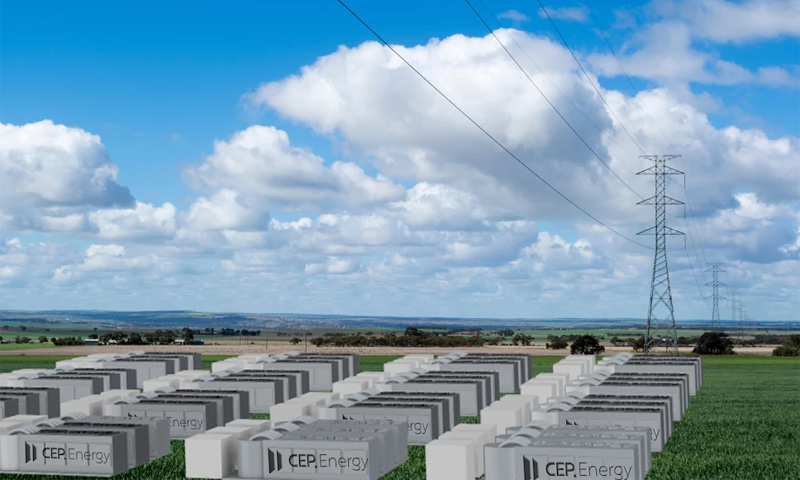 The $2.4bn battery project seen here, to be built at Kurri Kurri in New South Wales, will have a power capacity of 1,200 megawatts (MW). This is eight times greater than Tesla's Hornsdale Power Reserve in South Australia, which in 2017 became the largest lithium-ion battery in the world at 150MW. It is 24 times greater than the Buzen Substation in Japan, which at 50MW held the record in 2016. The new facility will come online in stages, with operations starting in 2023. CEP Energy has signed a 30-year lease agreement with Hunter Investment Corporation.
CEP Energy is planning a network of four utility-scale batteries – two others in Victoria and one in South Australia – which together will have a combined capacity of 2,000MW. The company is also planning 1,500MW of rooftop solar panels on industrial sites.
Sunlight is not available 24/7, and wind speeds can vary – so utility-scale batteries can provide a way of balancing supply and demand from renewables such as solar, wind, and hydropower. In doing so, they offer a cleaner alternative to traditional peaking and combined cycle plants powered by fossil fuels.
In recent years, battery storage systems have grown to impressive sizes, while declining rapidly in cost. The new CEP Energy project in Kurri Kurri is the largest seen anywhere so far, and of a scale that will seriously challenge the viability of gas-fired power plants proposed for the region by other companies.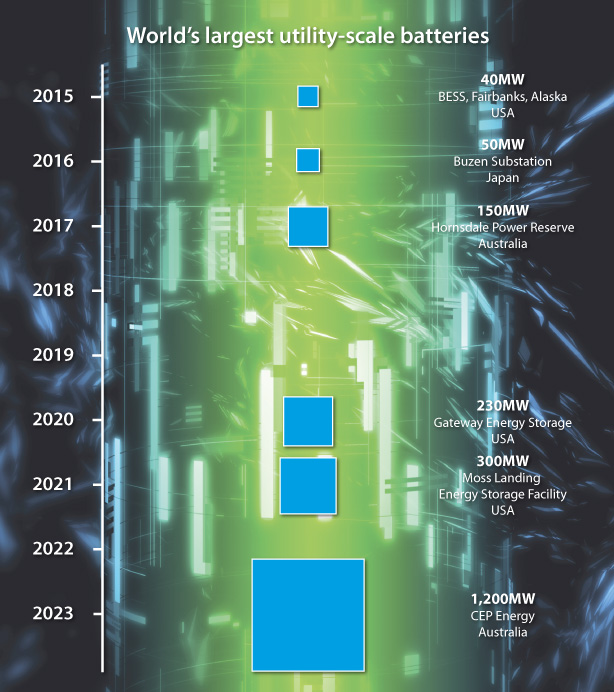 "CEP's grid-scale battery network is part of our dual-track strategy to generate and store clean, reliable and cost-effective electricity for Australian businesses, and make excess power available to the national grid to firm up the increase in renewable generation," said Peter Wright, CEO of CEP Energy.
The 1.2GW battery is planned for construction in the Hunter Economic Zone (HEZ) of Kurri Kurri, which already has approval for major works and is adjacent to existing sub-stations. Its location makes it "among the best handful of sites in Australia for reliable and efficient grid connection," according to Wright.
The choice of location is also interesting because of the business and political angle. In March 2019, a Hong Kong-based investment company proposed two large coal-fired power plants of 1,000MW each. The Uniting Church in Australia, which owns the HEZ site, objected to that earlier project and ruled out a sale of land. CEP Energy is also chaired by Morris Iemma, former Premier of New South Wales, whose Labor party is pushing sustainable energy projects in opposition to current Australian Prime Minister Scott Morrison and his Liberal/National coalition, who favour coal and gas.
On current projected trends, Australia could fully decarbonise its electricity supply by 2034, with large-scale battery projects helping to ensure this transition. Worldwide, energy storage is set to become a booming industry. A report by Bloomberg New Energy Finance in 2019 predicted a 122-fold increase in global energy storage capacity over the next 20 years, exceeding 1,000GW by 2040.
---
• Follow us on Twitter
• Follow us on Facebook
• Subscribe to us on YouTube
Comments »