12th March 2021
"Camera-in-a-pill" helps to spot cancer
The NHS in England has begun trials of a new miniature camera device that a patient can swallow, to check if they have bowel cancer, as an alternative to traditional colonoscopy.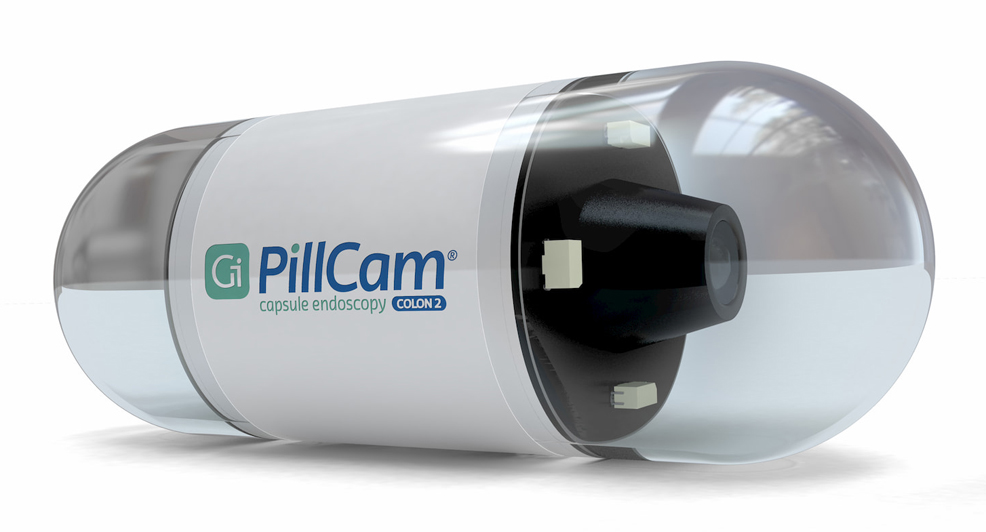 Credit: Medtronic
For many people, a colonoscopy can be a slow, unpleasant and embarrassing process. However, patients in England will now get the option to avoid having a camera inserted into their bowel, by instead swallowing a capsule the size of a cod liver oil tablet. Inside the capsule, called PillCam, a tiny camera will record images with a data rate of up to 8.1 Mbps.
The images are then transmitted to an external recorder, fitted to a belt worn around the waist. No hospital visit is required for this procedure, and the user can continue most daily activities while the capsule is in their body. Likewise, regular medications can continue to be taken alongside the PillCam – which is made of biocompatible plastic – unless otherwise instructed by a doctor.
"As we come out of 'peak Covid' and the disruption of the pandemic, the NHS is now pushing ahead with genuine innovation to expand services for many other conditions. That's why we're now trialling these ingenious capsule cameras to allow more people to undergo cancer investigations quickly and safely," said Sir Simon Stevens, the Chief Executive of NHS England. "What sounds like sci-fi is now becoming a reality, and as these minute cameras pass through your body, they check for signs of cancer and other conditions like Crohn's disease."
The process takes between five and eight hours. Photographs of the bowel are sent wirelessly from the capsule to the recorder, then passed on to a cancer specialist for evaluation. Patients excrete the capsule when they go to the toilet. An initial group of 11,000 NHS patients in England will receive the capsule cameras in about 40 areas of the country.
Bowel cancer is the fourth most common cancer in the UK and has the second highest death rate. Around 42,000 people are diagnosed with the cancer each year in the UK, of which about 16,600 will die. Although bowel cancer is treatable and curable, especially if diagnosed early, many people are reluctant to see a doctor out of embarrassment regarding the symptoms and the prospect of a colonoscopy. This "embarrassment factor" is responsible for delays of 10 weeks on average between noticing symptoms and contacting a healthcare professional, according to a recent survey by BUPA. New technologies and devices like the PillCam could help in getting more people diagnosed and treated early.
"The future of healthcare should be closer to the home, and indeed that is the vision of the NHS Long Term Plan," said Prof Andrew Goddard, president of the Royal College of Physicians. "As technologies develop, we will see more and more tests that can be done at home."
"We're aware that some patients are reluctant to seek help for certain cancers because the diagnostic tests available can be invasive, so this is a fascinating development and we will be very interested to see the results of the trial," said Prof Martin Marshall, chair of the Royal College of GPs. "GPs are preparing for an upsurge in cases of suspected cancer cases post-Covid, and the capsule cameras and new test for cervical cancer are welcome developments that could enable more patients to monitor and manage their own health at home without embarrassment or discomfort."
---
• Follow us on Twitter
• Follow us on Facebook
• Subscribe to us on YouTube
Comments »