25th April 2021
Malaria vaccine is first to exceed 75% efficacy
Researchers led by the University of Oxford have completed a Phase II trial of R21/Matrix-M, a candidate malaria vaccine, which demonstrated an efficacy of 77% over 12 months of follow-up.
In their findings, posted on SSRN/Preprints with The Lancet, they note that their study is the first to reach the World Health Organization's goal for a vaccine with at least 75% efficacy by 2030. It represents a substantial improvement over the current most effective malaria vaccine, which has shown just 55% efficacy in trials on African children.
The authors conducted a randomised, controlled, double-blind trial at the Clinical Research Unit of Nanoro (CRUN) / Institut de Recherche en Sciences de la Santé (IRSS), in the West African country of Burkina Faso. They recruited 450 participants, aged 5-17 months, from the catchment area of Nanoro, covering 24 villages and a population of 65,000 people.
The participants were split into three groups, with the first two receiving R21/Matrix-M (with either a low dose or high dose) and the third, a rabies vaccine as the control group. Doses were administered just prior to the peak malaria season.
In the lower dose group, the researchers observed an efficacy of 71%, while the higher dose had an efficacy of 77%. No serious adverse side effects occurred during the 12 months of follow-up.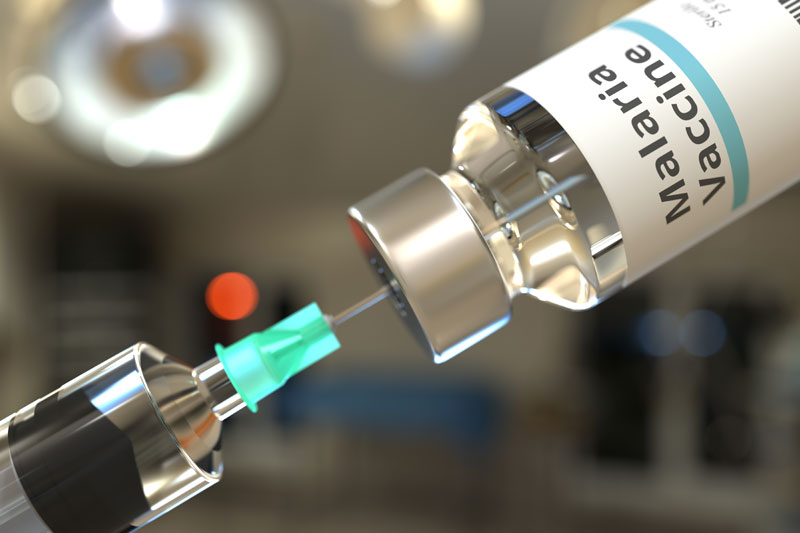 The researchers, in collaboration with India's Serum Institute, and Novavax Inc., have now started recruitment for a larger Phase III trial to assess the safety and efficacy in 4,800 children, aged 5-36 months, across four African countries.
"These are very exciting results showing unprecedented efficacy levels from a vaccine that has been well tolerated in our trial programme. We look forward to the upcoming Phase III trial to demonstrate large-scale safety and efficacy data for a vaccine that is greatly needed in this region," said Halidou Tinto, Professor in Parasitology, Regional Director of IRSS in Burkina Faso, and the trial's Principal Investigator.
"These new results support our high expectations for the potential of this vaccine, which we believe is the first to reach the WHO's goal of a vaccine for malaria with at least 75% efficacy," said Adrian Hill, Director of the Jenner Institute and Professor of Vaccinology at the University of Oxford, and co-author of the paper. "With the commitment by our commercial partner, the Serum Institute of India, to manufacture at least 200 million doses annually in the coming years, the vaccine has the potential to have major public health impact if licensure is achieved."
Malaria is caused by parasites transmitted to people through the bites of infected mosquitoes. More than 400,000 deaths and 229 million cases are reported globally each year. In addition to its high death toll, the economic impacts are considerable, reducing the annual Gross Domestic Product (GDP) of some countries by as much as 1.3%. In regions where the disease is most common, it can represent up to 40% of public health spending, 50% of hospital admissions and 60% of visits to health clinics. Most deaths are amongst children in Africa where high transmission rates are found in many countries.
Progress in reducing malaria mortality has slowed in recent years, according to the WHO. The looming threat of climate change is another factor to consider in the longer term. By 2080, climate change may increase the population at risk of malaria by another 257 to 323 million. For example, higher temperatures could expand the habitat range for invasive species (including mosquitoes) beyond the tropics, while greater rainfall could produce more standing water that is ideal for mosquito larvae.
Breakthroughs in vaccine development can provide hope of controlling the disease, however. More than 100 malaria vaccine candidates have entered clinical trials in recent decades, but none has shown efficacy greater than 75% – until now.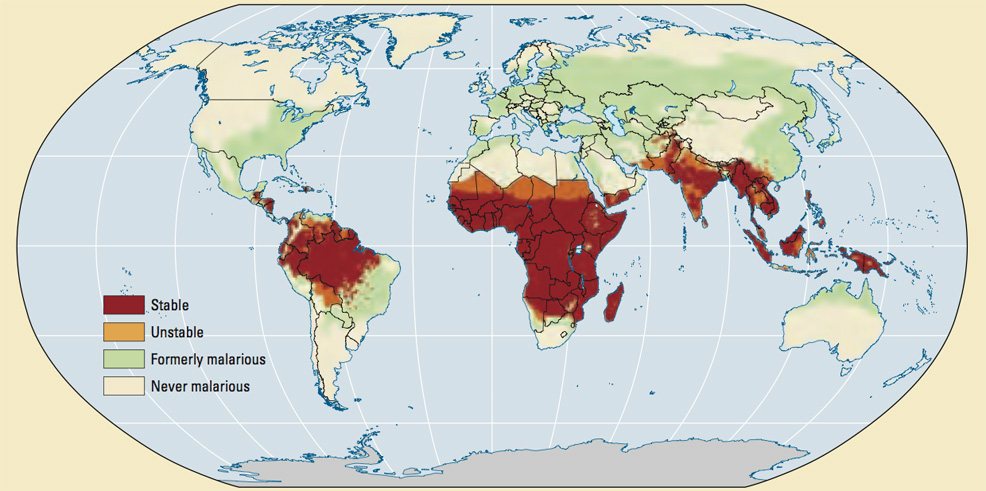 World map of past and current malaria prevalence. Credit: World Development Report, October 2019, CC BY 4.0, via Wikimedia Commons
---
• Follow us on Twitter
• Follow us on Facebook
• Subscribe to us on YouTube
Comments »