4th May 2021
EPA plans to phase down hydrofluorocarbons
The U.S. Environmental Protection Agency (EPA) is proposing its first rule under the American Innovation and Manufacturing (AIM) Act to begin phasing down the production and consumption of hydrofluorocarbons (HFCs) – highly potent greenhouse gases commonly used in refrigerators, air conditioners, and many other applications.
The AIM Act directs the EPA to sharply reduce the production and consumption of these harmful pollutants by using an allowance allocation and trading program. This is expected to decrease the production and import of HFCs in the U.S. by 85% over the next 15 years.
Following the Montreal Protocol of 1987, HFCs began to replace the more potent chlorofluorocarbons (CFCs) and hydrochlorofluorocarbons (HCFCs) which had been damaging the stratospheric ozone layer. HFCs pose no harm to the ozone layer because, unlike CFCs and HCFCs, they do not contain chlorine. They are, however, extremely powerful greenhouse gases that accelerate climate change. Trifluoromethane (CHF₃), for example, has a global warming potential (GWP) of 12,400 over a 100-year timescale. In other words, its heat-trapping capacity is 12,400 times greater than carbon dioxide on a per-molecule basis. Its lifetime in the atmosphere is 222 years.
Global emissions of HFCs, while initially very low, have grown rapidly since their commercial introduction in the 1990s. They passed an ominous milestone in the late 2010s, reaching 1 gigaton of carbon dioxide equivalent (GtCO2eq). Without international action, that figure could more than quadruple by mid-century and lead to 0.5°C of additional global warming by 2100.
31% of HFC emissions are released from commercial, industrial, transport, and domestic refrigeration, 22% from stationary air conditioning, 18% from HCFC-22 production for emissive and feedstock use, 15% from mobile air conditioners, and 14% from use in aerosols, foams, solvents, fire extinguishers, and ground source heat pumps.
In 2016, the Kigali Amendment updated the earlier Montreal Protocol to include HFCs, but neither the U.S. nor China ratified the agreement. Last month, however, the two countries both agreed to eliminate HFCs. The AIM Act is a major step towards ensuring the U.S. achieves that goal.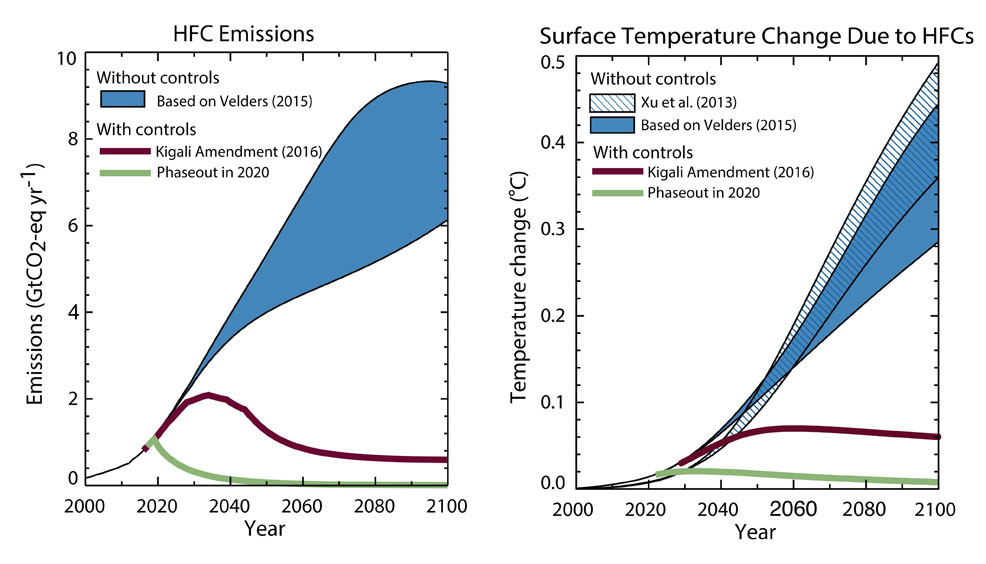 "With this proposal, the EPA is taking another significant step under President Biden's ambitious agenda to address the climate crisis," said EPA Administrator Michael S. Regan. "By phasing down HFCs, which can be hundreds to thousands of times more powerful than carbon dioxide at warming the planet, the EPA is taking a major action to help keep global temperature rises in check. The phasedown of HFCs is also widely supported by the business community, as it will help promote American leadership in innovation and manufacturing of new climate-safe products. Put simply, this action is good for our planet and our economy."
"Implementation of the AIM Act will create hundreds of thousands of good paying jobs that will combat climate change, said Senator Thomas Carper (D-DE), Chairman of the Senate Environment and Public Works Committee. "Passing the AIM Act was a momentous climate achievement that will help save our planet, and today we are one step closer to its benefits being a reality."
The AIM Act is among the most significant environmental laws passed by the U.S. Congress in recent years. Backed by a broad coalition of industry and environmental groups, it provides regulatory certainty across the U.S. for phasing down HFCs and ushers in the use of more climate-friendly and efficient alternatives that will save consumers money while improving the environment.
The total emission reductions from 2022 to 2050 are projected to be 4.7 gigatons of CO2 equivalent, or nearly equal to three years of U.S. power sector emissions at 2019 levels. The EPA estimates that the cumulative economic benefits from this phasedown will amount to $283.9 billion from 2022 through 2050, and that the proposal will yield cumulative compliance savings for industry. In 2036 alone – the year of the final reduction step – this rule is expected to prevent the equivalent of 187 million metric tons of carbon dioxide (CO2) emissions, roughly equal to the annual greenhouse gas emissions from one out of every seven vehicles registered in the United States.
---
• Follow us on Twitter
• Follow us on Facebook
• Subscribe to us on YouTube
Comments »