17th June 2021
New method cuts dengue fever cases by 77%
A trial of mosquitoes infected with Wolbachia bacteria resulted in a 77% reduction of dengue fever incidence and 86% reduction of hospitalisations in Yogyakarta, Indonesia.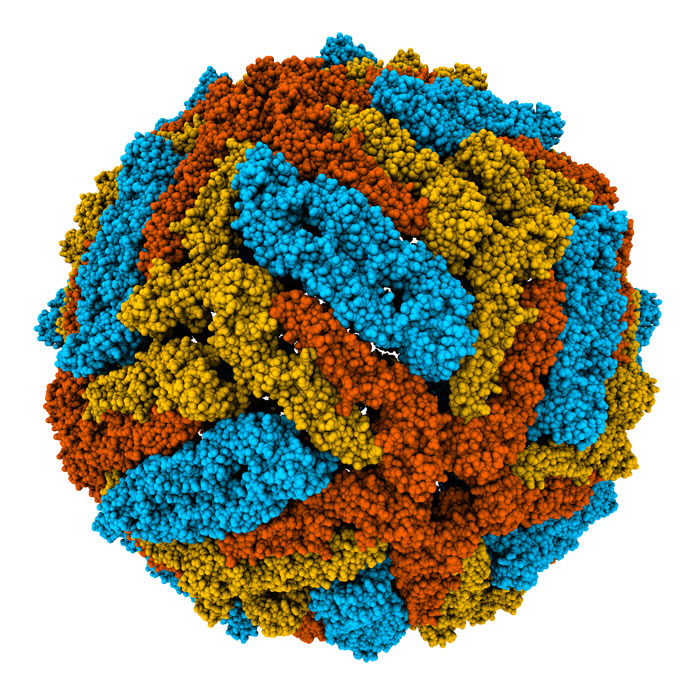 3D model of dengue virus. Credit: BitCyte
Dengue fever is a mosquito-borne disease caused by the dengue virus. Symptoms may include a high fever, headache, vomiting, muscle and joint pains, and a characteristic skin rash. It can progress into a more severe hemorrhagic fever, which is fatal in up to 2.5% of cases – and 26% of those who develop significantly low blood pressure. The risk of death is particularly high among children and the elderly.
The rapid spread of dengue after World War II has been attributed to ecological damage and disruption to water systems. Epidemics occurred in southeast Asia during the 1950s and in the Americas during the 1970s, making it a leading cause of child mortality. By the late 1990s, it had become the most significant mosquito-borne disease affecting humans after malaria.
As of today, dengue fever remains endemic throughout the tropics, where it threatens nearly 50% of the global population. Case numbers have grown more than 40-fold since the 1960s – recently exceeding 100 million annual infections – a figure that continues to increase, driven by the higher temperatures and humidity caused by climate change. Up to 60% of the world's population is projected to lie in dengue-affected regions by 2080.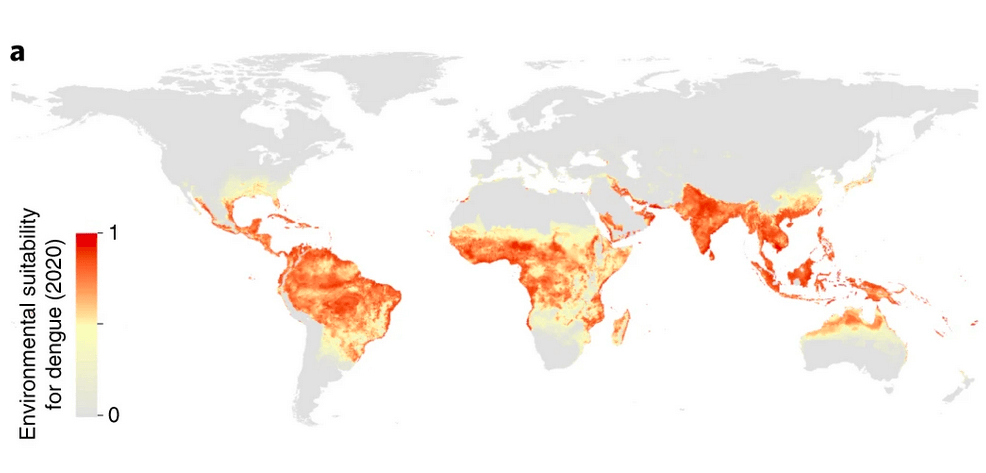 Animated map of dengue fever spread – 2020, 2050 and 2080. Credit: Messina, Brady et al. Nature Microbiology.
The expansion of dengue is a public health challenge and growing economic burden that is currently unmet by effective vaccines, specific therapeutic agents or efficient vector-control strategies. In 2019, the WHO declared it one of the top 10 global health threats, due to the lack of effective medical treatments.
However, the results of a trial conducted in Yogyakarta, Indonesia, have shown a potentially major breakthrough in the battle against dengue. The study, published in The New England Journal of Medicine, involved the introduction of Wolbachia bacteria into the local mosquito population.
Yogyakarta consistently ranks among the Indonesian provinces with the highest annual rates of dengue incidence. The World Mosquito Program, alongside the Tahija Foundation and Gadjah Mada University, worked with local government, health authorities and communities to undertake pilot deployments of Wolbachia in a 26km² area of Yogyakarta City. For this study, they divided the region into 24 clusters. They randomly selected 12 areas to receive Wolbachia mosquito releases alongside routine dengue control measures, while the remaining 12 received only routine dengue control measures.
These deployments lasted for several months, during which the Wolbachia-carrying mosquitoes bred with local wild mosquitoes, until nearly all mosquitoes in the 12 areas had the bacteria in their systems. The researchers collected more than 300,000 of the insects for analysis. They then began monitoring cases of dengue throughout the city. Over a period of 27 months, their data showed a 77% reduction in dengue incidence, consistent across all four of the dengue virus subtypes. Even more significantly, they found that hospitalisations had fallen by an astonishing 86% in the Wolbachia-treated communities.
These results are so promising that the program has now been expanded across the entire city. By 2030, the World Mosquito Program estimates this will have prevented tens of thousands of dengue fever cases in Yogyakarta. If deployed in Jakarta – Indonesia's much larger and higher-density capital – Wolbachia could provide nearly $50 million in annual economic benefits from lower medical and societal costs. Ultimately, the plan is to offer this method to the rest of the world.
"This is a great success for the people of Yogyakarta," said Professor Adi Utarini from the University of Gadjah Mada, Co-Principal Investigator of the trial. "Indonesia has more than 7 million dengue cases every year. The trial success allows us to expand our work across the entire city of Yogyakarta and into neighbouring urban areas. We think there is a possible future where residents of Indonesian cities can live free of dengue."
"This is the result we've been waiting for," said Professor Scott O'Neill, World Mosquito Program Director. "We have evidence our Wolbachia method is safe, sustainable and dramatically reduces incidence of dengue. It gives us great confidence in the positive impact this method will have worldwide when provided to communities at risk of these mosquito-transmitted diseases."
"The results are compelling," said Professor Nicholas Jewell, Professor of Biostatistics and Epidemiology at the London School of Hygiene & Tropical Medicine. "Doubly exciting is that the trial design used here provides a template that other candidate health interventions can follow."
---
• Follow us on Twitter
• Follow us on Facebook
• Subscribe to us on YouTube
Comments »