8th June 2021
First fully reusable, entirely 3D-printed rocket
Relativity Space, a California-based aerospace manufacturer, has revealed a new rocket that is both 3D printed and fully reusable. The Terran R could serve as a competitor to SpaceX's Falcon 9.
Founded in 2015 by young entrepreneurs Tim Ellis (25) and Jordan Noone (23), Relativity Space has grown rapidly to become a multi-billion-dollar company with 400 employees. Ellis and Noone felt that existing "NewSpace" companies had failed to explore the full potential of 3D printing. They have since been striving to become the first company to successfully put an entirely 3D-printed launch vehicle into orbit.
Relativity Space has today announced its latest milestone, with closing of a $650 million Series E equity funding round. This will enable the company to begin scaling production of a new, fully reusable, entirely 3D-printed rocket: the Terran R.
Standing 66 m (216 ft) tall, with a 5 m (16 ft) diameter and 5 m (16 ft) payload fairing, the Terran R will be a two-stage rocket able to lift up to 20,000 kg (44,100 lbs) into low Earth orbit (LEO). The Terran R is the successor to the Terran 1, which has already become the world's first 3D printed space launch vehicle but lacks reusability. By contrast, the Terran R will be both 3D printed and entirely reusable, with a payload 16 times greater than Terran 1. It also beats the 15,600 kg (34,000 lbs) payload to LEO for the reusable configuration of SpaceX's Falcon 9 with drone ship recovery.
Both Terran rockets are being manufactured using the world's largest metal 3D printers. The process developed by Relativity Space means that assembly could be achieved within two months, rather than years for traditional rockets, with a 100-fold reduction in the number of components needed. These printers can incorporate exotic materials and unique design geometries that are not possible in traditional manufacturing, offering unprecedented innovation and disruption in the industry. If all goes according to plan, the Terran 1 will have its first test flight towards the end of 2021, while Terran R will launch in 2024.
"From our founding days in Y Combinator just five years ago, we planned on 3D printing Terran 1 and then Terran R – a 20X larger fully reusable rocket – on our Factory of the Future platform," said Tim Ellis, CEO and co-founder of Relativity. "Today we are one step closer to this goal. Together with our first rocket Terran 1, our second product, Terran R, will continue to take advantage of Relativity's disruptive approach to 3D printing – reduced part count, improved speed of innovation, flexibility, and reliability – to bring to market the next generation of launch vehicles.
"Relativity was founded with the mission to 3D print entire rockets and build humanity's industrial base on Mars. We were inspired to make this vision a reality, and believe there needs to be dozens to hundreds of companies working to build humanity's multiplanetary future on Mars. Scalable, autonomous 3D printing is inevitably required to thrive on Mars, and Terran R is the second product step in a long-term journey Relativity is planning ahead."
Terran R will be outfitted with seven "Aeon R" rocket engines, each capable of 302,000 lbs of thrust, while its upper stage houses one "Aeon Vac" engine. Beginning in 2024, Terran R will launch from Launch Complex 16, the company's site at Cape Canaveral, where Terran 1 is also set to launch this year. Combined with the ability to launch a far greater payload than Terran 1, the Terran R will provide both government and commercial customers affordable access to space – both LEO and beyond.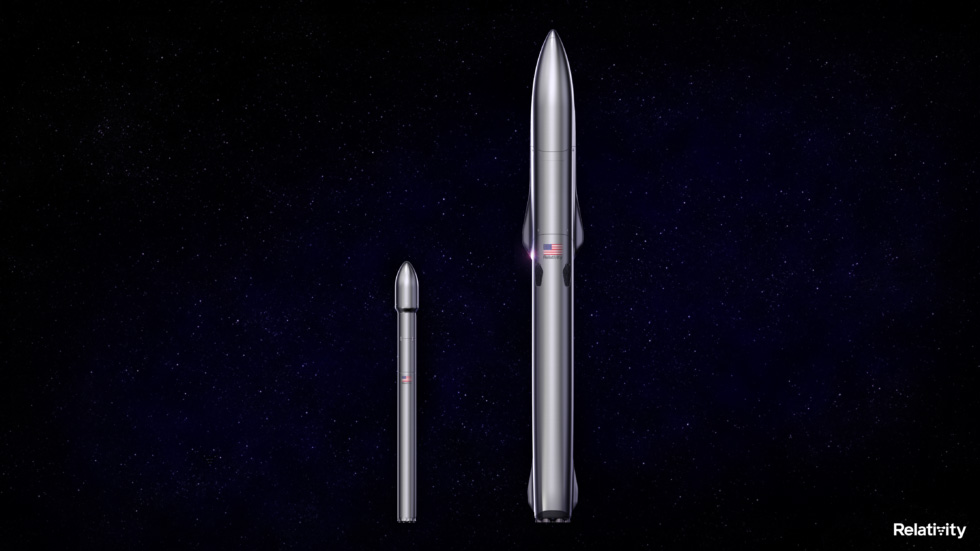 Size comparison of Terran 1 (left) and Terran R (right)
With satellite technology advancements, demand for bandwidth soaring and satellite constellations representing the largest part of the growing market, Terran R has a growing pipeline of commercial interest. As a testament to its commercial viability, Relativity Space recently signed its first anchor customer launch contract for a Terran R vehicle.
"There's an organic relationship between 3D printing and reusability, and it gives us an unparalleled advantage to design the best fully reusable rocket possible," said Ellis. "Over the last year, we found ourselves being asked by the market to accelerate development of our larger launch vehicle – so we knew it was time to double down on our existing plans and scale the Terran R program even faster and build production capabilities at scale sooner."
Terran R will eventually offer customers a point-to-point space freighter capable of missions between the Earth, Moon and Mars. "Terran R is at the cutting edge of rocket innovation and design," said Zach Dunn, SVP of Engineering and Manufacturing at Relativity. "Fully reusable and entirely 3D printed, Terran R will be well suited to serve customers' evolving needs in the large satellite constellation industry, while also representing a significant leap towards achieving our mission of building humanity's industrial base off of Earth."
---
• Follow us on Twitter
• Follow us on Facebook
• Subscribe to us on YouTube
Comments »