11th July 2021
First robotic pizza restaurant opens in Paris
A new pizzeria, called Pazzi, is staffed entirely by robots, which can handle everything from order-taking to prepping the dough, to boxing the finished meal.
The restaurant, found in the Beaubourg area of Paris, has taken eight years of research and development. Its creators are two inventors, Cyril Hamon and Sébastien Roverso – both passionate about robotics and electronics since childhood – who began designing the machines in a family garage. Their goal has been to reinvent the fast food experience with a fully automated system that is more convenient and empowering to customers, while maintaining the same or better quality food as conventional restaurants and also being environmentally sustainable.
Pazzi builds on the success of a pilot, tested at the Val d'Europe shopping centre in 2019. The 120m² establishment is more visible and centrally located than that earlier demonstration, being opposite the famous Pompidou centre, benefiting from a high attendance.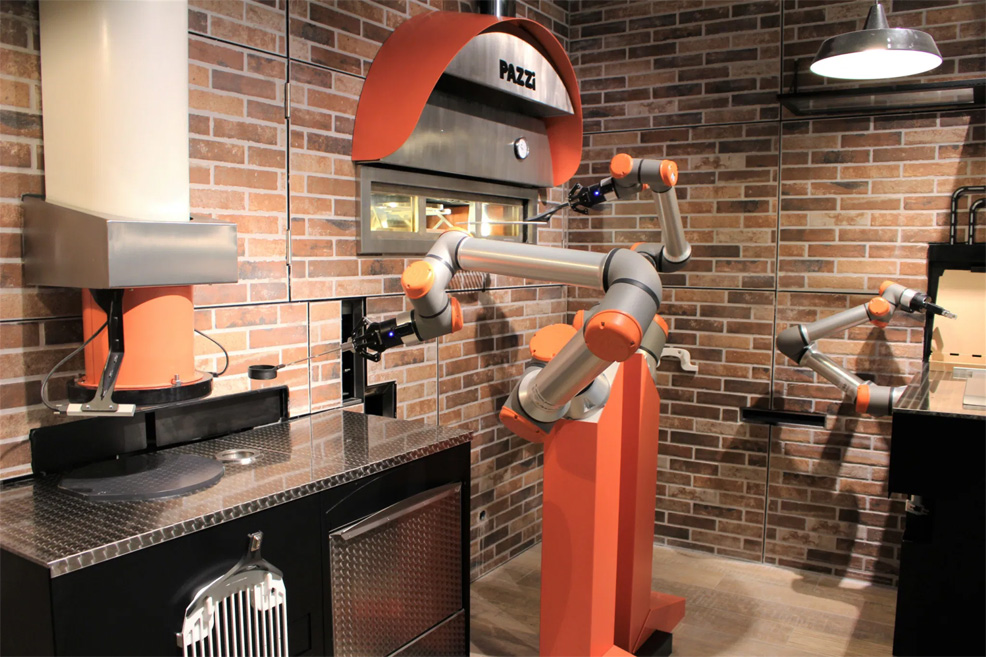 To select their pizza, customers are invited to access terminals at the restaurant, or the menu on the company's website. The order is then sent to Pazzi, and the automated system handles everything. The inventors Hamon and Roverso worked with 30 engineers and other experts to perfect the technology, which is assembled from 2,000 different components. The robots are fast enough to produce nearly 80 pizzas per hour – one every 45 seconds, baking six at a time, for a total of five minutes per pizza – with screens displaying the order progress.
The robots move and flatten the fresh dough, spread the sauce, place the ingredients, cook the pizza, then put the finished product in a recycled box and cut the meal into segments. Pazzi can even personalise the quantities of ingredients as desired, identify and correct imperfections and replace them when necessary to ensure optimal preparation. Customers have the choice of collection by click and collect, eating on site, or home delivery.
Veteran chef Thierry Graffagnino, three-time winner of the World Pizza Championship in Italy, developed the recipes for Pazzi, including the dough. He also helped engineers to teach robots to replicate the movements of pizzaiolos, in order to make the robotic experience visible and unique.
"When I met Cyril and Sébastien, I told them that the first criterion for me to join the adventure was a good pizza dough!" said Graffagnino. "Today I'm proud because we got there by working together. Thanks to the talented and responsive teams, Pazzi offers ultra-gourmet pizzas with very good ingredients and a great show for families and children."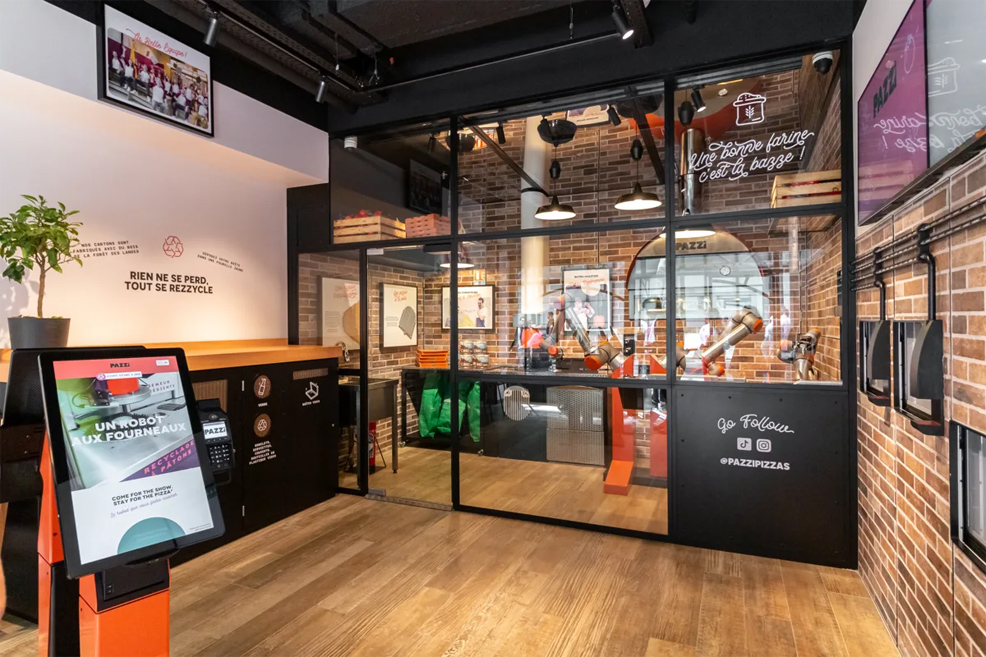 In the age of COVID-19, there is growing demand for safer and more responsible ways of buying consumer items such as food. This has included an increase in online deliveries and contactless payments, for example. Pazzi's fully automated system can provide a further benefit, due to the lack of human-to-human contact involved in the on-site making and selling of its pizzas.
The robots can also work continuously, from 11 a.m. to midnight, without taking a break. Once installed and operational, no additional human workers need to be hired, trained, or paid (except for a remote monitor in case anything breaks down). This saves money for Pazzi, although there are clearly debates to be had about the socio-economic impacts of technological unemployment.
"We are in a very fast process, with a perfect control of time, a control of quality since we have a constancy offered by robotics, and then an environment that is quite cool and relaxed," said Sébastien Roverso, co-founder. "The idea is also to spend a few pleasant minutes watching the robot while you wait for your pizza to be made. We have brought together talents, engineers, developers, chefs, manufacturers and investors. Opening our robotic pizzeria in Paris – the food capital – is an accomplishment that consolidates our model and ambition to put robots at the service of fast, transparent and theatrical catering."
Pazzi is also committed to the environment on a daily basis, with pizza boxes that contribute to sustainable forest management, limits on the use of water and a reduction in waste thanks to composting.
The company, which raised €10 million ($11.9m) in Series A funding, is now planning to expand its operation to become an international chain, starting with Switzerland in 2022. The food robotics market is expected to reach $3.1 billion by 2025, according to industry analysis by Meticulous Research. Robot service units in general are growing rapidly and their worldwide numbers are forecast to exceed one billion by 2034.
---
• Follow us on Twitter
• Follow us on Facebook
• Subscribe to us on YouTube
Comments »