15th July 2021
Europe's largest battery comes online
Europe's largest battery storage project – and the first to reach 100 megawatts of capacity – has begun operations at Minety in Wiltshire, UK.

Credit: Limejump
Renewables such as wind and solar are often criticised for being intermittent since they cannot work 24/7/365. The wind does not always blow, and the Sun does not always shine, making fossil fuels and nuclear power seem like more reliable choices.
However, batteries combined with renewables have become an increasingly attractive option in recent years. Excess energy from solar and wind that is generated in daytime or windy weather can be stored, for use at a later time when conditions may be less than favourable, such as at nighttime or in calmer winds.
Thanks to falling costs and improvements in technology, batteries are now reaching very large capacities. The latest example is the Minety project in Wiltshire, South West England, which officially came online today. This consists of two 50-megawatt (MW) batteries developed by renewable projects manager Penso Power and funded by China Huaneng Group and CNIC Corporation. The facility is now being controlled and optimised by Limejump, part of Shell Group. The combined total of 100 MW makes it the largest battery system in Europe.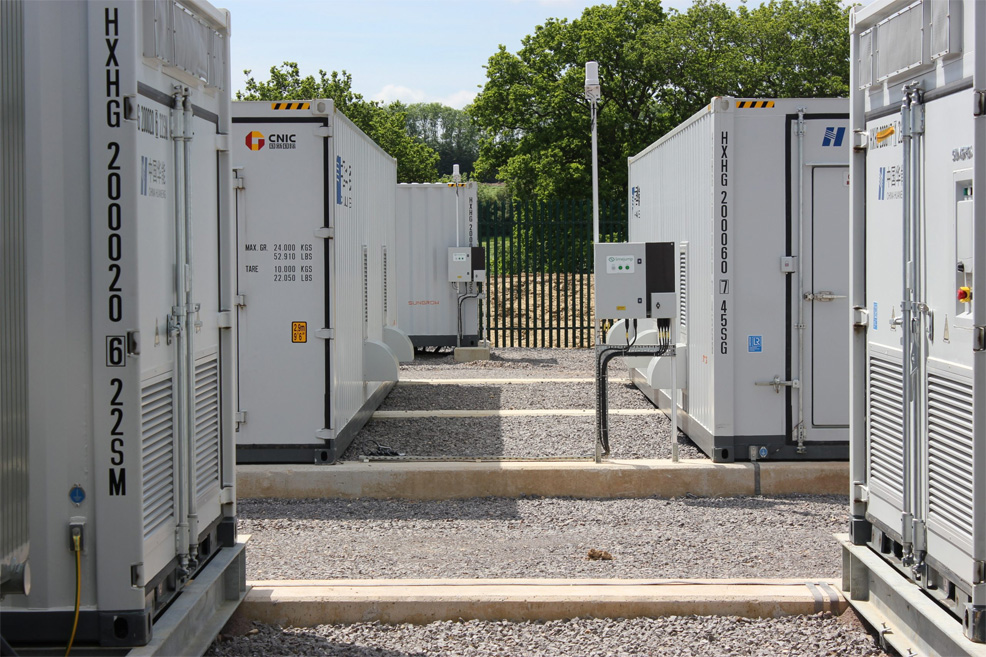 Credit: Limejump
As renewables continue to erode the market share of fossil fuels, the Minety battery will help to balance the UK's electricity demand, with enough power for up to 10,000 homes during a 24-hour period before being recharged. There are plans to increase its capacity by another 50 MW.
"Delivering the Minety project during Covid has been an amazing team effort. With our colleagues at Shell, we can now focus on optimising Minety's performance and supporting National Grid ESO," said Catherine Newman, CEO of Limejump. "This battery scheme will play a pivotal role in balancing the supply and demand, especially as we continue to successfully integrate more and more renewable energy nationwide. More batteries will be needed to add that extra boost of energy when the Sun or wind are not out in force. We all want a greener and cleaner future – and batteries are a key enabler for this."
In April 2020, the UK reached a milestone in its battery storage capacity, with a cumulative total of 1 gigawatt (GW). That figure is already nearing 1.5 GW, following subsequent projects, in addition to Minety.
The rapid growth is set to continue. The UK government's Climate Change Committee (CCC) has forecast at least 18 GW of battery capacity by 2035 under its "balanced" pathway, an 18-fold increase compared to last year. These batteries will form a vital part of efforts to reach "Net Zero" emissions by 2050.
---
• Follow us on Twitter
• Follow us on Facebook
• Subscribe to us on YouTube
Comments »