19th November 2021
Wirelessly powered consumer devices arriving in 2022
French company ARCHOS has announced a partnership with U.S. company Ossia Inc, to integrate a wireless power system into consumer products next year.
Credit: Ossia
Following the EU and UK's recent regulatory approvals of wireless power delivery over the air and at any distance, ARCHOS will collaborate with Ossia Inc to integrate the Cota Real Wireless Power System within consumer products in 2022.
Near-field wireless power transfer is already used in some applications, such as charging pads for smartphones. However, longer-range transfer of energy has the potential to radically improve our home, office, and other indoor environments, by completely untethering devices from cables and reducing or eliminating the need for batteries.
Ossia's new technology delivers power over-the-air, at a distance of almost 10 metres (33 ft), and without the need for line-of-sight. It works by using a Cota transmitter as a hub, which beams power via a 5.8 GHz frequency to each device in the vicinity. To conserve energy, the transmitter only sends out power if a device with a receiver (a tiny silicon chip) is within range. This 'conversation' between receiver and transmitter happens 100 times per second, with signals bouncing off any inanimate objects in their path to reach devices, even when objects are in motion. Ossia's technology is safe for humans, having passed the same rigorous safety standards as Bluetooth and Wi-Fi.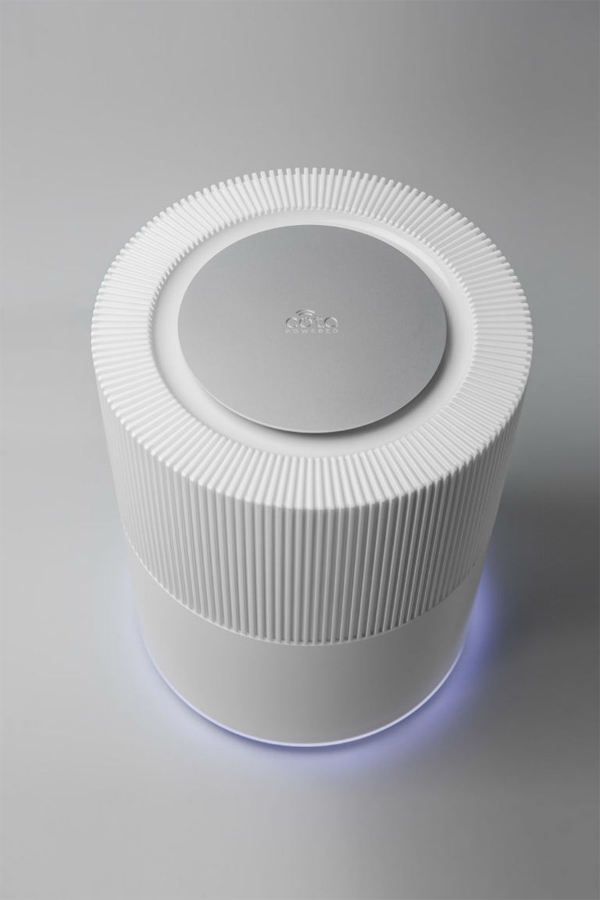 Cota transmitter
Ossia's partner, ARCHOS, will initially focus on a small range of consumer electronics devices, which could later be expanded. The current line-up of products to integrate the Cota transmitter and receiver system are: an indoor wireless camera, an air quality and temperature station, a smart tracker for pets, and a smart health watch. ARCHOS and Ossia plan to showcase these devices at CES 2022. A media event in Paris is also targeted for early 2022.
"This is the first time the general public will be able to experience the convenience and efficiency of wirelessly powered devices," said Loic Poirier, ARCHOS CEO. "After much research, we have determined that Ossia's Cota is best in class, and the only technology that can work safely and effectively for advanced consumer IoT applications. This working partnership is a revolutionary step for consumer electronics, and the products we have planned for launch are only the beginning."
"As a leader of electronics innovation in the European market and beyond, ARCHOS is a natural working partner to bring Cota-enabled products to consumers," said Doug Stovall, CEO of Ossia. "Product innovation, especially with smart home devices and other IoT, has been severely limited by the constraints of batteries, wired charging pads, and charging down time. Cota Real Wireless Power is the only way to not only decrease our environmental footprint, but to also enable the next wave of smart and connected consumer products, as well as commercial IoT with its billions of sensors."
After their debut in Europe, these new devices could be sold in the U.S. and beyond. Ossia has approval from the Federal Communications Commission (FCC) to operate at 2.4 GHz, but has yet to receive approval for 5.8 GHz. According to an Ossia spokesperson, however, the company still expects ARCHOS' products to debut in the U.S. in "late 2022 or 2023."
Comments »