27th April 2022
New York on track for zero-emission electricity by 2040
Two huge new infrastructure projects in New York are expected to dramatically cut the state's greenhouse gas emissions.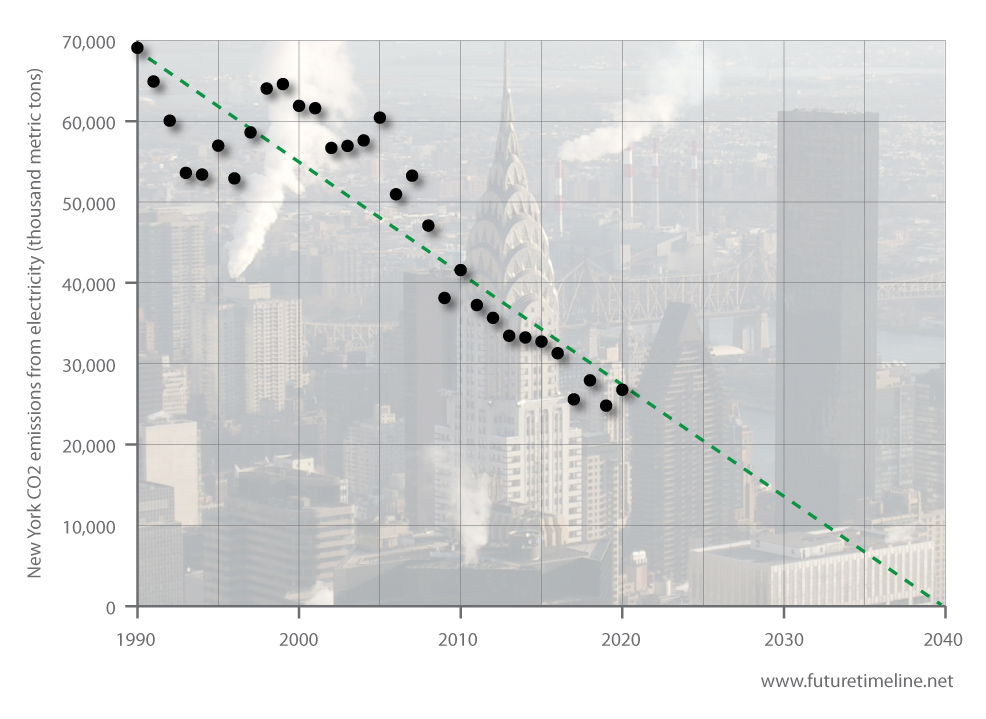 Background image credit: Timsdad at en.wikipedia, CC BY-SA 3.0, via Wikimedia Commons
Governor of New York, Kathy Hochul, has announced the signing of two major clean energy contracts for the state: Clean Path NY and the Champlain Hudson Power Express. Both projects combined will reduce New York's dependence on fossil fuels by more than 50% by 2030, placing it firmly on track for achieving its longer-term goal of zero emissions by 2040. These developments are forecast to deliver $5.8 billion in overall societal benefits statewide and $8.2 billion in economic improvements across the state.
Clean Path New York consists of more than 20 wind and solar power generation projects – all located within New York State – alongside a new 175-mile, underground transmission line. The New York Power Authority (NYPA) and Forward Power, a joint venture between energyRe and Invenergy, are partnering on this $11 billion project.
Delivering 3,800 megawatts (MW) of renewable power (2,000 MW of wind and 1,800 MW of solar), the environmental benefits will be substantial, not only improving air quality but also removing 49 million tons of CO2 emissions. In addition, a new HVDC transmission line, built entirely underground, will be more resilient than traditional overhead transmission in the face of increasingly extreme weather events – ensuring more reliable power flow to communities and businesses while reducing costs for storm repairs. This line will use existing rights-of-way to mitigate the environmental and community impacts of construction.
The existing transmission network is plagued by congestion that prevents clean energy produced upstate from reaching New York City, where the vast majority of power is supplied by old, fossil fuel-fired plants. Clean Path New York will address this issue, accelerating the transition to a clean energy future while creating 8,300 new jobs and saving ratepayers millions each year in energy costs.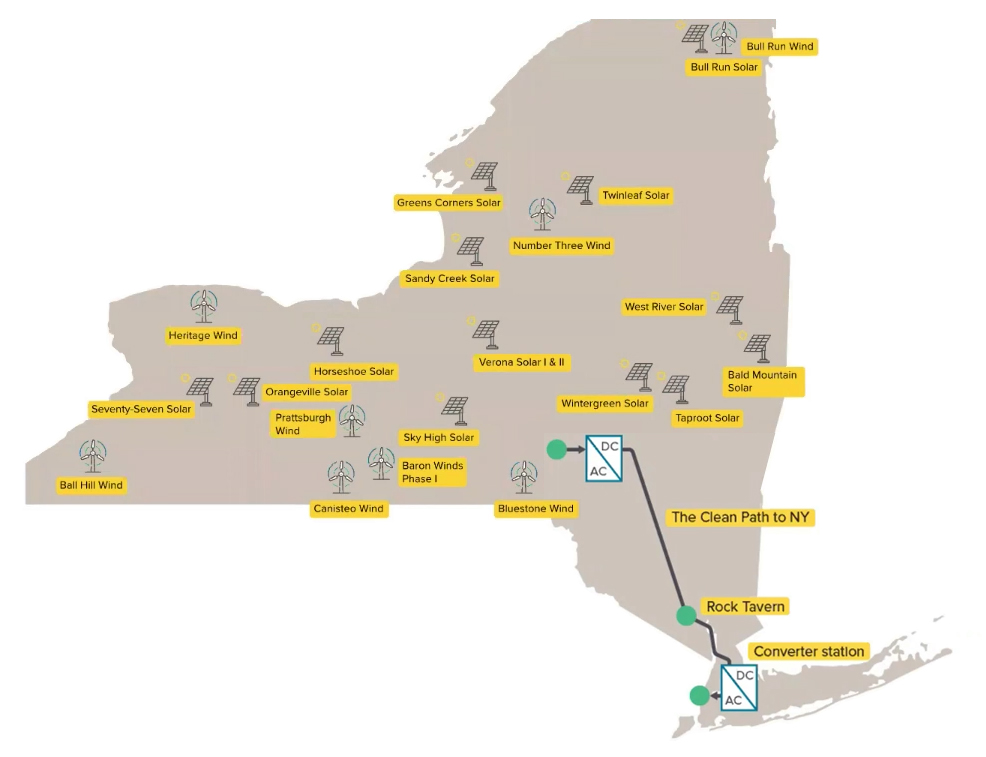 The second of the two projects to receive approval is the $4.5 billion Champlain Hudson Power Express (CHPE). This high-voltage direct current (HVDC) underwater and underground power cable – running a total length of 546 km (339 mi) – will connect New York to Hydro-Québec, a Canadian energy company that generates electricity from hydro (92%), wind (6%), and other renewable resources.
When completed, the CHPE will supply 1,250 MW of clean energy to New York City (NYC). This dependable, all-season source of mostly baseload hydropower could provide a near-term option for replacing fossil fuel power plants, which currently dominate the city's electrical supply. With a reduction in carbon emissions calculated at 37 million metric tons, equivalent to taking half a million cars off roads, the project is expected to contribute 28% of NYC's total greenhouse gas removals targeted for 2030.
The predicted drop in harmful air pollutants is equivalent to shuttering 15 of NYC's 16 peaker plants. Although typically operating less than 10% of the time, peaker plants have a disproportionate effect on communities and the environment. Most of NYC's peaker plants are at least 50 years old, and some run on especially dirty fuels like oil or kerosene. They tend to be located in poorer areas of the Bronx, Brooklyn, and Queens, near public housing developments where higher concentrations of low-income residents live. Peaker plants emit pollutants such as NOx, SOx, PM2.5, NH3 and volatile organic compounds, which are harmful to human health and contribute to respiratory issues and premature death. They are also expensive to operate, which adds to local energy bills.
The CHPE's ability to displace fossil-fuel power generation from peaker plants could help to address this form of environmental injustice. As well as saving lives and improving health with cleaner air, the project will make energy more affordable, cutting electricity costs by over $17 billion during its first 25 years of operation and generating tax revenue of $1.4 billion for local communities. The new power line will create 1,400 new jobs during its construction and provide an overall $3.5 billion economic boost for New York.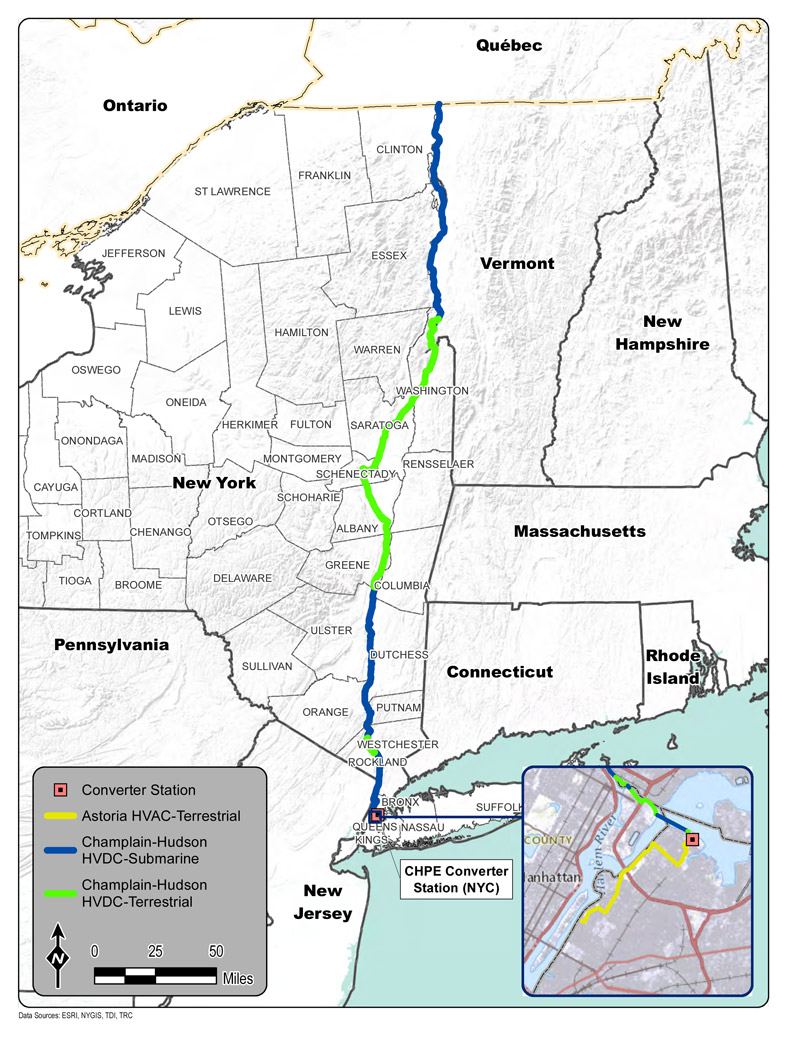 "This is a historic milestone in our mobilisation against climate change and fight for environmental justice," said Eric Adams, NYC Mayor. "Today, we begin dismantling the disparate access to renewable energy that has plagued our city for far too long – especially those communities that reside in the shadow of some of the oldest, most polluting power plants in the state. Not one but two new transmission lines will be built to bring clean renewable energy from the north into New York City, a feat that has not occurred at this scale in decades. I want to applaud the commission, NYSERDA, and Governor Hochul for taking this bold action and I look forward to continued partnership with the governor to tackle climate change."
"Environmental policy, economic policy, and public health policy are inextricably linked," said Gary LaBarbera, President of the New York State Building and Construction Trades Council. "That is why Clean Path New York is a win-win-win for our state – delivering renewable energy, good-paying jobs, and clean air to New Yorkers across the state. Today's decision represents a huge step toward a green economy that supports New York's working families and builds middle-class careers with benefits."
Melva Miller, CEO of the Association for a Better New York, said: "A green economy is a strong economy, and New York is once again leading the way to ensure that our state remains the best place to live, work, and grow a business. The Public Service Commission's decision to approve Clean Path NY is a critical milestone to bringing massive amounts of renewable energy online – energy that our businesses need to be competitive and sustainable."
"Governor Hochul's climate and energy leadership is providing the right vision New York needs to create a just, clean, resilient, and affordable energy system," said Rory Christian, Chair of the Public Service Commission. "This comprehensive and ambitious plan delivers on those goals and will enable all needed kinds of renewable energy to reach all New Yorkers. Today's action puts the 2030 climate and energy goals well within reach, while firmly establishing a foundation to achieve our 2040 and 2050 goals, which includes zero emissions from the electricity sector by 2040."
"The downstate grid is only about 2% renewable energy, which is a massive failure of the New York state government," said the grassroots organisation New York Communities for Change. "The United Nations has told us it is 'now or never'. The grid must become vastly cleaner, very rapidly. While we respect opponents making good faith arguments against these projects, we believe there is simply no time left to waste to bring renewable energy to New York."
Following these approvals and subsequent period of construction, power is scheduled to be delivered to New York City from the Champlain Hudson Power Express in 2025 and from Clean Path New York in 2027.
---
• Follow us on Twitter
• Follow us on Facebook
• Follow us on Instagram
• Join us on Reddit
• Subscribe to us on YouTube
Comments »